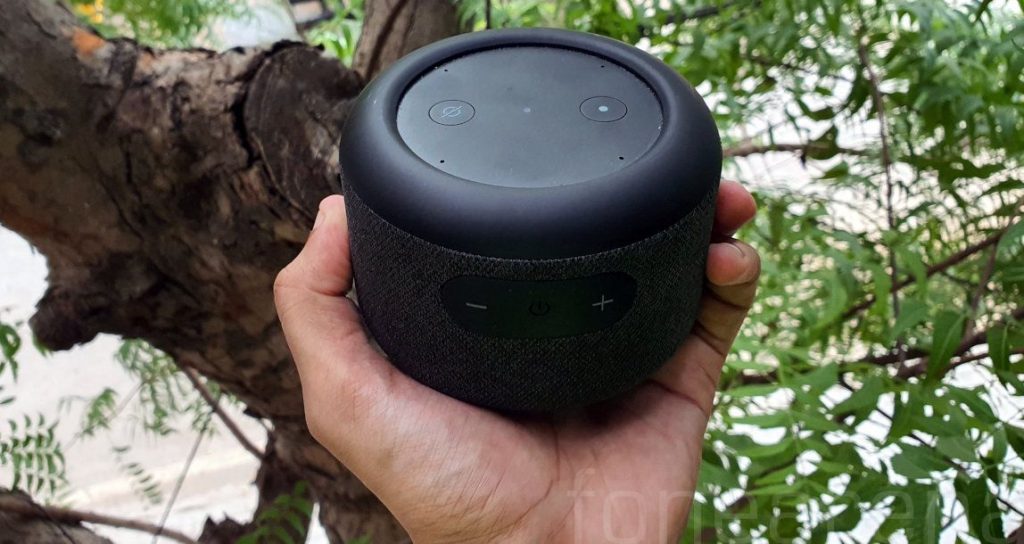 E-commerce giant Amazon kickstarted the smart speaker category back in November 2014 with its 'Echo' device. Since then till now, the company has experimented with numerous Echo brand devices in various form factors right from flat circular plate to display integrated Echo Show.
Amazon introduced Echo Input Portable, yet another smart speaker but this time with a 4800mAh battery, which means it doesn't have to be plugged into the wall constantly. With Echo Input Portable, you can carry it around your house, toss into your bag, and can play without any interruptions.
Is Echo Input Portable worthy enough? Let's take a closer look at it.
Design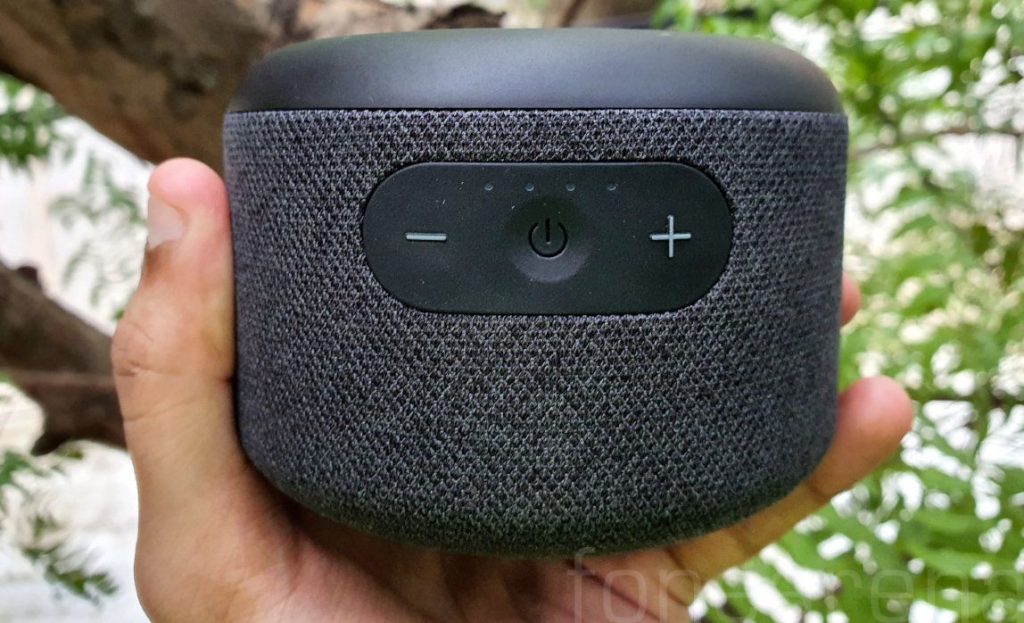 The Echo Input Portable looks somewhere in-between the Echo Plus and Echo Dot. To be more specific, it is the shorter and squatter version of Echo Plus. It is designed to be carried around your home with 360-degree audio. The device is covered by the same fabric material you'll see on most of the Echo devices. The top has a matte plastic finish with buttons to manually invoke Alexa, muting microphone and an LED that lets you know whether it's listening. The microphones at the top as well and are always listening for voice commands when the speaker is switched on. It also includes a microphone off button that electronically disconnects the microphones. It is not waterproof and doesn't have a 3.5mm port.
On the front, we have four LED lights to notify the battery level, a power switch, and the volume button. The power button is exclusive to this device considering the nature of the speaker. The back has a micro-USB port for obvious reasons. The bottom is rubberised to prevent it from slipping on a wood surface. It does attract a lot of dust and lint making it hard to clean. Overall, the Echo Input Portable looks nice enough. The design doesn't stand out either, but it is perfect if you want to take it around.
Audio quality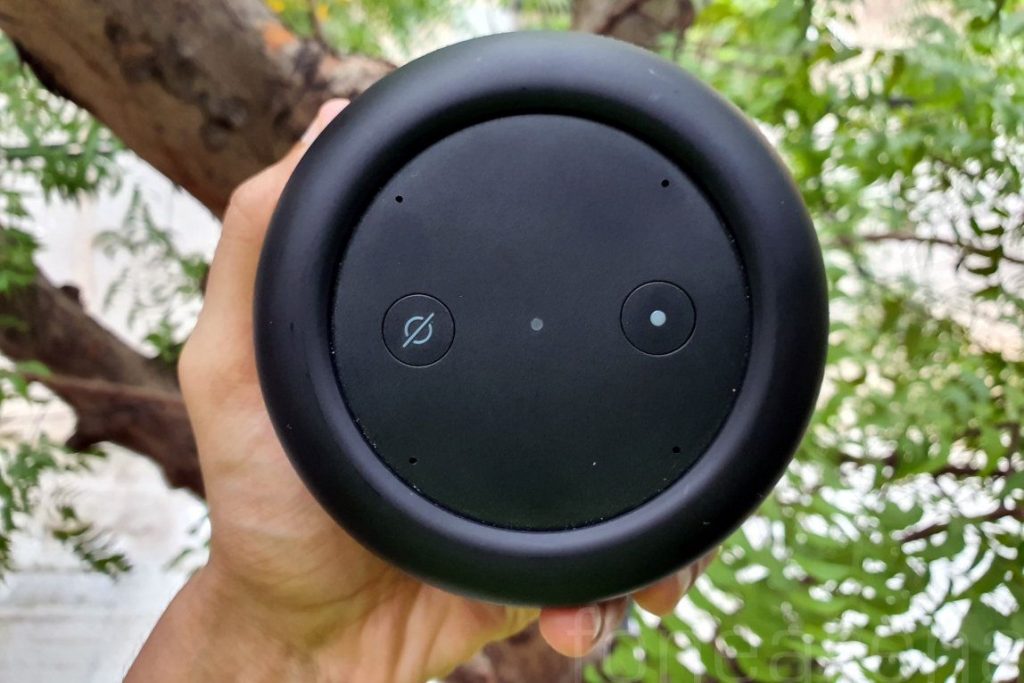 Audio quality in the Echo Input Portable is impressive, remarkably better than Echo Dot. The larger driver also gives it more bass especially mid bass. This results in a sound that is warm and lush, which works well for listening to popular music. At the higher volumes, the music doesn't distort or lose quality, which is pretty neat. As long as you have a good Wi-Fi connection, you don't need to worry about the device. In addition to the speaker feature, you can use the full suite of Alexa features. The microphones worked well to detect Alexa voice commands and understand instructions clearly.
The Echo Input Portable has the same smart capabilities as nearly every other device in the Echo ecosystem. This includes streaming music, shopping from Amazon, looking up the weather, news, currency conversion, and more. Furthermore, the device is compatible with hundreds of smart home devices from Philips, Wipro, Syska, TP-Link, and more.
Battery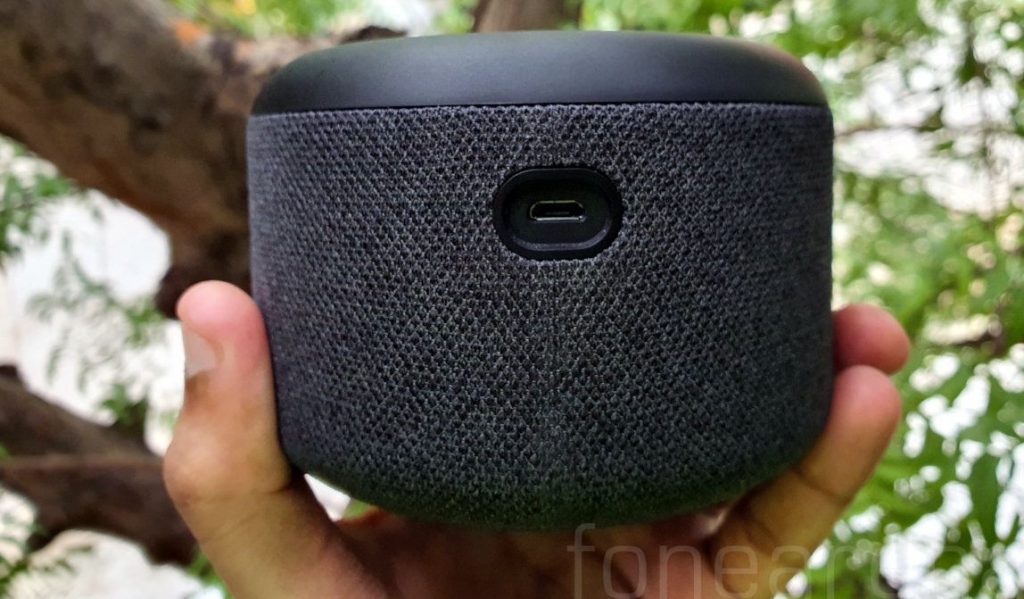 The Echo Input Portable comes equipped with a 4800mAh rechargeable battery that provides up to 10hrs of continuous music playback time (up to 11hrs of standby time). Tap the power button to see the current battery level indicated by the 4 LEDs. In our usage, we got somewhere around 7 to 7 and a half hours, maintained volume around 60 to 80%.
Conclusion
Priced at Rs. 3,999 currently, the Echo Input Portable is perhaps the best way to test the waters of portable smart speakers. It looks good enough, sounds great, has all the capabilities like other Echo devices and you can carry it around. If you are planning to buy, the Echo Input Portable won't let you down and offers a better experience than the Echo Dot. You can get it on Amazon.in.