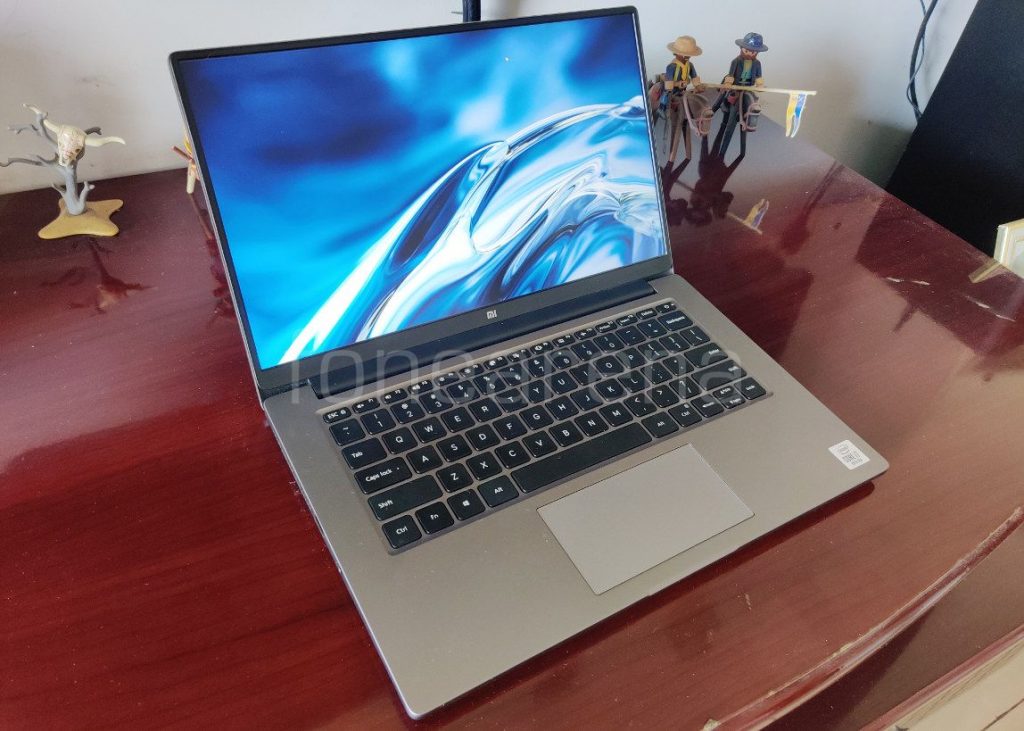 Since its small beginnings as a budget smartphone manufacturer in India, Xiaomi's portfolio has grown significantly over the past few years. While the company already produced laptops in their home market China, this is the first time they have released a laptop for the Indian market. During their launch event, they spoke highly about the laptop's minimalist design, build quality and specs that promised performance at an affordable price. Does Xiaomi deliver on these claims? Read on in my review of the Xiaomi Mi Notebook 14 Horizon Edition.
Xiaomi Mi Notebook 14 Horizon Edition Specifications
14-inch (1920 x 1080 pixels) 16:9 display, 178° wide viewing angle, 250 nits brightness
1.8GHz Intel Core i7-10510U (8MB L3 Cache, up to 4.9GHz) (Comet Lake) processor, Intel UHD Graphics 620
2GB GDDR5 NVIDIA GeForce MX350 graphics
8G DDR4 2666MHz RAM, 512GB M.2 NVMe SSD
Windows 10 Home Edition, 1-month free trial of office 365
WiFi 802.11ac 2×2 (2.4GHz and 5GHz), Bluetooth 5.0, 2 x USB 3.1 port, 1 x USB 2.0, HDMI 1.4b, 1 x USB-C for data and charging
Dimensions:321.3×206.8mm ; Weight:1.35kg
3.5mm headphone / microphone jack, 2x 2W stereo speakers, DTS audio
46Wh battery with fast charging, up to 10h battery life, 65W adapter offers fast charging
Design, Build Quality and Display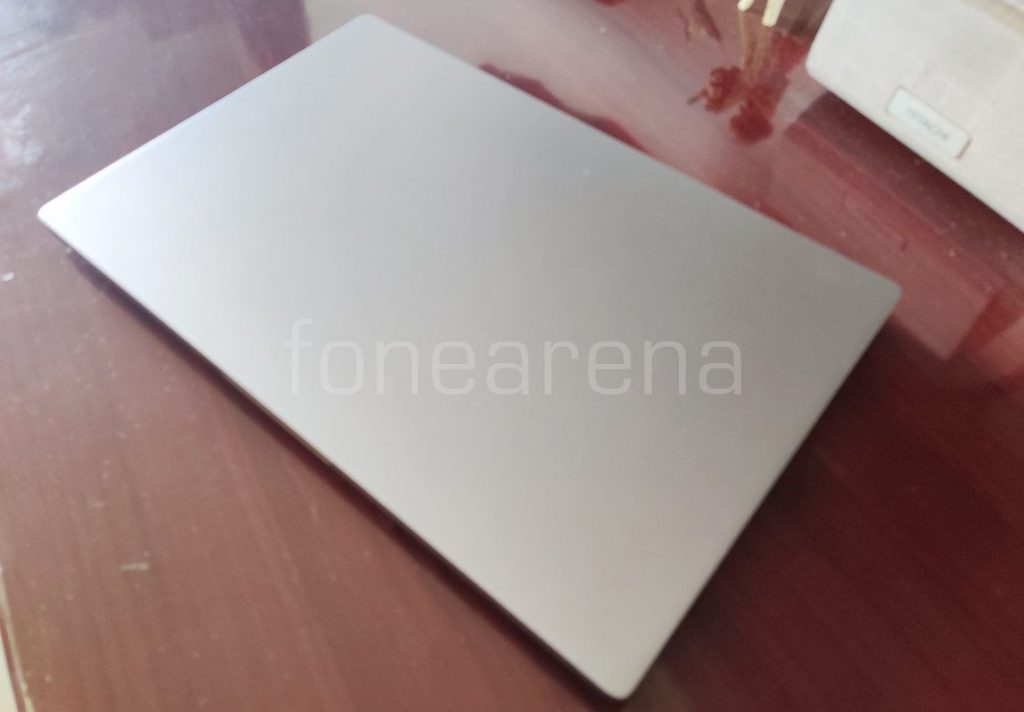 Xiaomi did a very good job with the design and build quality of the Mi Notebook 14 Horizon Edition. The entire laptop, including the lid, is made out of a magnesium aluminium alloy that is extremely sturdy, but still lightweight. The keyboard does not flex at all when typing, in fact it requires a significant amount of pressure to cause it to bend and the lid is quite stiff too. The laptop weighs only 1.35 kilograms, making it very portable, which is quite important if you plan to carry this laptop around all day.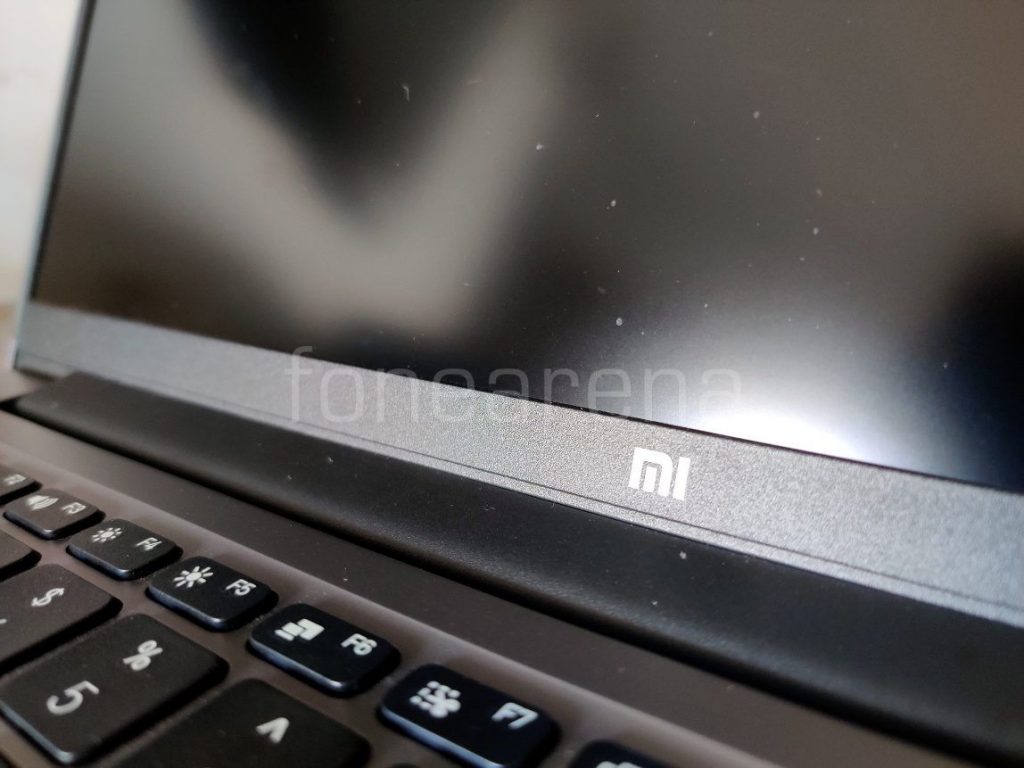 Design-wise, Xiaomi has gone for a clean minimalist design language for the Mi Notebook 14. The corners are not too sharp, there is no branding throughout the laptop except for a tiny "Mi" logo at the bottom bezel of the display and the laptop has a cleft in the middle to open the lid easily. The hinge is really well-made, balanced and can be opened with one finger, which is always cool.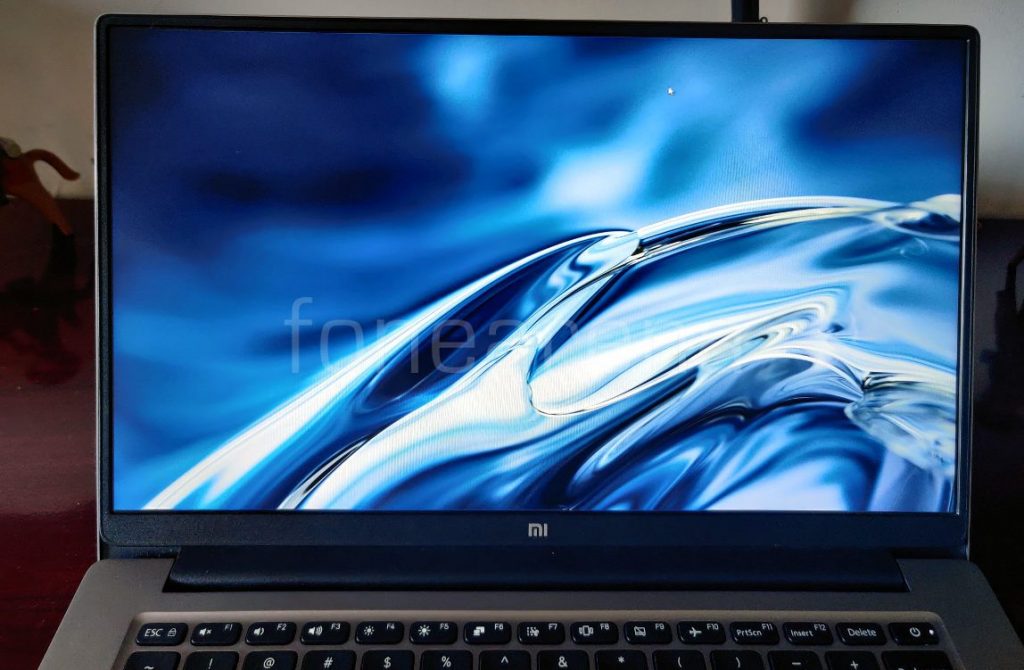 The Mi Notebook 14 has only one screen option — a 14 inch, 1080p, 16:9 display with an anti-glare matte coating. The panel itself is of the IPS-type which means good viewing angles and it refreshes at 60Hz. However, the max brightness is quite low at 250nits, which makes sunlight readability a bit difficult. I cannot speak about the colour accuracy of the panel, but overall it was an enjoyable experience.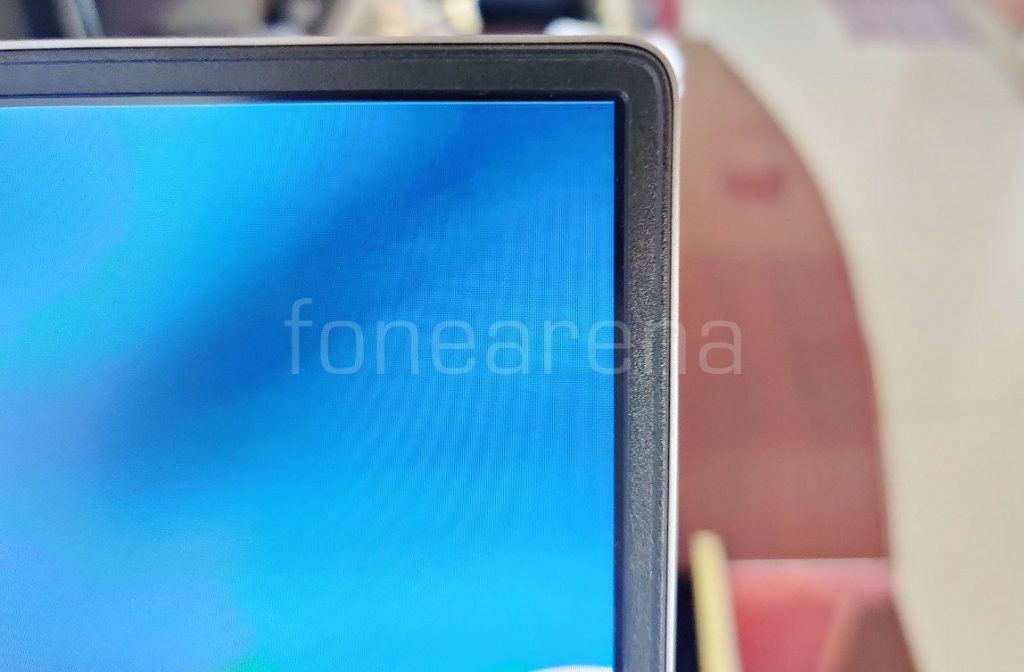 The bezels for the Horizon Edition are very thin, measuring in at 3mm on the top, right and left edge, giving it a very modern look. This also means Xiaomi was able to fit a 14-inch display into a laptop that would conventionally have a 13.3-inch screen. Thin bezels are usually found in laptops that are much more expensive, so it is impressive to see it on the Mi Notebook.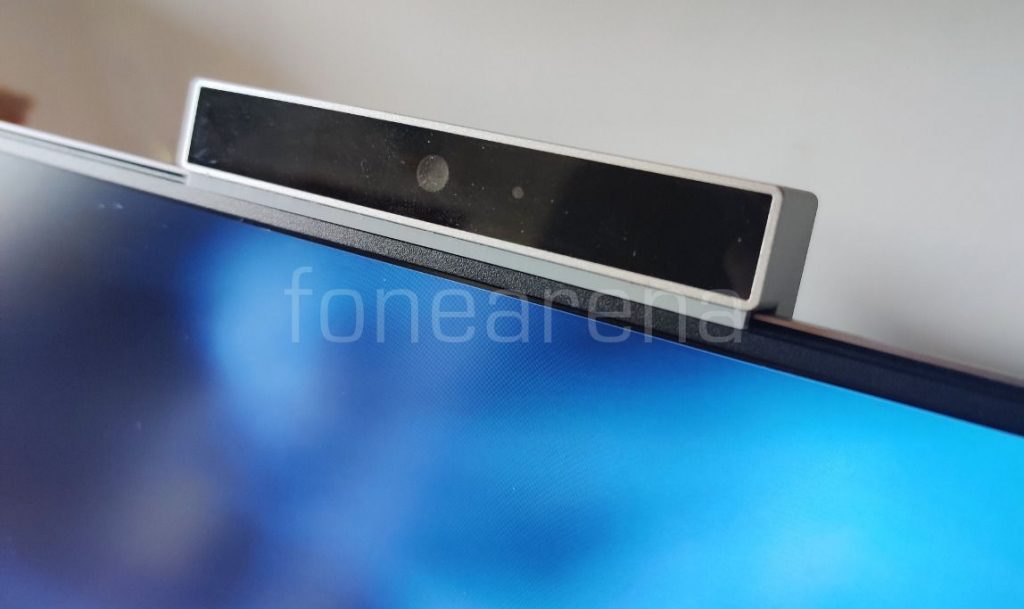 Interestingly, having such thin bezels meant Xiaomi decided to ditch the webcam, and that seems like an oversight considering the current pandemic situation where webcams have become a necessity. They recognised this issue and announced that they will include an external USB HD Webcam for every customer. While testing, the video quality was pretty good, better than the inbuilt cameras found in many other laptops for that matter. In my opinion, having an external webcam is better for both privacy and quality concerns, so I like what Xiaomi unintentionally did. However, I understand for some users it may be a deal-breaker to carry around an external webcam.
Performance, thermals and Speakers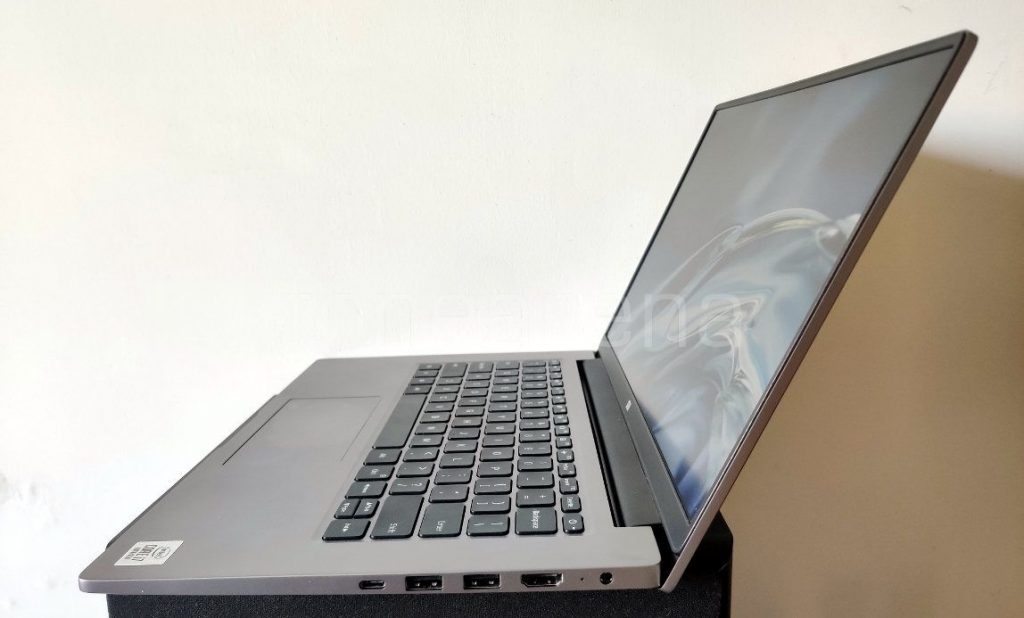 When developing this laptop, Xiaomi wanted to ensure that they were building a laptop that was as balanced as possible. With this in mind, all Mi Notebook SKUs will have an Intel 10th Gen Core i5/Core i7 CPU, NVIDIA GeForce MX250/MX350 GPU, 8GB of DDR4 RAM and a 512GB SATA SSD, with the highest spec Horizon Edition model getting the option of an M.2 NVMe SSD.
The model I use is equipped with the Intel Core i7-10510U CPU that is based on the Comet Lake architecture. It has a base frequency of 1.8GHz and a single-core boost clock of 4.9GHz. As expected, everyday performance was snappy with the thermals staying well under control. During benchmarks, I could not quite reach the advertised maximum frequency of 4.9Ghz, instead, I could only touch 4.5GHz. I also noticed that the laptop would often hit power limits when stress testing the CPU, which suggests that Xiaomi has tuned the CPU to not exceed thermal limits easily. However, I cannot make any real assumptions without proper extensive testing.
Check out some CPU benchmarks below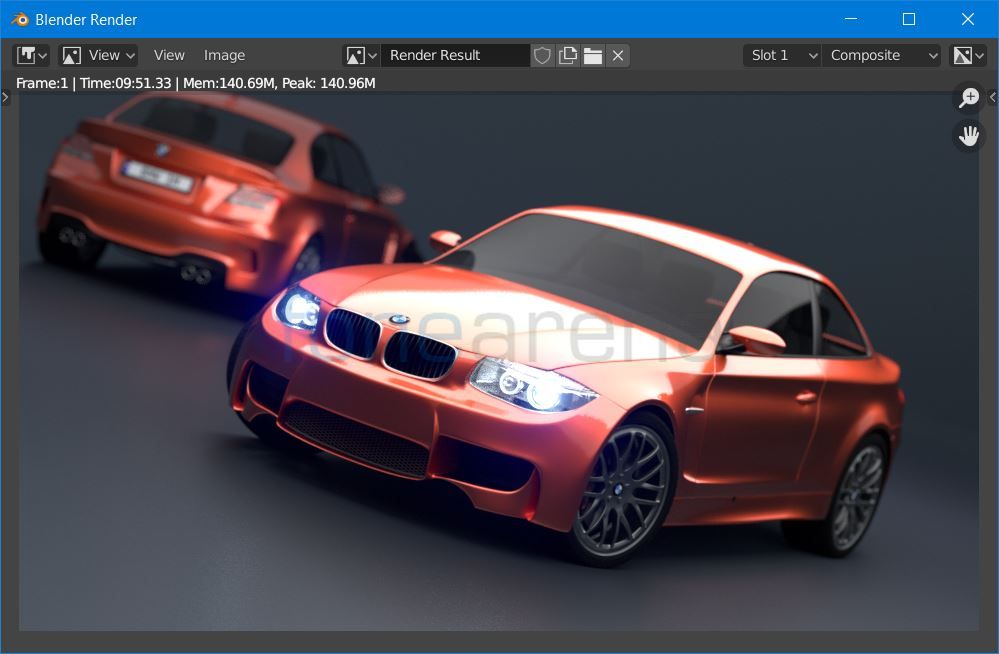 Xiaomi also offers two graphic card options with the Mi Notebook. The base model can be configured with an NVIDIA GeForce MX250, while the Horizon Edition has the option of equipping NVIDIA's new GeForce MX350 GPU. While these laptops are not meant for hardcore gaming sessions, it is certainly capable of some light gaming. Esports titles like CS:GO would comfortably cross well above 60 fps and more demanding titles like Tomb Raider could hit 60fps if the quality is lowered a bit. Check out some of the gaming benchmarks below.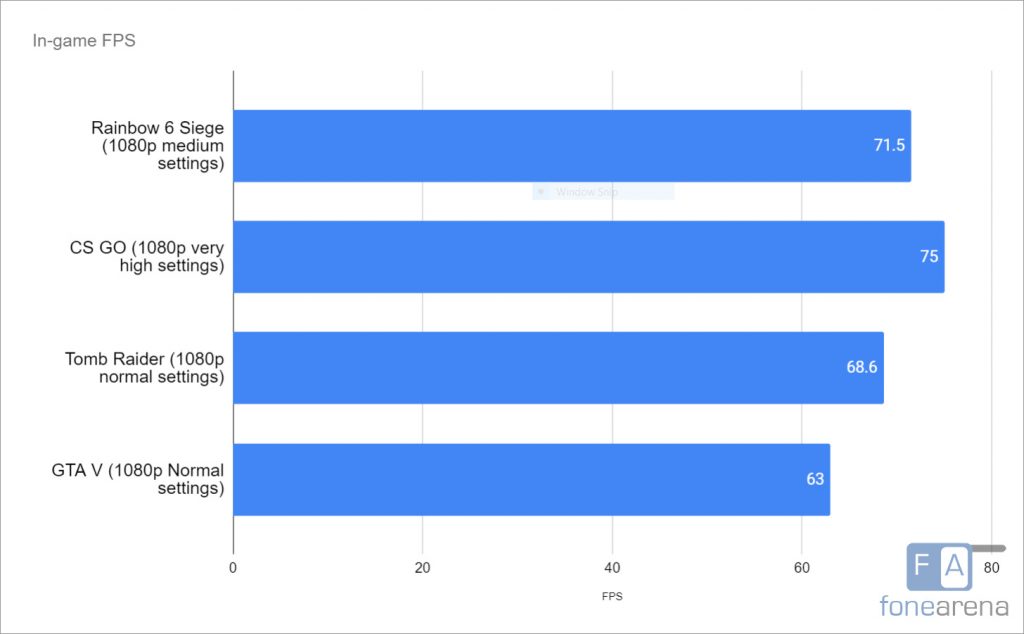 The RAM for the Mi Notebook is unfortunately soldered on and cannot be upgraded. The only option is 8GB of DDR4 memory, and while it can be enough for using web browsers like Chrome, etc., if you wish to use heavier applications like Adobe Photoshop, Premiere Pro, etc. you will quickly start to run out memory. Hopefully, in the next version, Xiaomi will offer a 16GB version.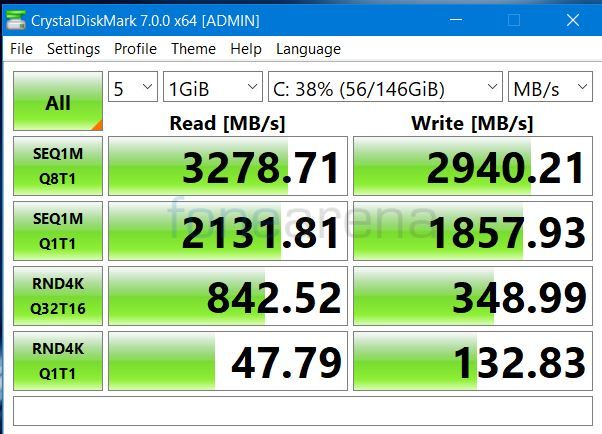 A good choice that Xiaomi made is to have SSD storage options by default across all laptop SKUs. The Core i7 Horizon Edition model uses an M.2 Toshiba 512GB PCI Express Gen 3 NVMe SSD. When benchmarking the drive, sequential read speeds reached 3.2GB/s, which is impressive and really fast. Keep in mind that, even the SATA SSD speeds on the lower models of the Mi Notebook should be plenty fast for the average user. NVMe SSD speeds only benefit those users who are constantly transferring and accessing large files on a daily basis.
The speakers on the Mi Notebook are 2 2W edge-facing bottom-firing units. While Xiaomi claims these will offer loud and clear sound, in our experience, the speakers performed only adequately. They lack punch in the bass and quality in the mids and highs, which can be explained by the fact that it uses the surface that the laptop is placed on to bounce audio up to the user.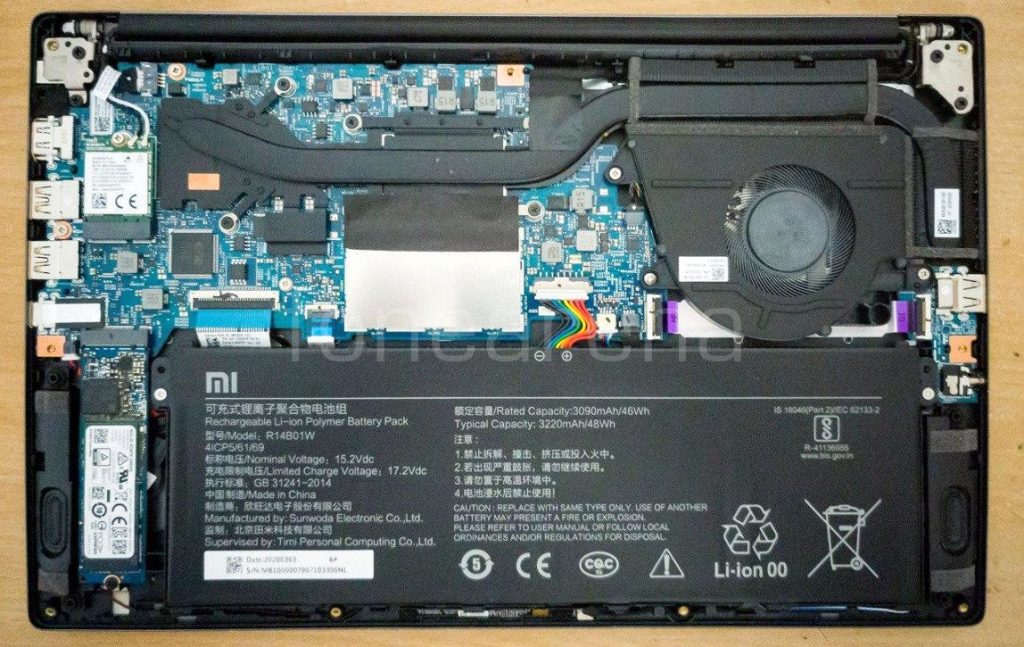 Opening up the laptop is quite easy and once you do that, you can see the thermal solution used by Xiaomi to cool the Mi Notebook. A single heat-pipe takes heat from both the GPU and CPU and dissipates it via the single fan on the right side. Taking up most of the space is the 46Wh battery and on the bottom left, you can see the M.2 NVMe SSD which is user-replaceable.
Keyboard and trackpad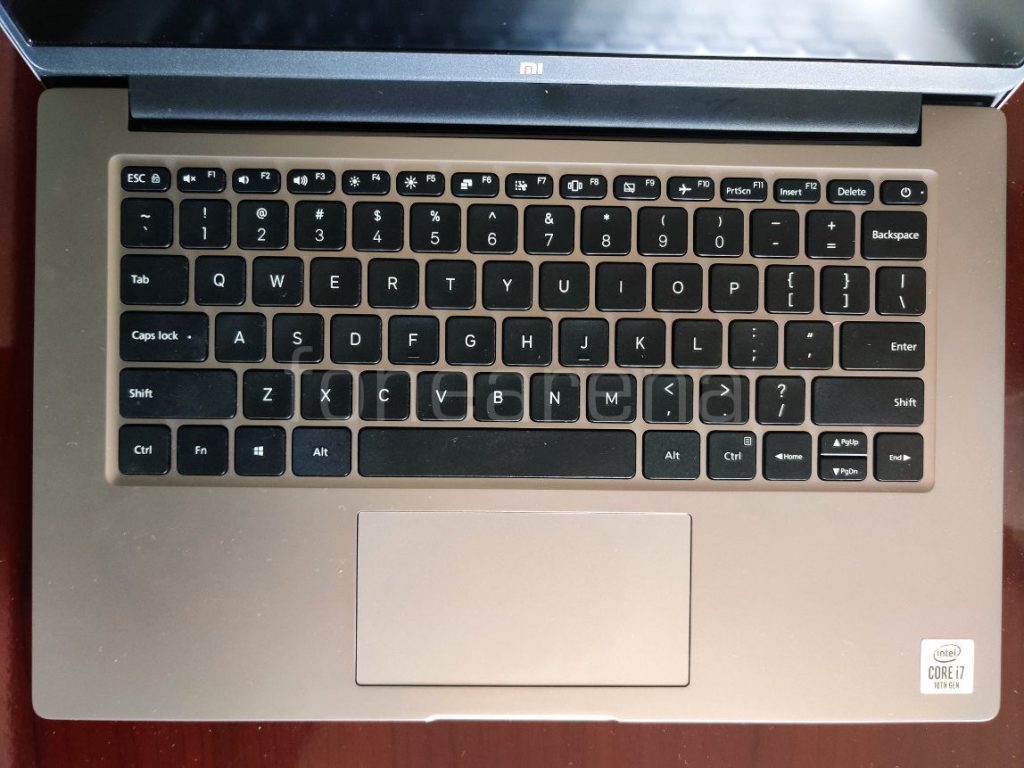 The keyboard on the Mi Notebook is a bit of a mixed bag. The keys use a scissor-mechanic, with 1.3mm of travel and it is made out of ABS plastic. Xiaomi has not made any glaring mistakes with the layout and the typing experience itself was quite satisfactory. It doesn't reach the quality levels of the Microsoft Surface Laptop or the Macbook's Magic keyboard, but for the Mi Notebook's price range, it is pretty good.
The only complaint about this laptop, and it is a big one, is that Xiaomi did not include a backlit keyboard. For the entry-level Mi Notebook model, not having a backlit keyboard may be excusable as a cost-saving measure. However, with the Horizon edition nearly costing Rs. 60000, the omission of a backlit keyboard is really puzzling. I really hope Xiaomi corrects this mistake with the next version of the Mi Notebook.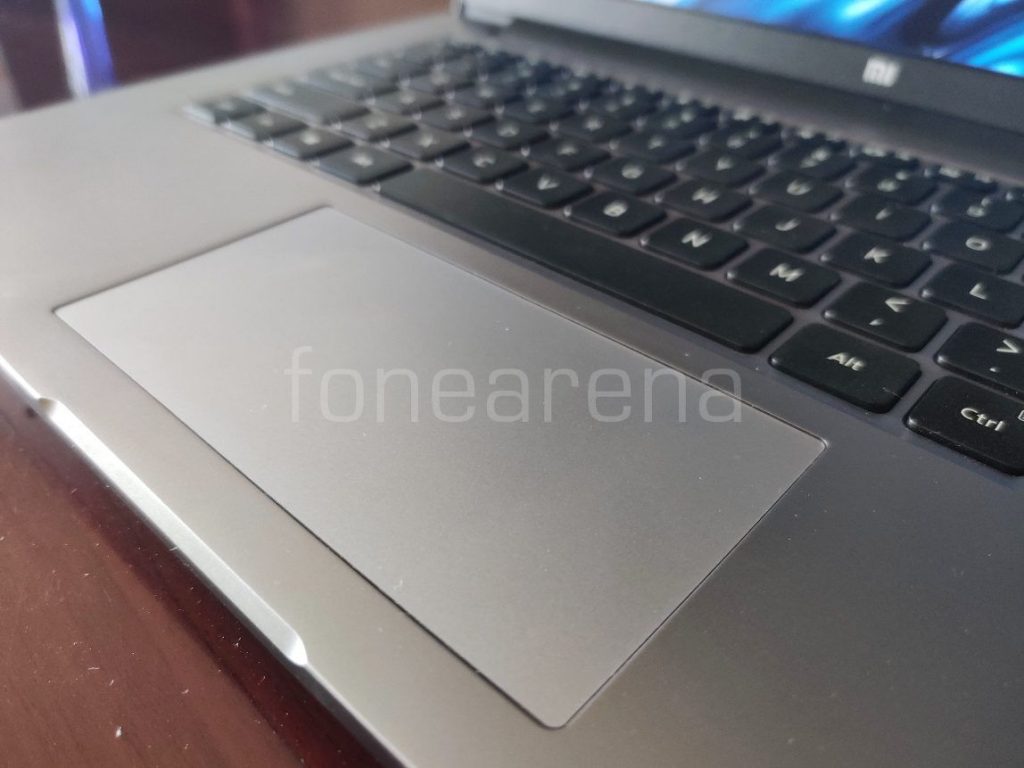 Upon using the trackpad, I spotted the next cost-saving measure that Xiaomi took for the Mi Notebook. The size of the trackpad is decent, it uses Windows Precision Drivers and the palm rejection was quite good too. But the tracking itself was a really poor experience and the click mechanism was horrible. There seemed to be two layers of physical clicks with the trackpad, with a first click (which does nothing) present due to how poorly trackpad was built. The actual click would require a deep press in the bottom edge, at which point the mouse cursor would sometimes go all over the place. If you plan to use this laptop on the go, I would highly recommend using an external mouse.
Ports and Connectivity
The laptop has a good selection of ports and connectivity options, which include 1 USB 2.0 Type-A and a 3.5mm combo audio jack on the left side, along 2 USB 3.1 Type-A, 1 HDMI, 1 USB 3.1 Type-C and a barrel plug charging port on the right side. Having a USB 2.0 port may seem a bit puzzling, but it is perfect for connecting a USB wired/wireless mouse.
For connectivity options, the Mi Notebook supports Dual-band 802.11ac Wi-Fi 2×2 and Bluetooth 5.0. I did not experience any signal drops or disconnections from my home Wi-Fi during my testing, and overall, I was quite happy with the laptop's connectivity.
Battery
Built into the Mi Notebook 14 is a 46Wh battery that Xiaomi claims will give 10 hours of usage. Usually, a manufacturer makes these claims based on ideal conditions with not-so-realistic use cases. Intel has made a lot of power management improvements with their 10th Gen Core processors, increasing the battery life in ultra-thin laptops.
Whilst testing, I was able to get an average of 7.5 hours of battery life while lightly web browsing, watching videos on YouTube, video conferencing and some word processing. As soon as I launched a bit heavier application like an image editing application, the battery would start draining faster. If you're only watching videos locally, I am sure it would be easier to hit the 10 hours advertised battery life.
A nice feature that Xiaomi engineered into the laptop is fast charging which can be super useful for people on the go. Included in the box is a 65W adapter that will charge the laptop from 0 to 50% in about 35 minutes and a full charge took about 1 and 10 minutes.
Conclusion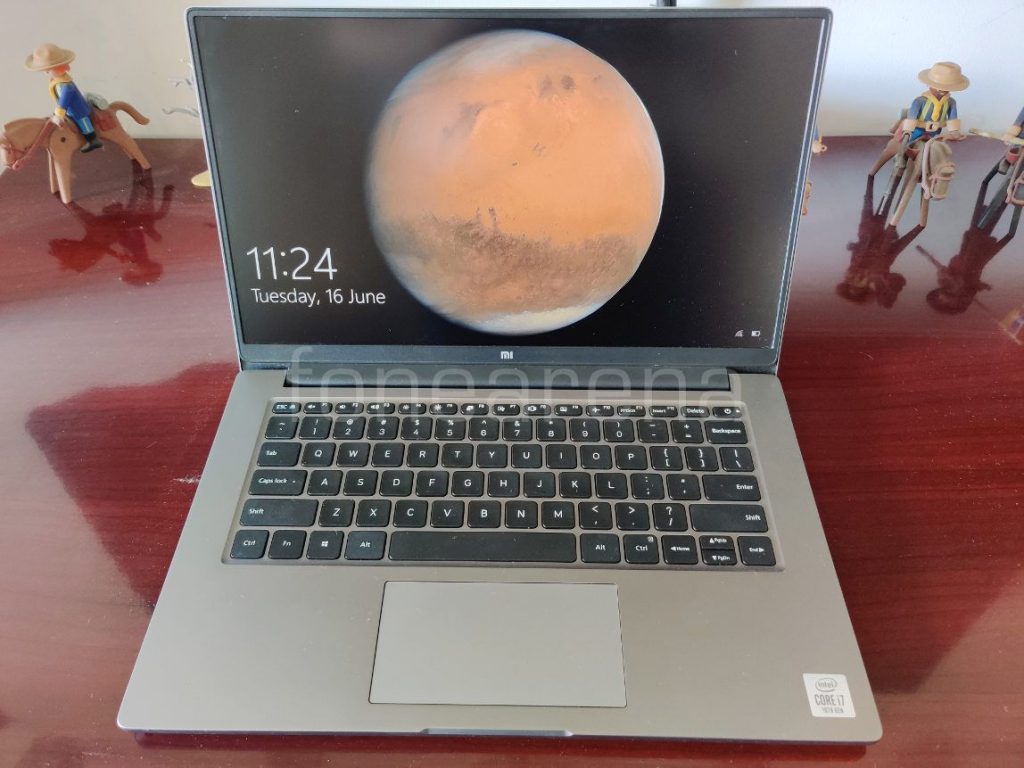 So is the Xiaomi Mi Notebook 14 series worth it? The answer depends on which model you are going for. The Mi Notebook with 256GB and the upgraded storage option of 512GB will cost you Rs. 41,999 and Rs. 44,999, respectively, which is an easy recommendation. The laptop has great battery life, good keyboard, and solid build quality. And if you wish to do some light gaming, the Rs. 3000 (Rs. 47,999) GeForce MX250 GPU upgrade is good option too. There is no other company currently in the market that can compete the Mi Notebook 14's offerings.
The Horizon Edition, however, is a little more complicated. At its starting price tag of Rs. 54,999, the drawbacks of this laptop become hard to ignore. While it is nice to have thinner bezels and a slightly less overall weight, it is hard to ignore the non-backlit keyboard and poor trackpad. These are small differences that can greatly improve the quality and experience of using a thin and light laptop. Not having a 16GB RAM option or user-upgradeable RAM also makes it less ideal for on-the-go content creators.
If you do not mind having a non-backlit keyboard and if you plan to use an external mouse anyways, then the Xiaomi Mi Notebook Horizon Edition is a great choice for those in the market for a fast, 14-inch, thin and light with budget prices. The competition devices against this laptop is much more expensive with usually worse build quality and heavier designs. Xiaomi has made a strong entry into the Indian laptop market, and I am excited to see their future offerings in this space.
Availability
The Mi NoteBook 14 comes in Mercury Gray and the Mi NoteBook 14 Horizon Edition has Silver  color and will be available from June 17th on Amazon.in, Mi.com, Mi Home stores and Mi Studio starting at Rs. 41,999 and goes up to 54,999. HDFC card users get Rs. 2000 instant discount.
Pros
Great build quality with excellent hinge
Snappy performance
Thin screen bezels
Good battery life along with fast charging support
Decent keyboard typing experience
Cons
No keyboard backlight
Below par trackpad
Poor bottom-firing speakers
Non-user-upgradeable RAM