Last Tuesday I was invited to another Sony Ericsson Press Event at a Rink in Vienna, dubbed "Sony Ericsson on Ice". The purpose? Oh, nothing more than getting my hands on the brand new Sony Ericsson Android Devices, that debuted on CES and MWC 2011. Yes thats right, all the new goodies were lined up, in order to get SE some well needed Attention. We all know that Sony Ericsson wasn't exactly the top Contender after the last Phones, like for example the horrid Xperia X10. The new devices looked quite promising, so after a short introduction from Mr Burtscher, Product Manager of Sony Ericsson Austria, i got my hands (and Camera) on the Devices for a few Minutes. And here's what i have to say about them:
Check out all the Pictures below and much much more in my 61 Photo strong Flickr Set "Sony Ericsson on Ice"
Sony Ericsson Xperia Neo: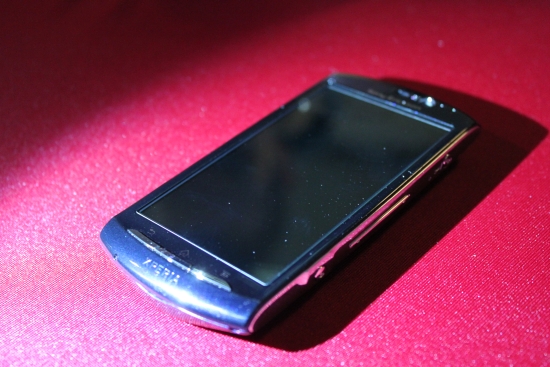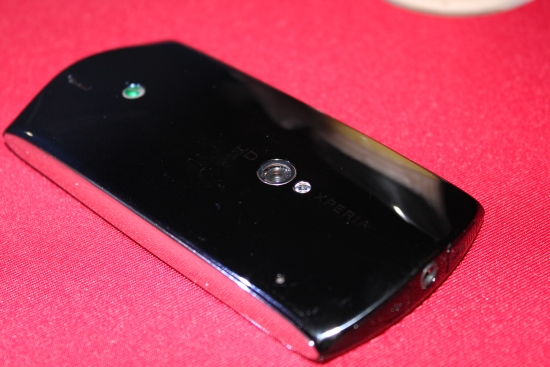 Starting off with the Xperia Neo, probably the most basic of the bunch. A capacitive 3,7″ Multitouchscreen and 854 x 480 Pixel resolution, featuring the brand new "Mobile Bravia Engine", promising a better Multimedia Experience on your Display. The Vivaz look-alike features an 8,1 Megapixel Camera with Sony Exmor R for mobile CMOS-Sensor and a LED-Flash. Videos can be recorded in 720p/30fps with continuos Touch-Autofocus. All of the new Smartphones are running Gingerbread aka Android 2.3 with Sony Ericssons UI on top. Furthermore there is a 1GHz Snapdragon Processor inside, HDMI connector and a 1500mAh Battery. Compared with the others, the Neo is a rather unspectacular phone, which looks and feels a lot like the Sony Ericsson Vivaz, but offers a way better User Experience than the Symbian-powered Vivaz. The Device felt snappy and responsive, although if you load it up with those shiny widgets, you do get a bit of a lag at Times. Its nicely shaped, with SE's human curvatures-Design, and feels good in the hand although its mostly build of plastic, which gathers quite some Fingerprints. If they get the whole Device lag-free and price it right, this could be a Hotseller!
Sony Ericsson Xperia Pro: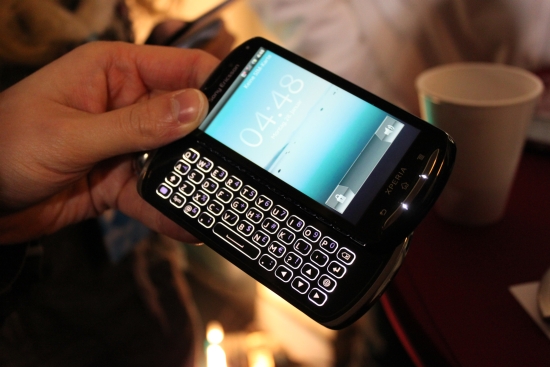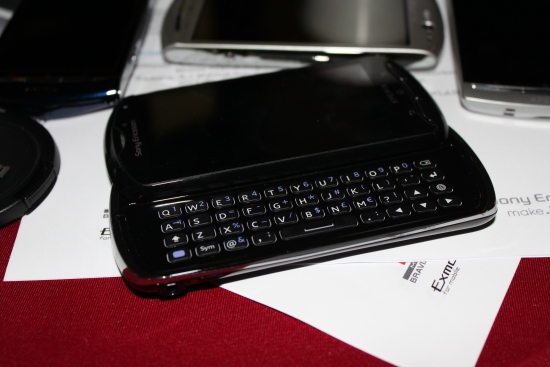 If you compare the Specs, the Sony Ericsson Xperia Neo and Xperia Pro are almost the same. In Fact the Pro is the same Device as the Neo, featuring the same Display, same Processor, same Battery, same OS etc. What makes the Pro (very) attractive though, is the nice 4-row slide-out, physical QWERTY Keyboard. Said Keyboard is very well spaced, i immediately felt right at home. No matter if opened or closed, the Slider felt good on the Pro. With so little QWERTY-equipped offerings from the Competitors, the Xperia Pro could quickly become a good choice for everyone who doesn't like the virtual Keyboard options. Interestingly, although the Pro has the Keyboard Slider, its only 0,5mm thicker than the Neo, which makes me wonder why the Neo couldn't be a bit more thinner? An interesting bit is the new "Type and Send" Feature: You slide out the Keyboard, start typing whats on your Mind, and only then decide what you wanna do with it. SMS, MMS, Mail or Facebook Update? Sounds fine to me and i can see myself using this a lot, however I did not get this to work yet. More on that as soon as i receive a Trial Device by SE.
Sony Ericsson Xperia Play: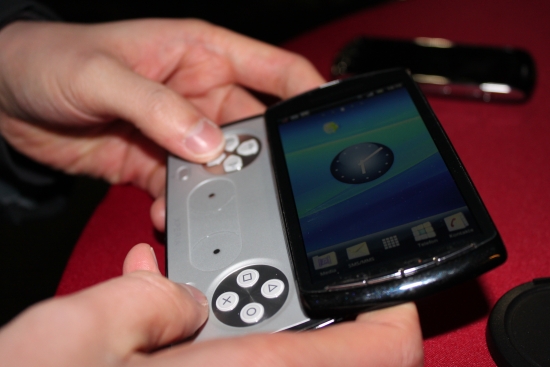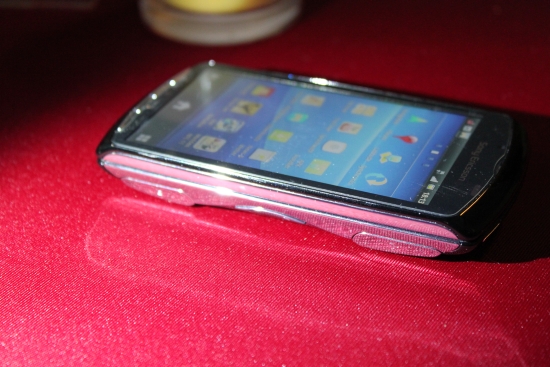 The most leaked, most reviewed-before-made-official Phone on this Planet, Ladies and Gentlemen i give you: the Sony Ericsson Xperia Play. Specwise the Play differentiates itself from the Neo and Pro with a bigger 4″ Touchscreen but only a 5MP Camera with LED Flash. As the Name already says, the Playstation-certified Xperia Play is all about Mobile Gaming, which gets clear as soon as you open the Slider. Hiding underneath are the full-blown gaming controls you know from your Playstation Controller, complete with 2 Shoulder Triggers and 2 touch-sensitive Trackpads. I got to play a Demo of Star Battalion, a Space Shooter which ran smooth and almost no stuttering, although you would expect them to run lag-free on Demo Devices. To be honest with you, I'm not a Gamer. Never really was, except of the awesome Angry Birds of course. While I think the Play will certainly have his Fans, I just cant get excited about it. The Device is 16mm thick, which is quite a Whopper, just too much for an everyday Device. It's an Approach in a new Direction for Sony Ericsson, and I really hope it pays off for them, as they have some big Partner Names on Board already. I just know that the Xperia Play is not a Device i'd buy. But then again, thats just me. What do you think?
Sony Ericsson Xperia Arc: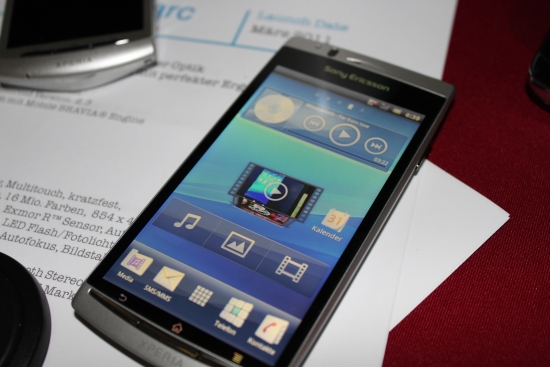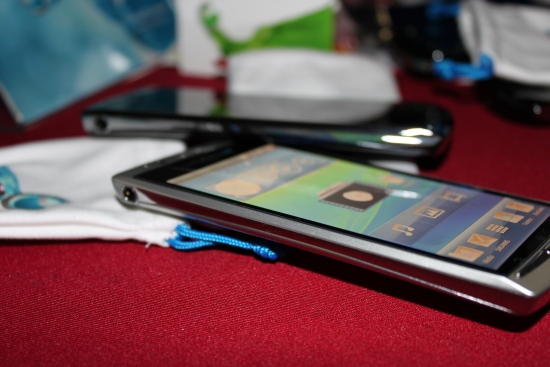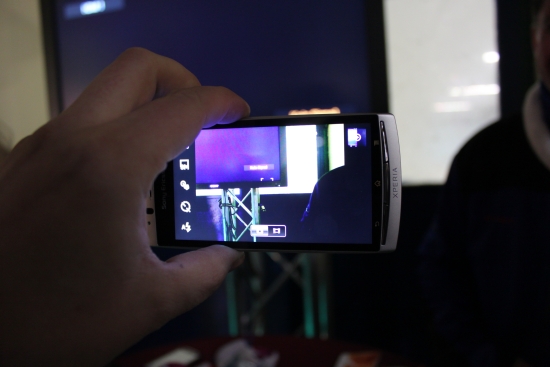 Already introduced in Las Vegas at the CES this Year, the Sony Ericsson Xperia Arc caught my Attention immediately and although I'm not an entirely huge Fan of the Sony Ericsson Android Overhaul, i was eager to get my Hands on the Arc as soon as possible. And what can i say, this is one hell of a slim Smartphone, wow! I had the Samsung Galaxy S before and thought this is as slim as it gets, but Sony easily topped the SGS there, with a sensational 8,7mm on its slimmest point. The Phone itself has a very nice curved Form Factor and although its made of Plastic, it feels nicely in the Hand. I can't say this often enough, this is just so thin. If you have the Opportunity, get your Hands on one and experience it yourself. And although only 8,7mm thick, SE has still managed to cram in a 1500mAh Battery (i hope all the other Companies (minus Samsung) are watching), the same 8.1 MP Camera with LED Flash and the Exmor R Sensor, 720p Video recording with touch-autofocus, a 1GHz Processor and a 4,2″, 854 x 480 Pixel Screen with the same Mobile Bravia Engine on Top. Impressive. Like all the other Devices, the Arc is powered by Android 2.3, which worked generally fine, but did have some Lags here and there. Again those are Observations i did in approx. 15 Minutes with the Device, I will get a better Judgement as soon as i get my Hands on retail Trial Units.
Coming out of this Evening I gotta say that Sony Ericsson didn't exactly hammer the Competition, but they produced 4 fine Devices that should sell nicely. The Neo is a rather basic, but well equipped Candybar Device, the Pro sports a nice 4-row slide-out QWERTY Keyboard, the Play approaches the Gaming Audience, while the Arc impresses with it's insanely slim Form Factor and sexy Looks. I'm definitely looking forward to some Trial Devices by SE here, especially to see if the Sony Ericsson UI on Top of Android has improved since the X10. Which one do YOU like the most?
Check out all the Pictures below and much much more in my 61 Photo strong Flickr Set "Sony Ericsson on Ice"