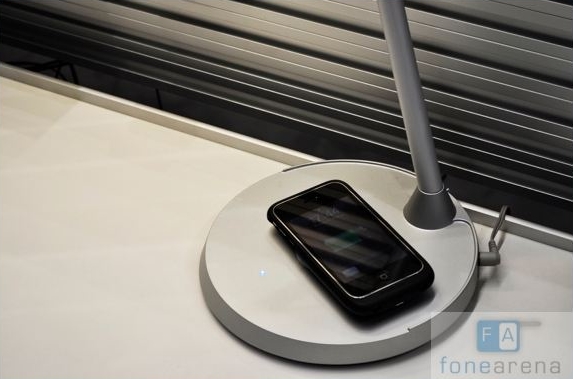 Here are the live pictures from the PowerMat stand at MWC (Mobile World Congress) 2011 in Fira, Barcelona.
PowerMat have a lot of new products on display.
First on line is their product for cars which they have created in collaboration with General Motors. The charger basically enables you to charge any phone which has a powermat case attached to it by just placing it on the center console. This enables you to eliminate all those car chargers.
The picture below shows PowerMat's plans for airports. Their seats would enable users of PowerMat cases to charge their phone by simply placing it on the desk. They plan to bring it out soon and if it works well it will be incorporated into over 150 airports worldwide.
This is the charging desk. There are various points on the desk such as the lamp where you can place your phone to charge. This again eliminates the big tangle of cords at your desk.
These are the new iPhone cases being developed to increase their customer base. This will help them to attract a younger crowd who feel the basic black design not too appealing.