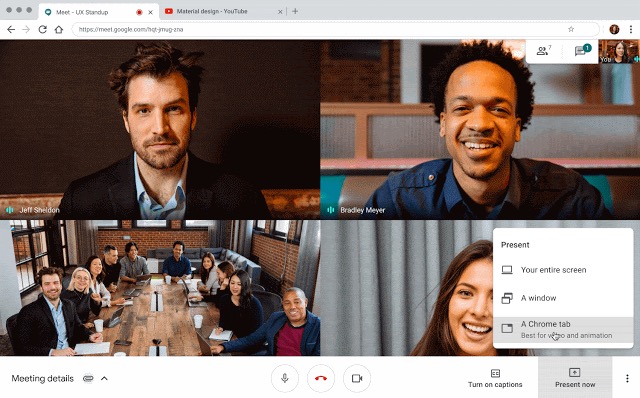 G Suite users are getting a bunch of handy little updates to Meet to enhance their experience. Users can now share high-quality video with audio content by present a tab from within the Chrome browser. Along with this, Google is adding the ability to view up to 16 people at once in the tile view format that can help improve the experience in classrooms, large group meetings, etc.
Most video conferencing applications have the ability to share and present screen content from a person on the call. However, sharing video with audio content has been a poor experience for many as the video will end up looking choppy or blurry or the audio will be de-synced. Google Meet is trying to solve this by enabling the ability to share a tab from within Chrome, letting presenters share smooth videos with audio to all attendees.
This can be helpful in situations like business meeting to review promotional videos, presenting slides with embedded videos or GIFs, teachers sharing videos as part of a lesson plan, etc. When presenting, the tab will be highlighted to let the user know which tab is being presented and it will even confirm with the user when they try to switch a tab that they aren't presenting.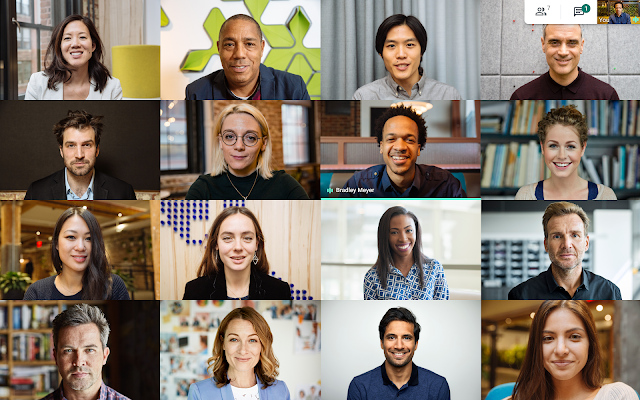 A quality of life update to Google Meet now is that, using the tile view in a video call, users can now see up to 16 people at once. The participants shown will be the active speakers and users can see the list of participants with an option below. At the moment, Google Meet supports up to 250 members in a single call.
These abilities to present a Chrome tab will roll out to all G Suite members today, while the 16-person tile view will gradually roll out to everyone by May 1st, 2020.