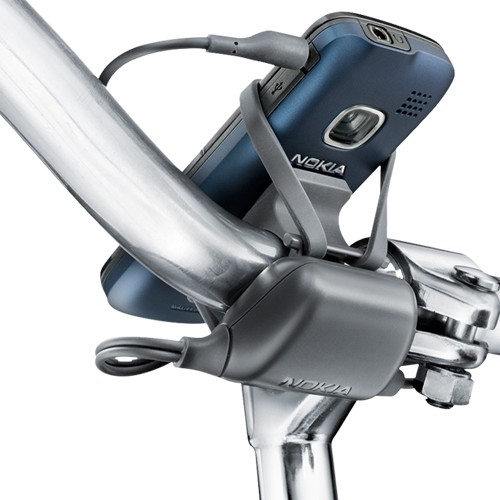 Nokia has released the Bicycle Charger in selected markets. The Bicycle charger is retailing at £25 in selected markets and Nokia UK online shop.
How Does this work ?
The accessory uses pedal power to recharge the battery in your phone. It works by attaching a dynamo to the wheel that generates power as you move. Nokia says that the 10 minute journey will produce enough power for 28 minutes of talk time or 37 hours of standby time. The charger works as a standard charger (AC-3) when the bike is traveling at 12 kph or more.
Contents of the Nokia Bicycle Charger :
The Bicycle charger kit consists of a Nokia Bicycle Charger (DC-14), Nokia Phone Holder for Bicycle (CR-124) and a Bottle Dynamo . The Nokia Phone Holder for Bicycle includes a bag that can be used to protect the phone from dust .
How to Purchase:
The Nokia Bicycle Charger can be purchased through the Nokia UK online shop Or through Nokia online stores for Italy, Spain, France, Germany and other countries.
via AAS