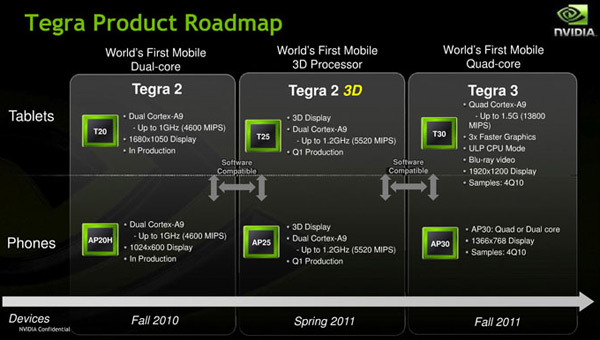 Okie, we admit. We are loving the path NVIDIA is taking. They have brought World's first Dual-core, 3D and now plan to launch Quad-Core mobile processors. We aren't fully sure of what they are upto and what their processors can deliver. But from what we have understood from the slide, these processors are insanely powerful .
The Tegra 3 does Blu-ray, stereoscopic 3D gaming, handles 13,800 MIPS, sports multicore Cortex-A9 architecture. CPU's that use ULP(Ultra Low Power) technology which shows love towards the battery.
For the record, At CES 2011 Tegra 2 chips have already powered flagship Android devices like the LG Optimus 2X and Motorola Atrix 4G and Motorola's Xoom tablet. And we're looking forward for many launches at the MWC 2011 during feb.
That's mostly is one of the most exciting news of the year! And tablets are going to be the most powerful devices out of these i guess.  And as i've already told about in my previous post which mentions the likes of Tegra 2 3D processor, this technology is going to change the way we use smartphones and tablets !
Source : Brightsideofnews