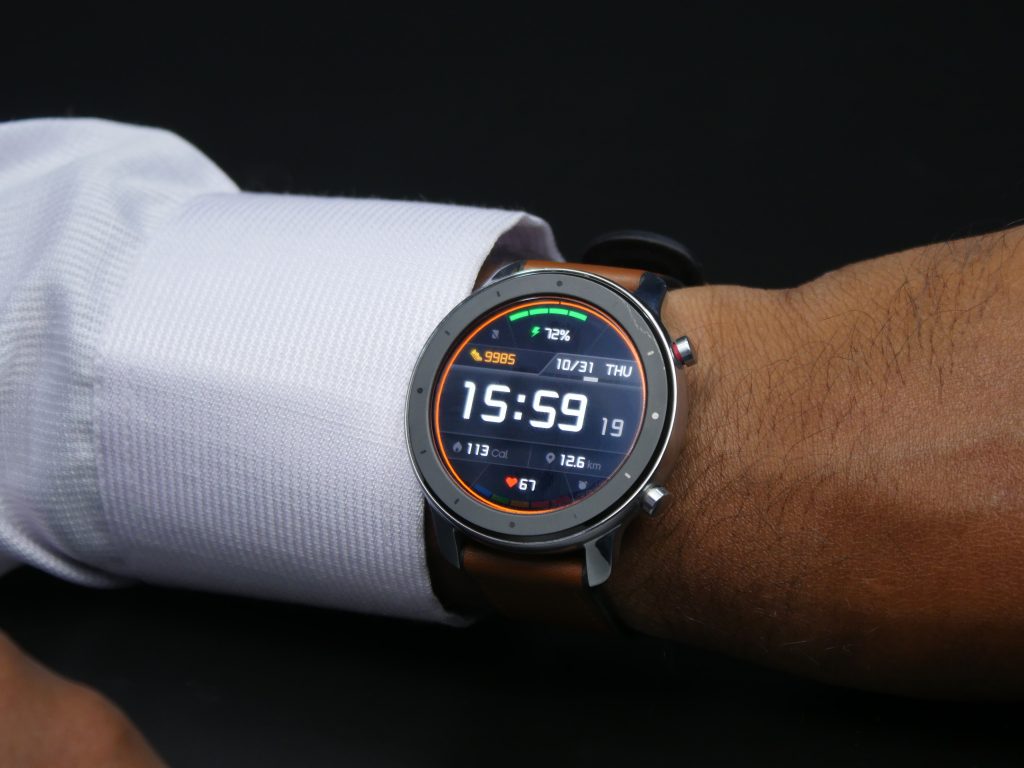 In a world full of modern gadgets that is supposed to get us more productive, we have become rather more comfortable. As a consequence, we have failed to realize that this human body adds fat if it becomes too comfortable. From being active to sedentary, in spite of reduced physical activity, we certainly did not reduce or think about our daily food intake. This is where activity trackers come in, to remind you that technology is really supposed to get us more productive. The watch always reminded us to be more productive, now there are smartwatches, so we can be more productive AND healthier (smarter) at the same time.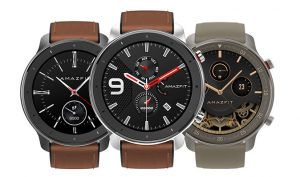 First let me get things clear, Amazfit is a self-brand of Huami. Huami is a biometric and activity data-driven company with significant expertise in smart wearable technology. Also, Huami is a provider of wearable technology for Xiaomi and exclusive maker of the Mi Band. Since September 2015, Huami has begun to use the brand, Amazfit, to sell smart wearable products that are not designed and manufactured for Xiaomi to address the middle to high-end market.
Amazfit GTR is an Activity Tracker Watch with a clean and perfect resemblance of a traditional wrist watch. It comes in two different variants based on material used, Stainless steel and Aluminium alloy, and there are two other models based on dial size at 42mm and 47mm. In this review you are going to read about the Amazfit GTR 47mm.
Specifications
Upto 24 Days Battery Life
1.39 AMOLED Display with High 326 PPI Resolution
5 ATM Water Resistance + Music Control + 12 Sports Modes
Built-in GPS + GLONASS
24 x 7 Continuous Heart Rate + Abnormal Heart Rate Warning
Touchscreen
Fitness & Outdoor
From day one, this watch felt more comfortable on my hand and fit perfectly for my regular outdoor activities. It comes with a beautiful 1.39inch circular AMOLED display which is also a prime reason to consider this watch as it excels good in outdoor bright light conditions. As the display packs a high PPI of 326 in resolution, the user interface I experienced in this display was all crispy clear, with vibrant colours. Built-in GPS came handy in many situations and the 24 x 7 continues heart rate monitoring with abnormal heart rate warning is much-needed for fitness freaks. The touchscreen worked flawlessly and was fine in all-weather conditions. Main reason for a Smart activity tracker's existence is Fitness and Outdoor activity monitoring so that's what we are going to focus on in this review.
Sports Modes:
There are 12 Sports Modes, from Swimming to Skiing, available by default.
There are modes for daily activities such as walking, running, climbing etc. so you'll be able to learn about your exercise status and improve over time. There is a history of all the data and it works in conjunction with the smartphone. Every mode in the Amazfit GTR –
Outdoor Running
Treadmill
Walking
Outdoor Cycling
Indoor Cycling
Open Water Swimming
Pool Swimming
Elliptical Trainer
Climbing
Trail Running
Skiing
Exercise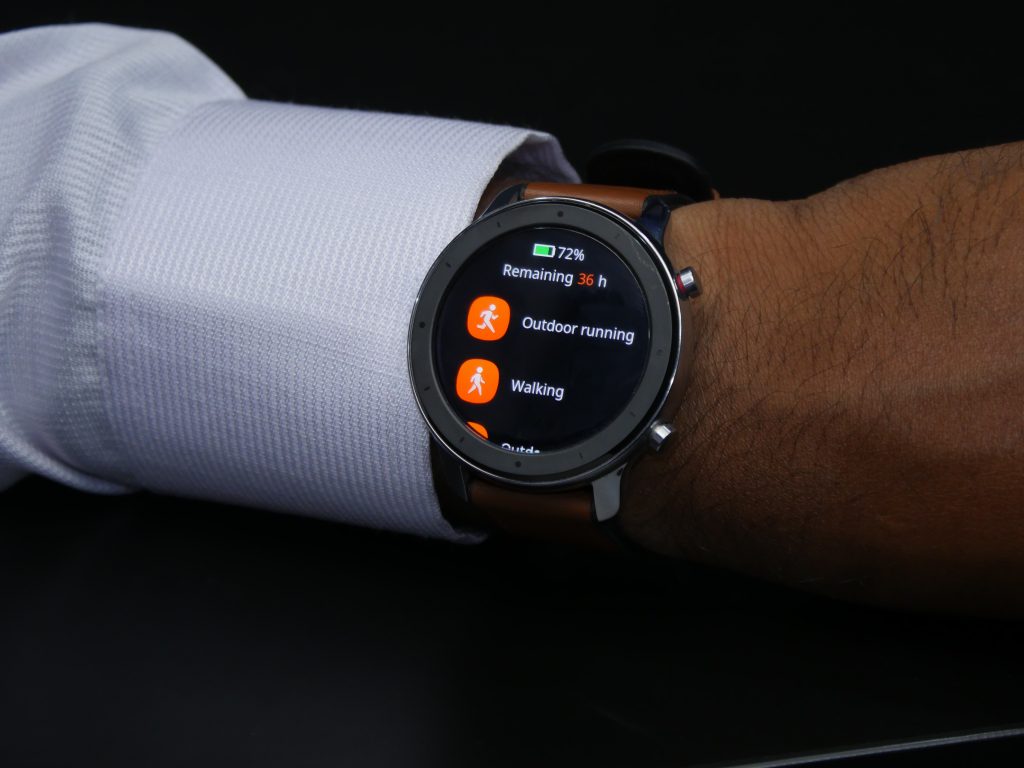 My daily activity made me use the Exercise, Outdoor cycling and Outdoor Running modes. Also, I play badminton so missed that mode by default but here came behaviour tagging, to rescue me. Moreover, the high-precision GPS positioning system is continuously optimised to provide rich exercise data for your outdoor exercise. Exercise + Health + Daily Life can be monitored with the help of activity tracker like GTR and a more advanced Full-scale Heart-rate Monitoring System. The Amazfit GTR, integrated with the BioTracker PPG biological tracking optical sensor and an algorithm developed by Huami, offers advanced full-scale heart-rate monitoring. It not only provides a 24-hour ceaseless high-precision heart-rate monitoring, but also provides functions such as vibration alerts on heart rate much too high or out of heart rate range while exercising, and recording and viewing fat-burning range, making exercise more scientific and healthy. All these tracking values are not exact but it will keep us motivated and focused on our road to a healthy life.
AmazFit App
The Amazfit App needs more work to match Mi Fit app user experience. With Amazfit GTR I was forced to move with Amazfit APP which is identical to Mi Fit with few to some features missing. Let us see those below (From left Amazfit App to Mi Fit App)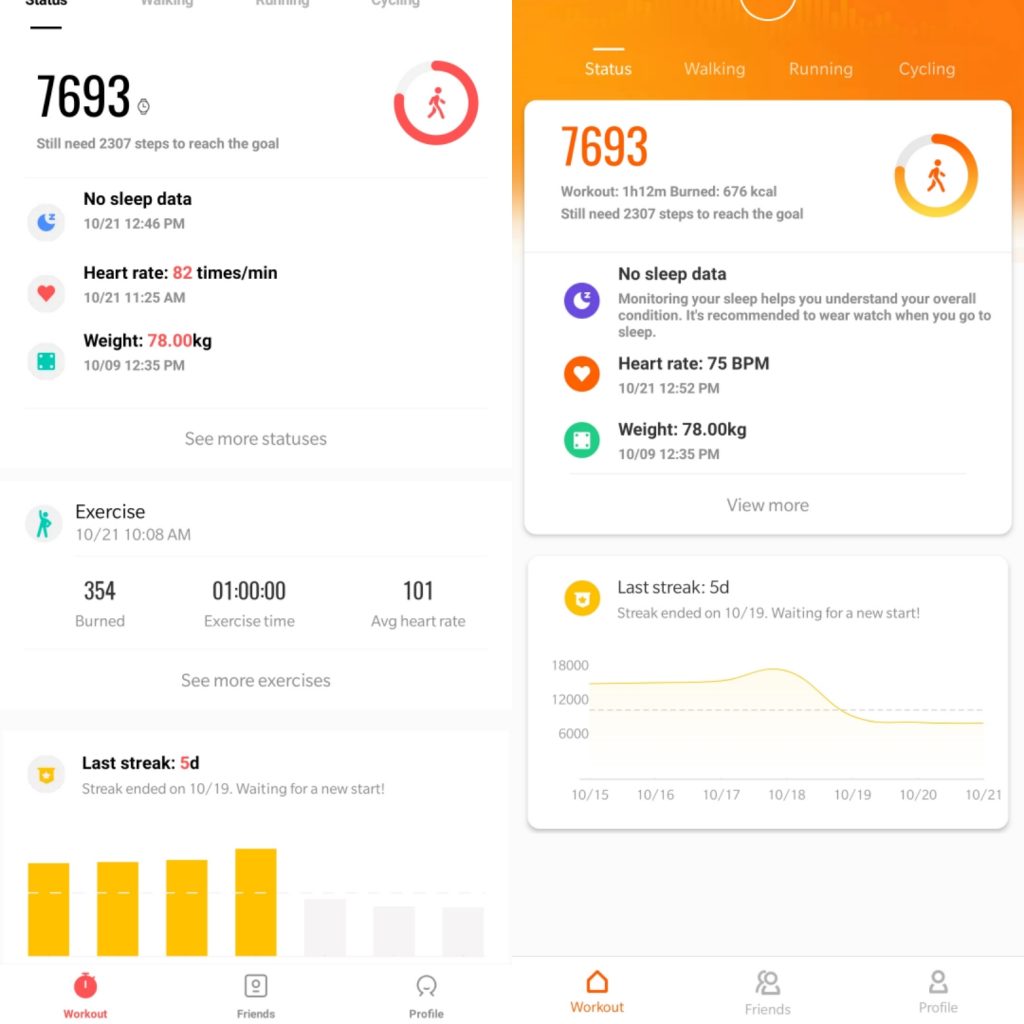 Opening Amazfit app will take us to the Homescreen, where in a glance we can check number of steps, sleep data, heart Rate, weight and also option to view more statuses. Below this tab we can find exercises done and can be expanded further to check history. Also, our goal Streak will be mentioned in the bottom, which definitely achieves its purpose of motivation.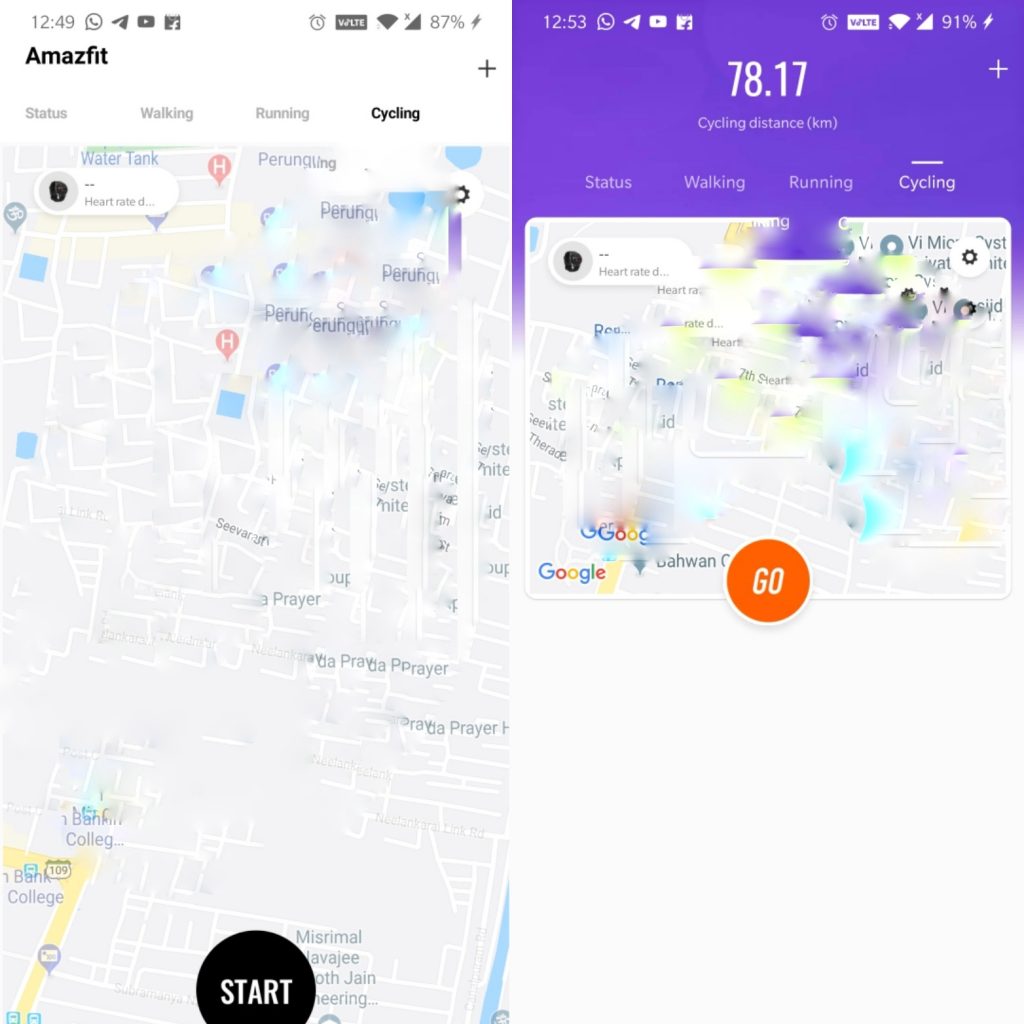 Swiping left will take us to walking and further swiping left guides to running and finally cycling. Top left corner displays watch sync status and Top Right corner shows a Plus mark with which we can pair or add new compatible devices like Watches, Bands and Smart Shoes.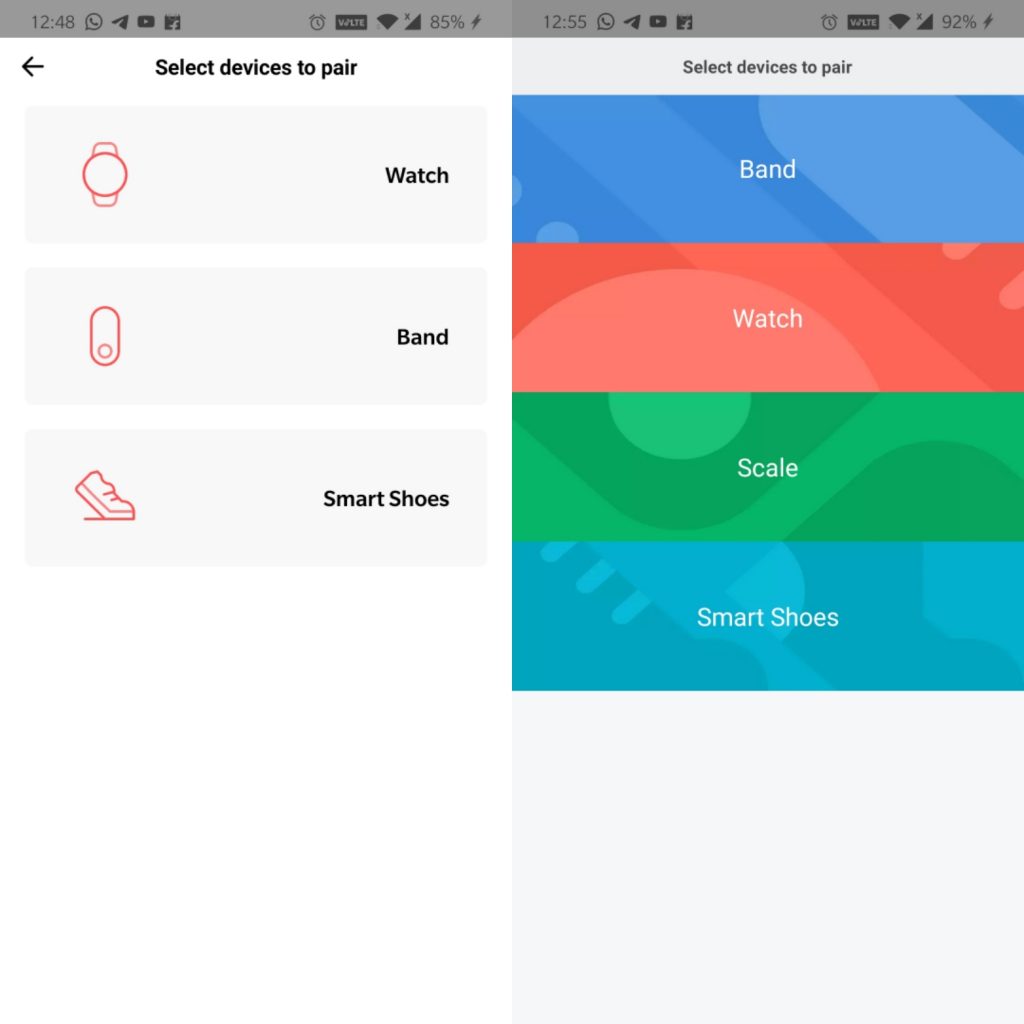 Bottom of the App shows tabs like Workout, Friends and Profile and which are easy to reach and friends tab will be good and motivational as our friends day today progress will be displayed here and final tab is Profile.
Profile tab is the most busy one with more options to explore. It displays users details and targets achieved so far and also those devices being used or paired right now. Below My Devices we can spot More options like My goals, My Records and Behaviour tagging. Regarding goals, I prefer completing 10000 steps a day and also try reaching 70Kg in weight. Tapping on My records will show our progress so far like Outdoor running, Outdoor cycling and Climbing. In each tab we will find Farthest or best result we have achieved so far.
The add account option is useless for now as it shows WeChat, Alipay and Strava which are new for us. The help tab will help us identify or know more about the Fitness product we use.
Also feedback tab is available and as app is in early stage with limitations I personally feel this tab will be helpful for users. Smart analysis with help us track Quality of Sleep and Body type analysis.
In settings tab we can alter Units to be used to represent data and also Status notification shade, Updates and About app.
Behaviour tagging : This options means a lot to me, and I am sure you'll like it too. When the above mentioned 12 modes are not enough, or the activity user does is not in the list, we can use this option. In this, we get 18 options to track and analyze our movement.
I personally tried monitoring badminton – Once I tapped on badminton option it had the Play button which also displays information like "Keep the device no farther than 5m from your phone, make sure there are no objects between them" I find it necessary to put the band on the dominant hand to make sure the measurements are correct.
In the "my devices" tab, all connected devices will be listed and when we click on GTR it will glide into settings and options to control GTR from App. Further exploring users will find watch settings which also includes Watch face settings. Watch face settings comes with more faces as shown below.
Also, App comes with more options to locate watch and whether watch should stay discoverable or not and even Watch notification and vibration feedback with respect to events can be changed or customized.
Note : As Amazfit App is near identical to Mi Fit App with few missing features, we can try Mi Fit after getting device paired via Amazfit and now this requires user to sign in Amazfit with Mi login details. In Mi Fit App only the watch faces did not show up as expected but everything else worked fine without any issue.
Watch Operating System :
Amazfit GTR is running the latest firmware v1.3.4.14 and it has brought in some key changes to watch behavior with more accuracy and effective GPS positioning. Initially it was hard for the watch to locate or lock GPS and even it failed to track my 15mins of cycling by just reporting a simple error as " DID NOT RECORD LAST ACTIVITY" It was really painful to see a 11k INR worth modern gadget failing to do its work. Later in two days, I received an OTA update which made GPS work better than before and also improved battery life marginally.
Watch UI demo
Watchfaces can be changed from the homescreen itself, with just a two-second hold on the watch face will take us to watchface selection settings and by default watch will come with 3 face options. If we wish to change or add new watch face, we can get it done simply by heading into Amazfit app watchface settings. There we can locate 70+ watch faces preloaded, just a tap and sync will get it done.
Watch user interface is simple and easy to use. User can swipe left and right from home screen to access status and heart rate. Transition between pages is not smooth and a bit laggy. Drop down shortcuts can be accessed in ease without any lag or issue. Menu is silky smooth and navigating between options were made easy with swipe gestures. Watch Operating System is well designed with light skin to provide simple yet useful overall experience.
WaterProof:
Water Resistant up to 5 ATM and High-precision GPS. Amazfit GTR will be Your Best Companion for Mountain Climbing or Swimming. Amazfit GTR is water resistant to a depth of 50 meters, which is comparable to traditional high-end watches, so you have nothing to worry when wearing it in daily life or swimming.
I personally used GTR in sea water and used it in rainy days too, did not face any issues or malfunctioning. Being a capacitive touch display, it will show random clicking like false touch happening once the watch display gets contact with water. This can avoided by enabling screen lock in shortcuts.
But again in website they have made it clear that users are not recommended to use GTR for scuba diving or high speed water sports.

Battery :
Huami claims that GTR will provide a Revolutionary Battery Life of 24 Days.
Their team informs us to not be worried about running out of battery anymore. The prime reason behind this promise is, an advanced chip with low power consumption, a new and enhanced circuit design, a deep-in power optimisation and power consumption management, enable the Amazfit GTR to perform perfectly for over three weeks.
From my personal experience based on my usage pattern this Classic looking watch should last more than 15 days. I used to start my day with 30 mins warmup workouts, then cycling for 30 mins with GPS in use followed by 90 mins of badminton. Also, continuous heart-rate monitoring will be on from morning 5 to 5:30 am till the time I reach bed. Bands were comfortable for me related to sleep tracking but being a watch, in the traditional sense, it is big and not comfortable to wear while sleeping.
Video Review in Tamil : 
Tips to prolong battery life :
Turn on and off Auto brightness based on your environment
Reduce screen-on duration to 5 sec
When ever you remove the watch, Turn on power saver mode to avoid heart rate monitor from operation. As many were asking me like, My tracker keeps blinking or calculating heat-rate inspite of being removed from hand.
Don't turn on always on display
Use watch face with more blacks
Pros :
Premium feel
Better Accuracy
Beautiful Display
More sensors
Cons :
GPS fails occasionally
Only vibration for Notification
Limited Workout modes
Conclusion :
I personally felt this watch is good for the price tag it comes with, especially the premium feel and the materials used. The stainless steel frame with leather makes it look more premium than expected, it is very attractive. But again, it also had issues with GPS and failed to track some of my outdoor activities like walking, running or cycling, all because of one reason (Failed to track last activity, due to GPS failure). Failed tracking is loss of data and that's inexcusable. I personally felt Amazfit Verge Lite was a bit better at this from my past experience. It had very good outdoor tracking record with minimal failure to no failure during a month of use. So I expect Huami to push OTA updates to get it better over time.
Availability
The Amazfit GTR 47mm comes in Stainless Steel and Aluminium casing with brown leather strap and is from Flipkart and Myntra for Rs. 10,999. The Amazfit GTR 42.6mm model comes in Starry Black, Cherry Blossom Pink, Moonlight White and Coral Red colors with silicone straps and is available from Flipkart at Rs. Rs. 9,999.
Alternatives
The Indian market is crowded with Smart gadgets and Activity trackers. Thereby, we have more options available around. Will list down some of the possible options from same brand –
Amazfit Verge
Amazfit GTS
Amazfit Verge Lite
Amazfit Bip
Amazfit Bip Lite