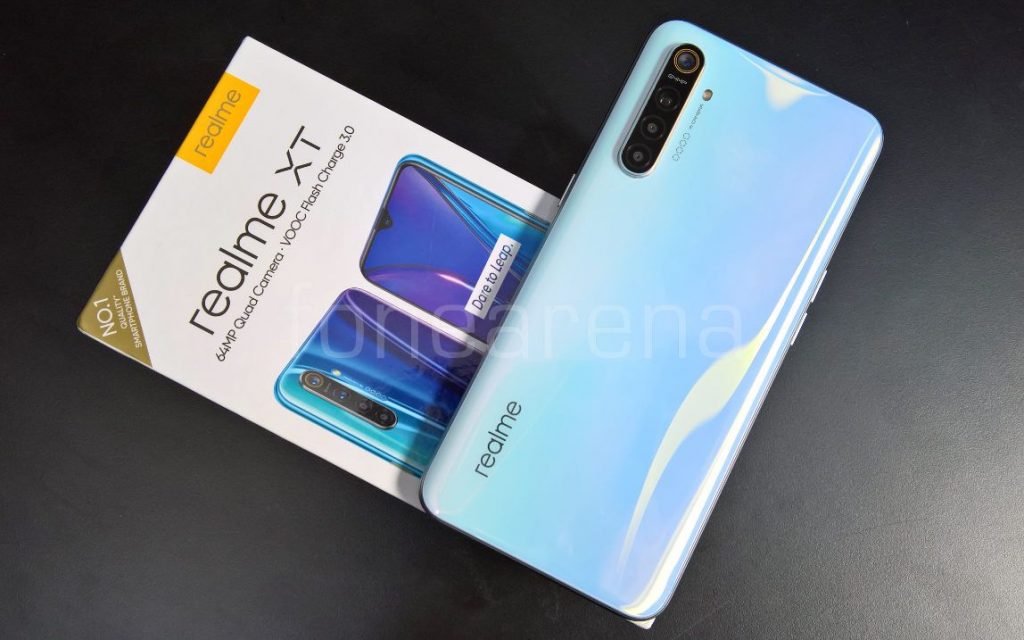 I can't help but think Realme is preparing its boundaries to justify their future flagship killer with excellent build quality on a beautiful looking XT. Initially I felt bad for quick successive phones being launched in a short span of time but when the Realme X came out, it showed that a full display design language can be brought down to mid-range without many compromises. But for those who are not in favour of moving parts, like me, the XT takes it down a notch as a decent compromise. Now after using the phone for the past 21 days, the Realme XT has impressed me in many ways and in the meantime it also has a few areas of concern. Hence the review in which I will get all your doubts cleared, whether to go with the Realme XT or to wait for future devices from Realme.
I am very much concerned about SAR value so lets start from there. Realme XT got certified with maximum SAR value upto
                                HEAD SAR – 1.141 W/KG
                                BODY SAR – 0.473 W/KG
Looking at the head SAR value alone, I advise users to prefer using headphones either wireless or wired for lengthy calls.
Box content
20W Charger (5V-4A) and high quality Type-C cable
TPU Case with raised corners
Sim ejector pin
Warranty card and manual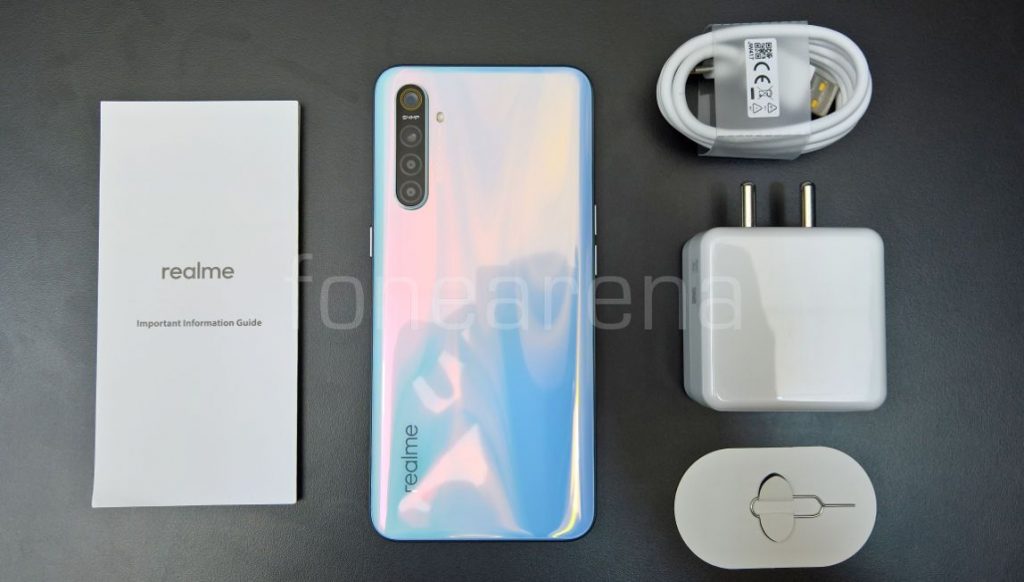 Considering the current market conditions, Realme XT has indeed came up with good in-box content like its predecessor.
Sensors:
Realme XT comes with a wide range of sensors as listed below
GPS/Beidou/Galileo
Light sensor
Proximity sensor
Magnetic induction sensor
Gyro-meter
Acceleration sensor
Pedometer
G-sensor
In-Display Fingerprint
Build Quality and design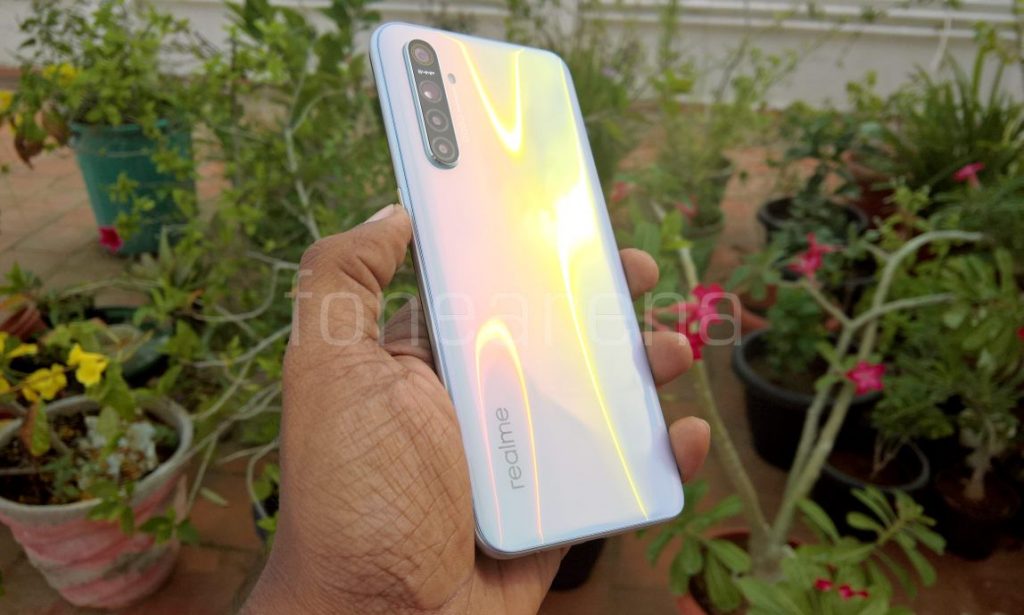 There is no compromise this time with the materials used around and the device. It is very well showcased to attract consumers. Device feels like a cloned OnePlus 6t or 7 in terms of looks, with a small chin. Front of the devices houses 6.4inch water drop SuperAMOLED display with in-display fingerprint sensor  and a 16MP front camera. Earpiece above the camera is promising and loud enough, To the left we have dedicated dual SIM plus MicroSD slot at the top followed by volume control keys, at the right we have power button with yellow stripe to add some visual details. At the bottom from left to right we have Speaker grill, Type-C port, Microphone and 3.5mm audio jack and Top is simple and clean with secondary microphone. Rear of the phone is the key area to consider this phone as it comes with corning Gorilla glass 5 protection and a quad camera setup. Realme XT measures as below
Height: 158.7mm
Width: 75.2mm
Depth: 8.6mm
Weight: ≈183g(with battery)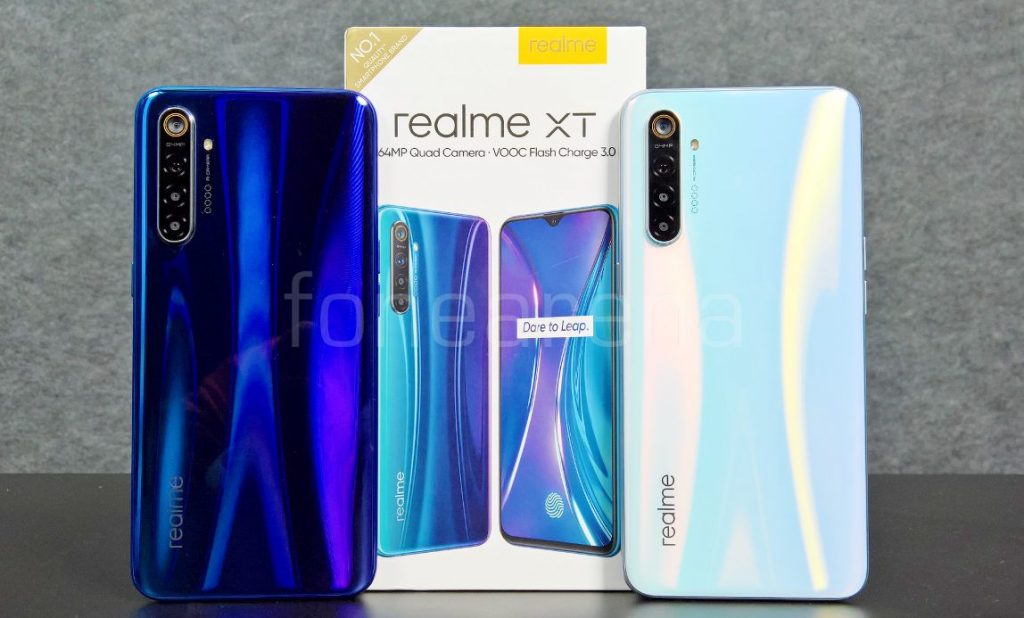 Both the Pearl Blue and Pearl White are equally attractive, Where as Pearl Blue alone comes with gradient frame around. This is the first phone in realme lineup to look and feel more premium by the way it comes equipped with glass and also the under the hood hardware.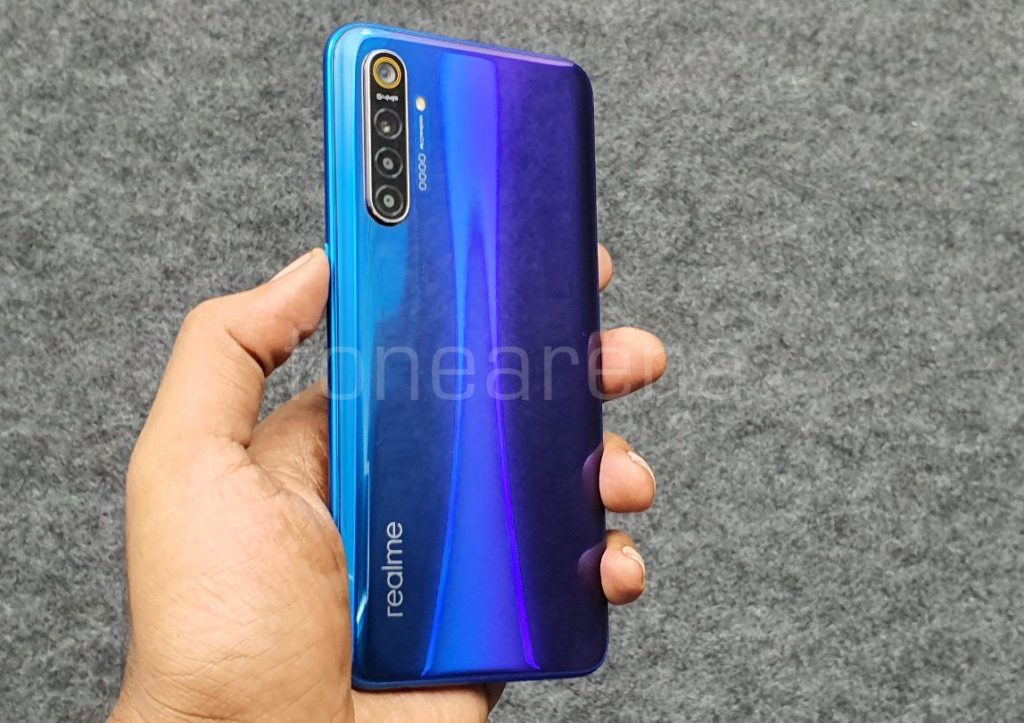 Front and back of the phone being glass, attracts fingerprint smudges but not very bad compared to the competition. Pearl Blue does reveal more smudges than Pearl White. We must remember that the head of Realme tweeted and confirmed that phone is water resistant but as usual, conditions applied.
The pricing of the Realme priced XT challenges the midrange market. Base variant starts from Rs. 15,999 for 4GB RAM with 64GB ROM, Rs. 16,999 for 6GB RAM with 64GB ROM and Rs. 18,999 for 8GB RAM with 128GB ROM. Pricing felt aggressive considering the specification and overall build quality. For this price, we can say, Realme XT's most unique features are – Excellent build quality, 64MP Samsung GW1 and Multimedia experience.
Display – Beautiful SuperAMOLED panel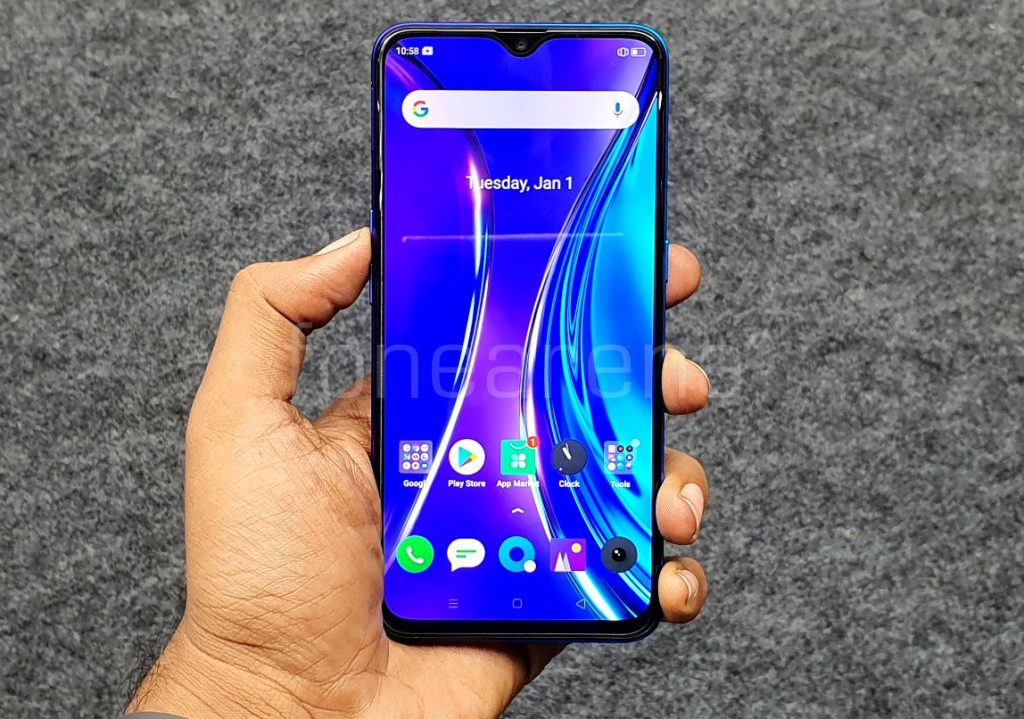 Realme XT comes with a beautiful 6.4 inch SuperAMOLED panel which provides user rich multimedia or social media experience. Also the 91.9% Screen to body ratio with 2340-by-1080-pixel resolution at 402 ppi is awesome considering the price range and which reflects in immersive feel in getting lost into it. It is being protected by Corning Gorilla glass 5 and which adds a layer of fine protection from scratches and comfortable feel to use. But in my personal experience I got many airline scratches and few deeper one when I placed the phone along metal coins. Colours are punchy enough and we have additional settings to boost it further in the name OSIE Vision Effect.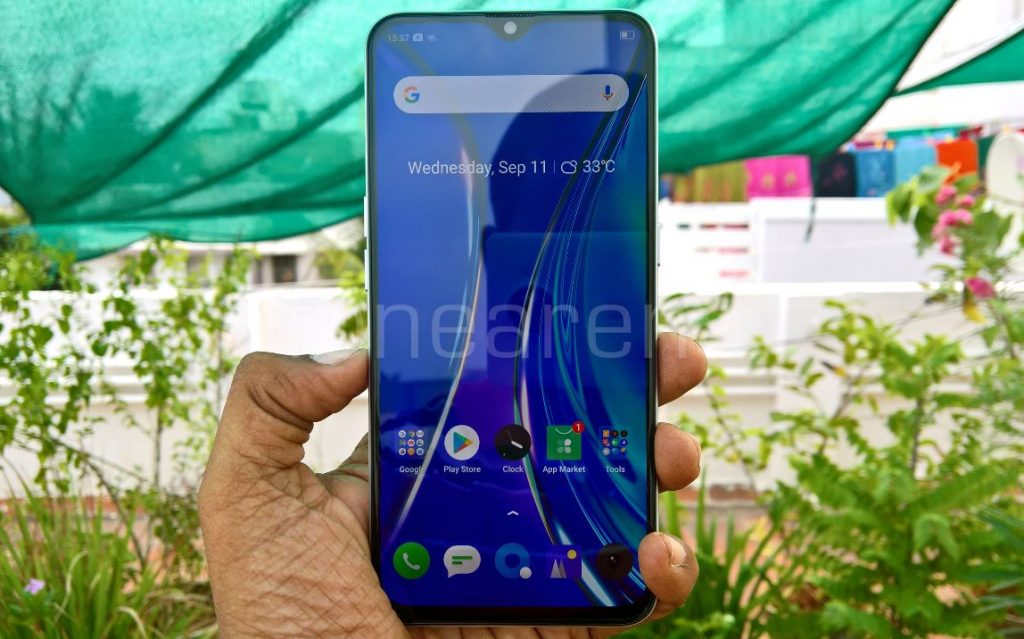 Low-Brightness Flicker-Free Eye Care is nothing but commonly known DC dimming feature which when turned on, it can reduce the visual fatigue caused by screen flickering at a low screen brightness level, Also it comes with a slight warning like Screen noise will increase slightly. Also enabling this is recommended as it takes brightness to the lowest possible nit, and which is really comfortable to use at dark. Overall, a great display for the price.
Fingerprint,Face and Password
Realme has made use of latest tech by bringing an in-display fingerprint sensor and also face unlock. The fingerprint sensor under the display is not something new for them as this is their second phone to house it. It works faster than many of its competitors with out any issue and also AI learning makes its ability to recognize better over the period of time. A backup lock screen password is supposed to be set to use either Fingerprint or Face data or even both can be used simultaneously. The user can add 5 set of Finger print data and can also be used for App Lock and Private safe.
In-display fingerprint animations are good and Animation style gives the user some customization options. If you are not OK with the fingerprint icon displayed after getting the screen locked like a always on display look, it can be turned off in settings. Face unlock is not a secure way to protect the phone but it is there in case you need it.
Notification and Sounds
In today's world we use smartphone to not miss anything around and notification plays an important role in that. With Realme XT we won't be missing any notification as both speaker and vibration motor are powerful enough to pull our concentration towards it. Downside can be lack of Always-on-display, Which is considered to be important among AMOLED smartphones, especially when there is no notification LED. There is a Screen-off clock inside the display settings which is a very basic form of this feature, so let's hope Realme updates itself soon.
Regarding volume control and profile switching user can define role of volume rocker whether to control Media Volume or Ringtone Volume by default. Sound feedback is good with respect to dialpad tone to fingerprint animation sound. Also Volume Up + Power button works fine to put phone into vibration only profile
Connectivity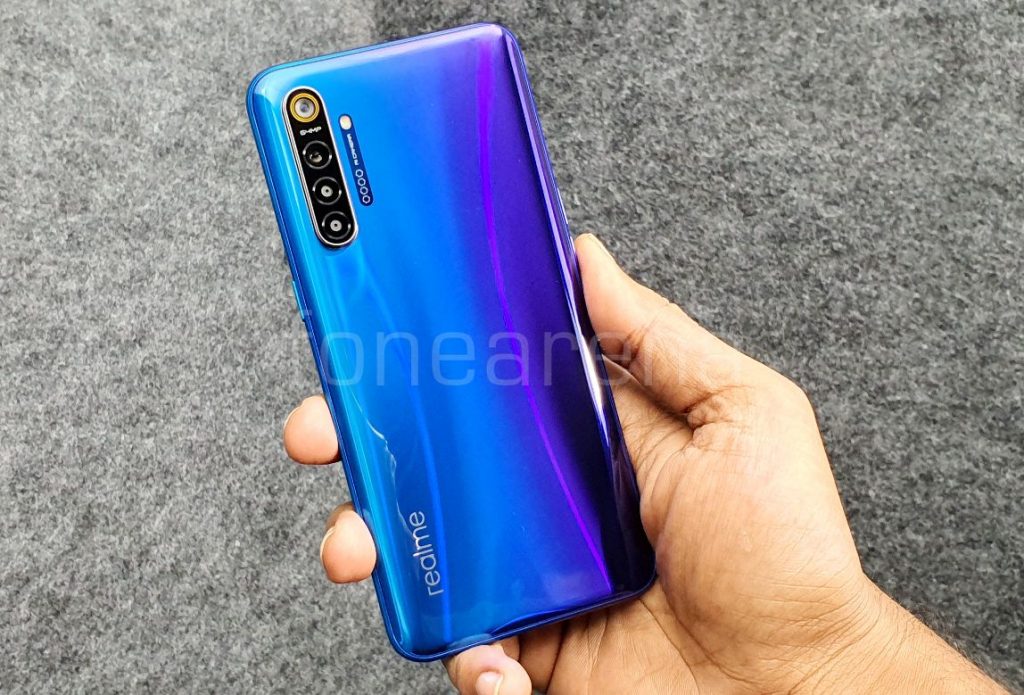 Smartphones can add tons and tons of new features and options over growing years but they are here for the basic role of communication over the air so how good is XT in this area?
First Dual SIM with Dual VoLTE option works fine without any issue and switching between network or SIM is not tough and everything is brought in easy with easy options. Also I did not experience any call drop or issue with network connectivity. Also switching between LTE/3G/2G went smooth when I was traveling. Also call connection time and everything related to it were put perfect as expected. I even tried Video calling users via VoLTE and Jio worked fine.
Phone supports following bandwidths as below
GSM: 850/900/1800/1900MHz
WCDMA: 850/900/2100MHz
FDD-LTE: Bands 1/3/5/8
TD-LTE: Bands 38/40/41(2535-2655MHz)
Once we navigate into Dual SIM and Cellular Network in settings menu it brings us options like Dual Channel Network Acceleration. This option provides users with smoother internet experience by combining WiFi and mobile data, also this option comes with a data consumption warning stating, When this technology is used with a data-free phone card/data package for specific apps, there may be data consumption. Also it shows us those apps which supports this network acceleration from the list of apps we installed. In my device I had Helo, Instagram, Chrome, FB Messenger, Facebook, WhatsApp, Opera and PUBG Mobile as supported.
Also Phone comes with Dual band Wi-Fi 802.11 a/b/g/n/ac and also Bluetooth 5.0 wireless technology. I did not experience any issue using dual band wifi and the smart connect worked well too. It automatically switches between known wifi networks based on signal strength and that happens seamlessly. Bluetooth 5 is perfect and works as it is supposed to be, tried transferring files through it and also paired accessories without any issue. Audio output through bluetooth was good and not extraordinary like flagships. Also range was good as bluetooth 5 is capable of transmitting long range. Again like all other midrangers this phone does not come with NFC. Also No IR blaster for remote control option.
Multimedia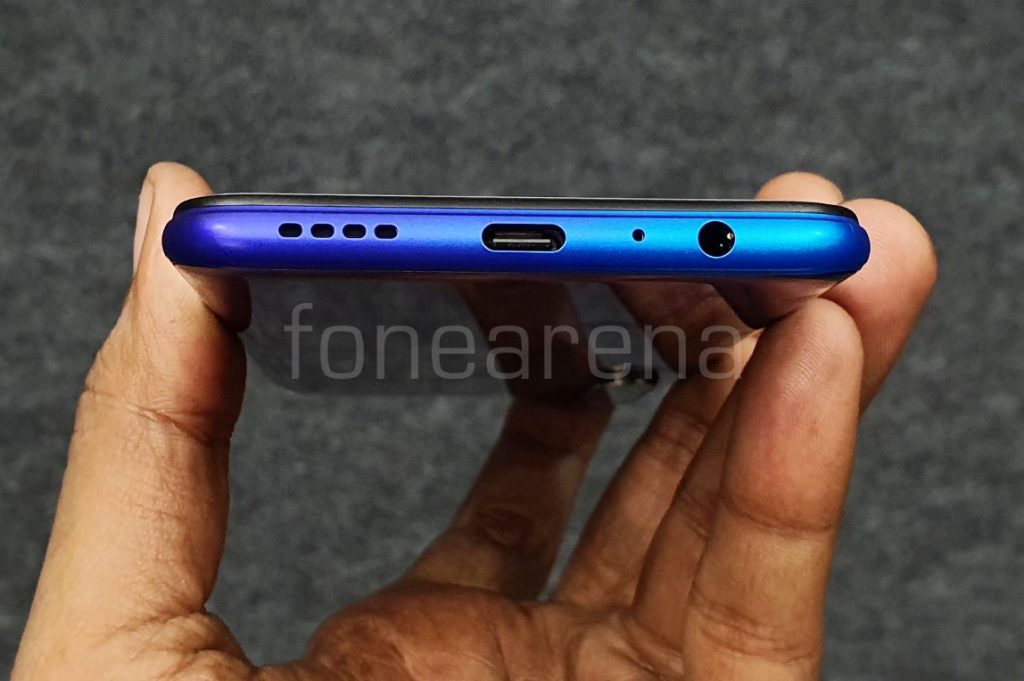 The Realme XT really impressed me in this area with an awesome loudspeaker, a good AMOLED display and also something considered very important from the past decades, a 3.5mm audio jack. In spite of not being stereo speakers this mono unit was loud and powerful enough to enjoy multimedia content and listen to music. The 3.5mm jack delivered louder output, it was loud and clear with Stock Music player that came preinstalled on the phone.
A single click on equalizer icon will take us to a new tab where we can enable  Dolby Atmos and also Intelligent Equalizer can be enabled if Headphones stays connected. For superior control over audio output i personally preferred using Poweramp and also there are many other options available out in Play store.
Let us come to current generation way of multimedia experience, Watching movie and streaming shows are not like before and it requires basic security as well as certifications like Widevine L1. As I tested Realme XT comes with L1 certification and also I have verified it by playing content in Amazon Prime Video at 1080p. And finally, to anyone likes enjoying the completely offline FM radio, like me, you'll be happy to see it there. Overall, a great multimedia experience on this phone.
Haptic feedback and Keyboard:
I personally look into this area with focus as it is important for a touchscreen based phone to come with good Haptic feedback for better typing experience. Current generation smartphones are made with all screen design. Whatever the brand or budget of the phone is going to be, We keep interacting with it via touch and all our inputs are through the on screen keyboard. GBoard is the default on screen keyboard on XT. GBoard comes with wide range of options including swipe input.
In Realme XT haptic feedback is long and deep which makes it unpleasant. To get it better navigate to GBoard settings and navigate to preferences and change vibration strength on keypress to 30ms. Also we have many options to get better on screen keyboard experience. Like enabling Number row, Altering Layout and Keyboard height. Even GBoard comes with a wide range of themes to make it more attractive.
Camera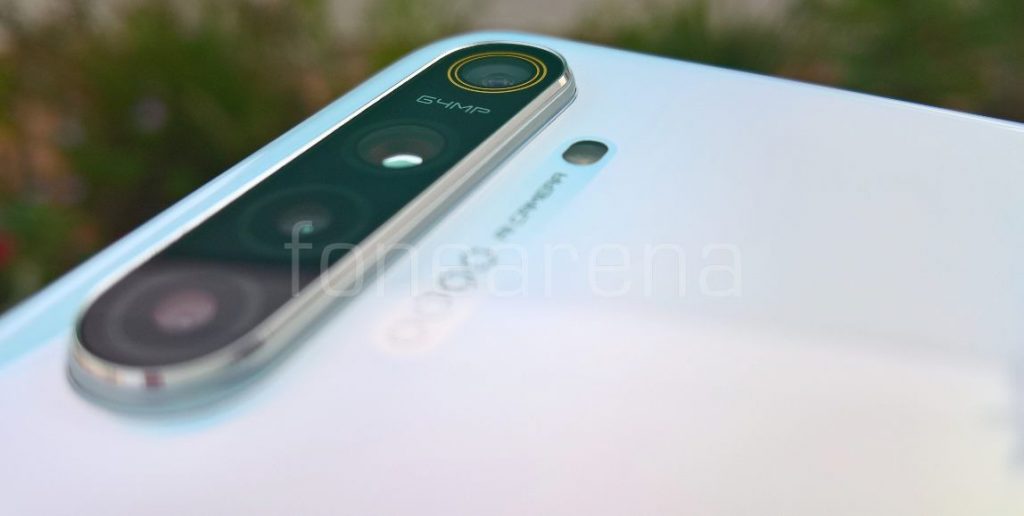 Realme XT comes with 64MP AI Quad Camera with Ultra Wide-angle and Macro Lens and Sony 16MP Front Camera. 64MP main camera is Samsung GW1 Sensor with f/1.8 and aperture 1/1.72 sensor size with 6P lens. Ultra wide camera comes with 8MP wide-angle lens at 119°±1.5° angle and  f/2.25 aperture with 5P lens and Support super nightscape. 2MP Portrait lens with Six portrait style and Finally 2MP Macro sensor with 4cm shooting distance.
Once we open the camera app, we will feel that it is clean and simple to use. Primary or mostly used modes and options were put on the screen for easy access and all other least used modes are kept hidden at left corner with additional options. Camera app comes with options like
Photo
Video
Portrait
Ultra 64 MP
Nightscape
Panorama
Expert / Pro mode
Time-Lapse
Slow Motion
Ultra Macro
Now regarding Photos Realme XT comes with a Ultra-High resolution sensor in the market. Its Tetracell and 3D HDR technology lets users take crystal clear photos under any circumstances is what claimed by the company and for me it did not fail the hype. Also don't forget that the primary camera comes with EIS and no OIS. The 64MP Primary sensor is not just going to produce full resolution image always and it is going to stick with pixel binning and the output will be around 16MP constantly and this 16MP output is really good. Images produced from the primary sensors has more details and also when we enable HDR and also chromaboost, results were really rich in colours and also details in shadowed regions were very well preserved compared to competition out there. When I closely examined the outputs in different circumstances, it kept producing the best possible output from the situation around and also it had no issue with focus. The primary sensor kept me impressed compared to competition even in low-light situations with the bigger sensor it came with. One can digitally zoom from 2X to 10X. 2X results are not bad and more digital zoom produces, not surprisingly, poorer results.
Video is also one of those stronger areas for Realme XT considering the outputs it produced also it had no issues with stabilization and also the quality and frames. To the maximum it can record upto 4K at 30fps and 4K outputs are good considering the budget it comes with the compromise of stabilisation. Frame drops were well handled and we all are aware of working mechanism of EIS. Stabilization with software is very well done in 1080p and 720p outputs in rear as well as front camera. In this price segment XT put up a good show compared to other devices. Downside in video mode is, user can't shoot videos with wide angle camera. Only way to record videos is through Primary 64MP sensor. Digital zoom is not only for photos, it is also very well available for video recording. Just sliding over the 1X button in the camera interface will help in Zooming out and in. This zooming effect works flawless and smooth, No distortion or shakes can be spotted while performing this action from a static location. On the move when we zoom out more introduces more shakes and poor output. Video mode also comes with more options like filters. Filters helps us take different looking videos like cinematic to black and white. Video samples below
Realme XT 4K Video Sample
Realme XT 4K Video Sample with Filter
Realme XT 1080p Video Sample
Realme XT 720p Video Sample
Realme XT 1080p Front Camera Video Sample
Realme XT 720p Front Camera Video Sample
Portraits are good with dedicated 2MP depth camera. I tried making many portrait shots and output was good. Edge detection is better and works as good as possible with human subjects even at nights and mostly failed with objects. Good light conditions improved the output quality with better edge detection. Regarding portrait effects, It will grow better by coming days with better future updates. So every improvement for this phone is completely dependent on the Realme software team. At least happy that depth camera worked and it is not there for namesake.
Ultra 64 MP is present for those who want to test the biggest possible resolution output from a smartphone camera without any stitching or some algorithm. This will be useful for those who wish to print their images into banner and also to try getting bigger dimensional images. Also this mode requires slightly stable hand to get best output out of the sensor. Also more the light better the details captured. click here for samples.
Nightscape is there and it is the main reason for me not using or installing any other camera App. Most people today go and search for Gcam to get better lowlight outputs. Surprisingly Realme worked good on their low light algorithm as I had a bitter experience with Realme X in earlier days. Best part of nightscape is, it can handle lights better without getting them blown out in spite of longer exposure time. Details are well retained and small to minor shakes from user end are accepted and output is really perfect without those real-time shakes. Also Nightscape is possible with Wide Angle camera too and I am happy about this option. This provides wider options to shoot at night.
The 8MP Ultra Wide-angle camera results were good comparing the market competition and being a small sensor it is not going to bring in more light or details compared to the large main sensor. Corners of the ultra wide photos had washed out feel and also turning on HDR and Chromaboost resulted in attractive outputs which are ready for social media sharing.
Slow motion videos can be made at 120fps, 240fps and 960fps. 960fps option will drive users crazy, because it is not true 960fps like those in Sony flagships, this is just an interpolated one. 960fps results are like a gif file when played, not smooth and pleasing to the eye. Best result can be obtained while recording 240fps output, smooth like butter with good details. Also guys dont forget that slow motion videos required more light to get things attractive and detailed. As we should understand camera will be recording 240 frames every second and it will be hard for it to handle light or boost it in indoor conditions. Slow motion videos shot in poor light conditions will have flickering kind of output,which many mistake as some issue with the smartphone. Slow Motion Video samples below
Realme XT 240fps slow motion sample
Realme XT 960fps slow motion sample
Ultra Macro:
Realme XT comes with a 2MP ultra-macro sensor which by default is not attractive and to be frank it is going to produce poor results in any condition. Also it won't be easy for users to get close to every subject we love to shoot. I tried in different situations where i can take the camera close to the subject and results were worse. I stopped using it from day one after several poor results through it. Best way to get good macro out of Realme XT is to use Primary 64MP sensor, also with 2X zoom output from the primary sensor were good in details.
Macro samples with 64MP primary sensor
Front Camera: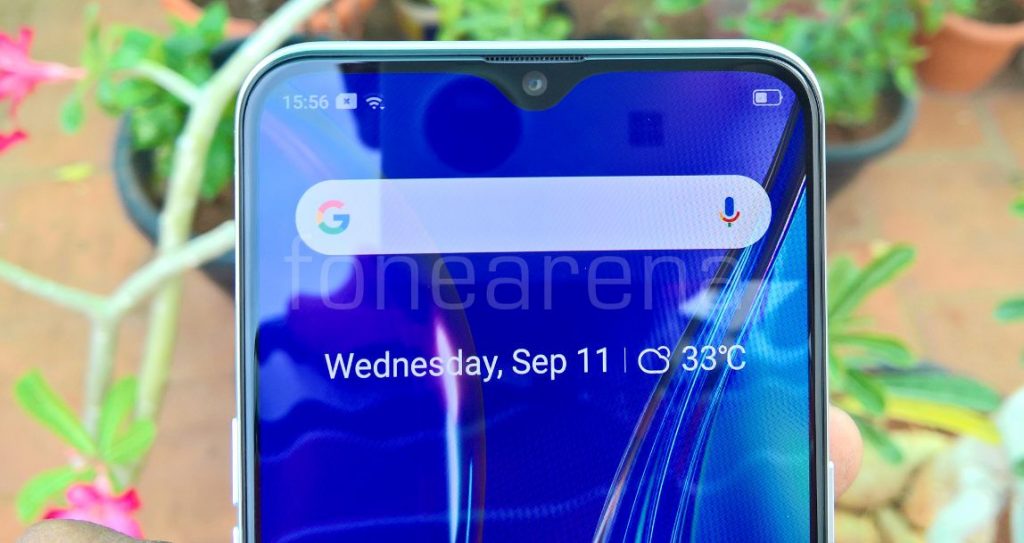 Sony 16MP Front Camera output is average considering competition like vivo Z1x 32MP front camera. It comes with options like Video recording at 1080p and 720p with EIS and also option to use filters. Front camera videos are stable and good for Vlogs and social videos. Photos are good with beauty effects and which can be turned off. In good lighting condition photos come with good amount of details and struggles in low light areas with more noise. Portraits are good and fails occasionally in edge detection. Works good in well lit conditions but fails with poor lighting.
Selfie Panorama Sample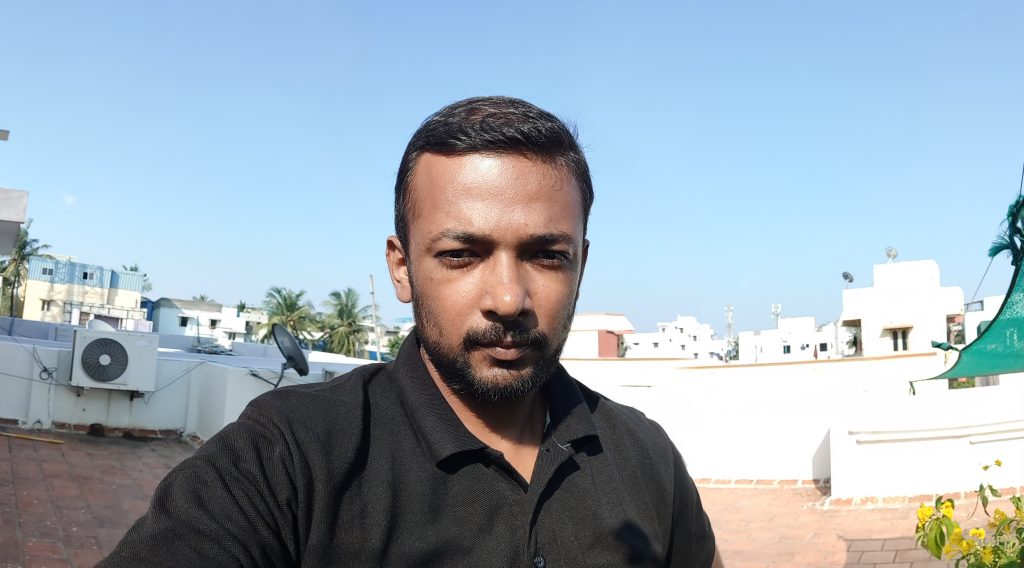 Performance and Gaming:
Realme XT comes with a very good hardware configuration for the price tag it comes at. Under the hood it is powered by the Snapdragon 712, a 2.3GHz octa core processor. I used the 8GB RAM model with 128GB storage. So I ran different benchmark apps and got scores and also compared them with other phones with similar specification available in the current market. In every benchmark I ran XT did not top the list, it was a mixed result and anyhow I am not a person who runs behind benchmark scores and very much consider the real world performance. Check out synthetic benchmark score below.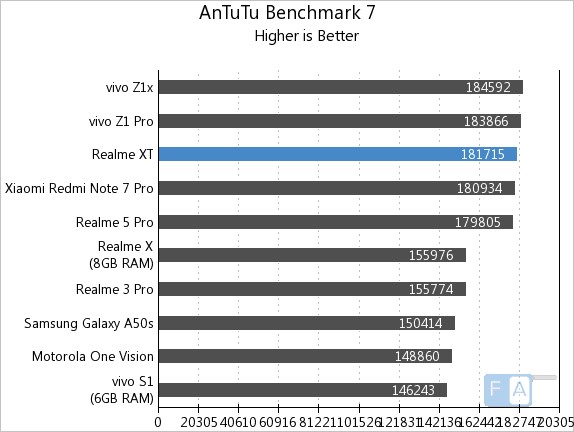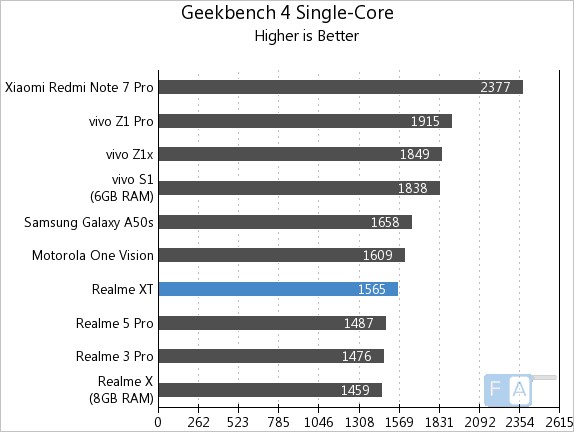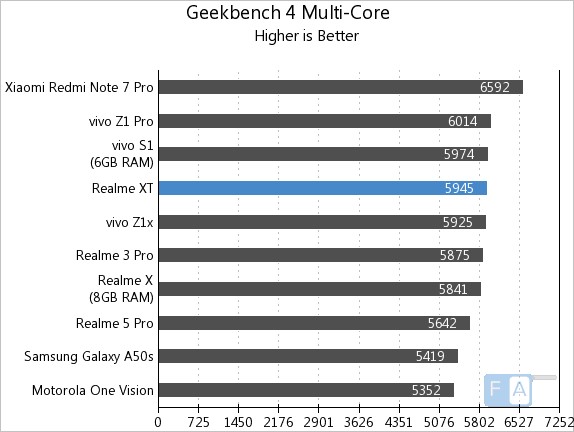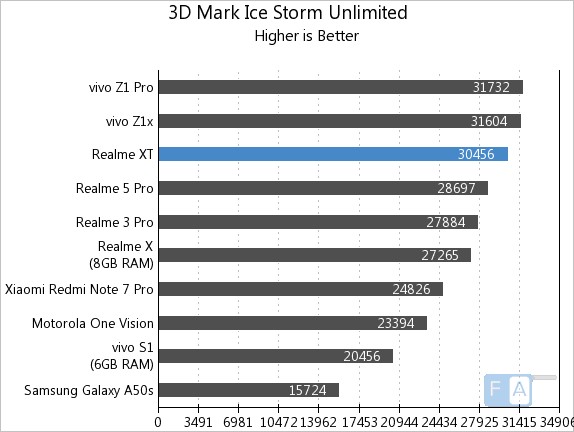 For testing its fullest potential I started playing the following games mentioned below and also spend some time testing PUBG.
PUBG : Game had default recommended settings as high by default. Overall game play was good with occasional frame drops and also by playing for 30 mins with high speed WiFi connection its battery dropped from 78 to 70 percentage and also temperature raised from 36.4'c to 41.2'c.
Asphalt 8 missed out those special effects and Snapdragon 712 is not the only chip to suffer this issue, we even had 665 and also 710 experience the same. Asphalt 9 was fine and well handled by the phone. Also phone had no issues playing below listed games like Rise of kingdoms, ArcHero, Clash Royale, Head ball 2 etc..
Gaming experience with Realme XT was good and also thermal conductivity is well handled. Realme XT features multiple cooling layers to further prevent heating, including a new type of thermal gel, high thermal conductivity aluminum, and a series of graphite sheets. The device stays 14% cooler even while gaming, so it's more comfortable to hold and you can play for longer as claimed by Realme.
Software:
Color OS by the name it means more colourful way to present Android to users.  It is not only of positive aspects but also comes with negatives like Bloatware. Beauty is user can uninstall those pre-installed bloatware apps without any issues. Also default launchers Homescreen will have some app recommendation like Hot Apps and Games, Which can be removed via settings available in Realme Market App.
High performance mode is a mode with which you can fully exploit the power of the chip but it does come with a warning- with this mode device maintains high performance in operations, Power consumption may increase and it may cause overheating too. Just be aware of that. Also performance mode comes with an option named No Performance Mode which turns off improved performance to extend battery life. Smart Performance mode is the one that comes active by default which will switch between modes with respect to usage scenario. Background apps are very well monitored and which in turn helps in increasing battery life over the run.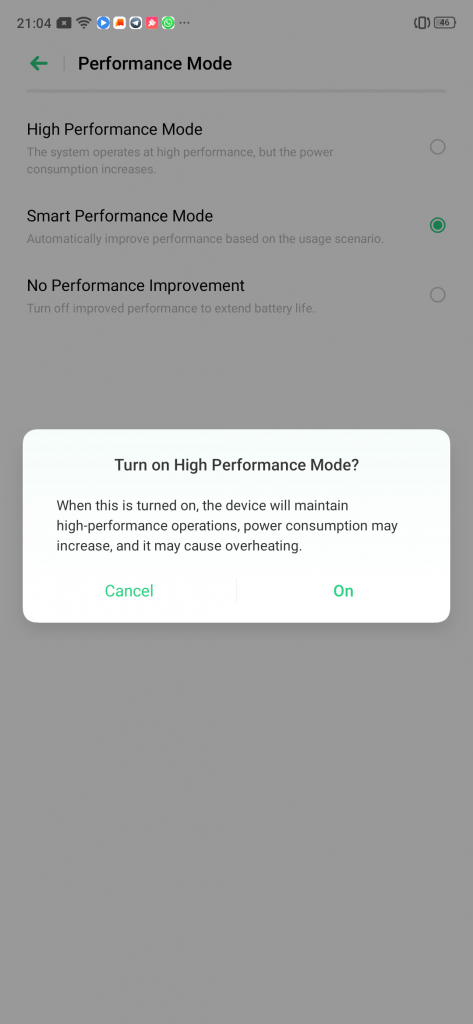 Color OS also comes with some unique added advantages like clone Apps. Once clone apps is enabled, A new copy of the app will be generated on the homescreen. This copy and its original app can run simultaneously without affecting each other. Clone app requires support of both the app itself and the phone. If a cloned app does not work properly, it means that the function or operation is not supported by the app or phone. Sample apps that support clone are
Facebook
WhatsApp
Messenger
Instagram etc…
Clone apps currently does not support data transfer between a cloned app and a computer. Clone Apps comes with a restriction like it can clone only two different apps at the same time.
Game space adds more value for better gaming experience and by blocking incoming notification banners and other disturbance when enabled. Game exclusive toolbar can be called from the side. Also can help in hiding game icons on homescreen. Those games brought into game space wont be visible in app drawer or home screen. Also user can manage the games that should use the privilege of game space. There are several more interesting features in color OS that will improve your day to day experience, if you have any questions let us know in the comments section below.
Overall software performance is fine but color OS requires few fixes in Control center and also notification tray in terms of design and utility. Notification for a particular app gets expanded for a touch which is annoying often, as whole screen will have multiple notifications from the same app by pushing the other contents below. This expanding notification option should be made manual for easier access to important one first.
Battery: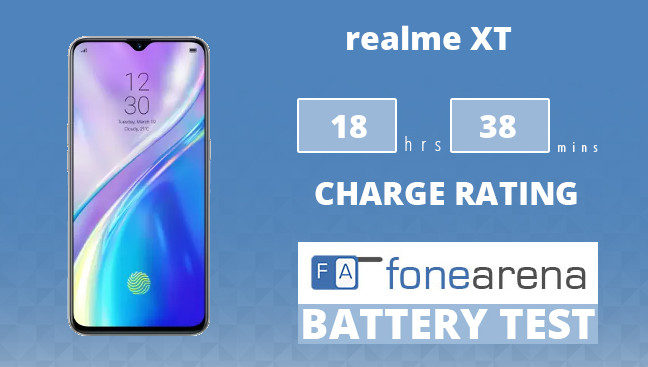 Battery is also a stronger area for Realme XT considering the 4000mAh power source coupled with a 20watt VOOC charging brick, which can get the battery juiced up in no time. With the bundled charger it took about one and half hours to charge from 0 to 100%, while 0 to 50% took just 30 minutes. It achieved a One Charge Rating of 18 hours and 38 minutes, which is good for a phone with a 4000mAh battery.
In real time battery can take you around whole day with mixed use and also will be left with more juice to run further. Usually, I play quite a few games coupled with social interaction and Multimedia activities, with this kind of usage it easily lasted for a day without any issue. I charged this device only once a day and it will even last longer for those who use just for media.
I often ended up with an average Screen On Time of around 5 to 6hrs and which is impressive for a phone with a 6.4 inch AMOLED display and many can push it further with the Balanced or even power saver mode available inside settings. Battery optimization is good in Color OS and it very well manages background activity with out any issue.
By enabling Power Saving Mode it quits some background apps, pauses background auto sync, Lowers screen brightness and turns off vibrate on touch features too. Also power saving mode can be turned off automatically once the battery is fully charged to 100 percent. Also it can be turned on at specified battery level between 5 to 75 percentage. Overall battery life of Realme XT is good with respect to current market competition.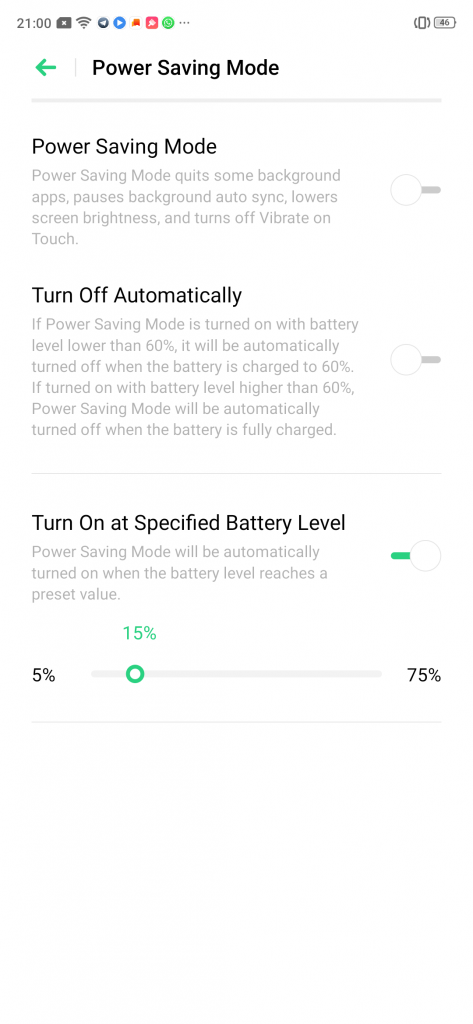 I recommend users to keep monitoring power usage and which will help prolong battery life and curtail those apps which are not being used from consuming or running in background. I personally had poor experience from Google app and WhatsApp as both kept consuing more in spite of not being used often. I restricted them by disabling all permissions and force stopping it. Which resulted in better battery life and standby.

Conclusion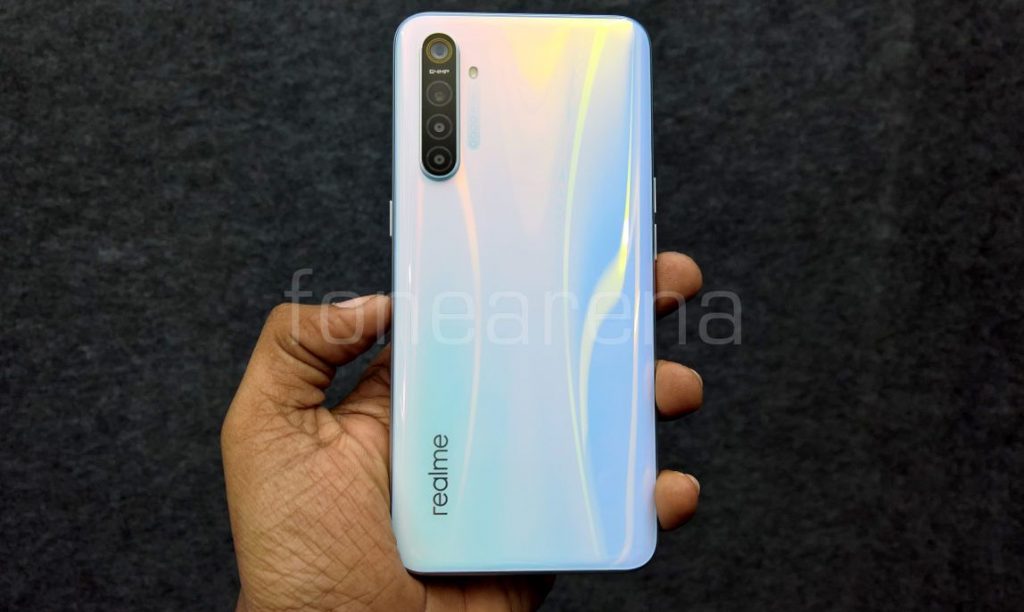 Overall Realme XT is one of the best phones we get in midrange segment and it nearly feels like a Midrange flagship phone with all those premium look and feel. Also the quad camera setup with good hardware makes it one of the best options for a camera enthusiast and a multimedia consumer.
Availablility
It is available from Flipkart and realme.com starting at Rs. 15,999. realme XT Iconic Case at Rs. 399 will be available from October.
Every phone in the market has its own Pros and Cons. Here I will list them below for the Realme XT.
Pros:
Good AMOLED Display with a fast in-display fingerprint sensor
Well built with a premium feel
Snapdragon 712 is fast, there is a 8GB RAM and 128GB ROM option
Quad camera setup, especially the 64MP primary sensor
Good battery Life and Multimedia experience
Cons:
Easily scratches and also attracts more fingerprint smudges
Not sure about update cycle over long run
Color OS needs more tweaks (especially notification tray)
Average Front camera
Can't record video using wide angle camera yet
Realme XT is priced in the range (Rs. 15,999 to Rs. 18,999) there are many options to consider, thereby I list out some of the most rated smartphones available
vivo Z1x
Nokia 8.1
vivo z1 Pro
Samsung A50
Samsung M30s
Redmi Note 7 Pro
Realme 5 Pro
Realme X
Every phone mentioned comes with their own unique flavour of Android with custom features.