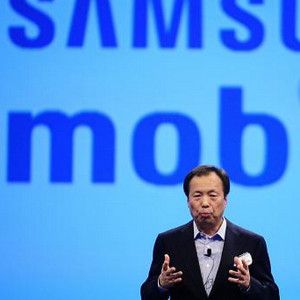 We've seen Samsung going the aggressive way, and they are gaining a lot momentum in the mobile space. JK Shin,President of Samsung's Mobile business told PCMAG at CES 2011 that they will be showcasing their new line up of devices mainly the Dual-Core phones and Tablets at MWC 2011 this year .
"We will continue to keep our technology leadership this year. In terms of dual-core applications, we already have a program, and next month at Mobile World Congress we will unveil it.In February at MWC, we will unveil our next-generation tablet device portfolio in detail." Shin said.
Major players like LG, Motorola have already announced  tablets, smartphones and hotspots running the latest version of Android (ie 2.3) with some stunning specs (like phone's running on dual-core processor, having 1GB RAM, Wi-Fi Direct etc.). Though Samsung has already announced some devices at CES, they haven't had any groundbreaking products.
He also said
"We are in a position to supply 4G smartphones and tablets to all the carriers in the US".

"We will continue to keep the partnership with Microsoft".
"Samsung will take a major shift from 3G to 4G and from feature phones to smartphones, Shin said.
Samsung's executive vice president and head of marketing DJ Lee said that the company expects to sell at least 10% more phones in 2011 than they did last year. They are concentrating more on capturing the smartphone market, rather than Feature phone market.
And as far as the tablet news is concerned, Mr. Omar Khan (Samsung's Mobile's Chief strategy) also noted that some of those tablets which are going to be announced at MWC may come in some new forms.
New forms? – Ie, New categories and New form factors, different convergence opportunities in terms of docking, and interoperability with consumer electronics," he said.
So all that i can tell is Samsung has taken the right way by concentrating more on smartphones and tablets just like all other players. Announcing mobile products at an event like MWC makes more sense than at CES.
Looking forward to Samsung's MWC press conference in Barcelona on Sunday, February 13. FoneArena will be there . Stay tuned for our live coverage  !
Source : PCMAG