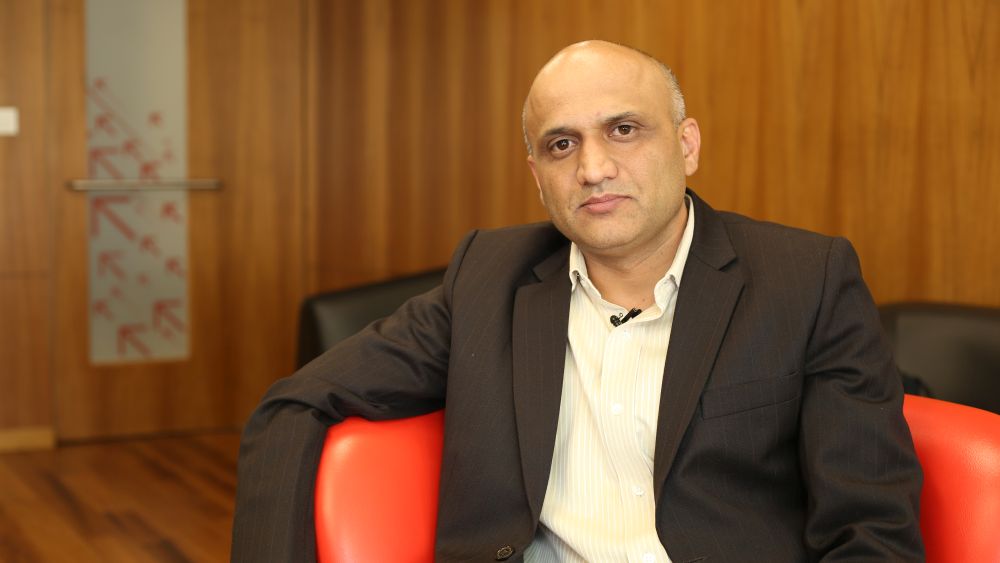 We interviewed Prasanna Gokhale who is the Chief Technology Officer at ACT Fibernet. The company previous known as ACT Broadband has been offering high speed internet services in India for quite some time and it has been offering speeds which other players rarely offer. In this interview, we discuss High-Speed broadband, Gigabit internet, ACT Fibernet's expansion plans, streaming devices and more.
On with the interview :-
FoneArena: Hello Prasanna, Welcome to the FoneArena Interview. Please introduce yourself and the work you have been doing at ACT Fibernet for the past 5 years.
Prasanna: Thank you, Varun. To introduce myself, I am Prasanna Gokhale, Chief Technology Officer (CTO) at ACT Fibernet. I am responsible for network planning, implementation, maintenance for the Internet and Video business across all locations. I have been a techie in the last 5 years and prior to that, I was an entrepreneur in my own company for 5 years.
FoneArena: High-speed Broadband has been expensive and a hard to get commodity in India, even in metros. It has changed a lot in recent times I still remember when I traveled to Hyderabad and Bangalore in 2011-2012, the broadband speeds offered under the 'Beam' (now changed to ACT Fibernet) branding was great over there. How was the transition from offering 10-20Mbps back then to Gigabit speeds now?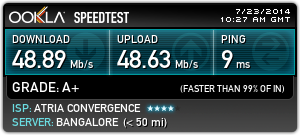 Prasanna: As you rightly said, the broadband market in India has taken off tremendously over the past few years and has become a lot affordable now compared to what it was before and there is a huge exponential increase in the broadband usage now. The speeds have improved a lot over the years and along with it, the data usage pattern of users have also changed. If you see the data usage in 2011-2013 and compare it now, the pattern has changed a lot and more people are going online and doing an online activity like work from home, streaming media, etc.
FoneArena: What are the most important cities for ACT Fibernet and the broadband plans that the company offers?
Prasanna: We operate in 4 major cities, 14 smaller towns, and we have an equal amount of focus in every market that we operate. The 100Mbps plan and the 150Mbps plan (offered in some cities) is our popular plan. It is also in accordance with our thought process as back in the days when ISPs were providing 10/20Mbps plans, we were offering 30/40Mbps plans and now, the 100Mbps plan is our most popular plan.
Also, multiple contributions have led to this and the first one is our ability to give consistent speeds, secondly being our ability to give symmetric upload/download speeds and our ability to give great customer experience. We did the right thing at the right time, and we feel that it was the factor that has taken the broadband market to this level.
FoneArena: How many cities is ACT Fibernet present in and which cities do you plan to expand to?
Prasanna: Last year, we launched our services in Madurai and Warangal and in the early part of this year, we launched in Jaipur and Lucknow as we want to focus on new cities and get the right customers to experience our services. We do not have plans to launch in a new city on the immediate horizon, but we might come with something soon.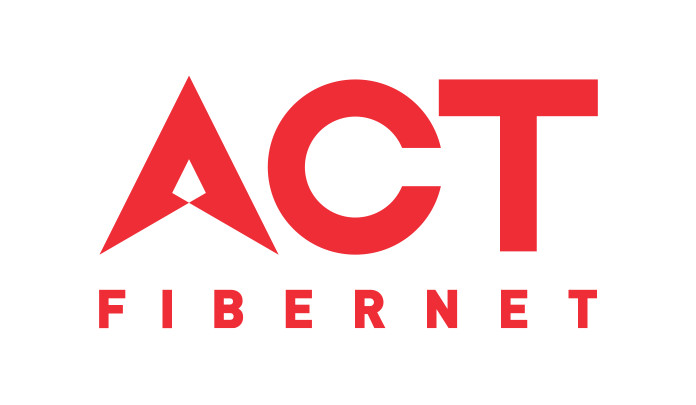 FoneArena: Delhi has always been a difficult market for most broadband providers considering the restrictions from Government, the areas that you can operate, etc. So, how the journey has been for ACT Fibernet in Delhi?
Prasanna: Delhi/NCR region is a huge and important market for us and yes, there have been challenges too. We started first with South Delhi and later expanded to West Delhi and now, we have plans to expand our services to North Delhi too. We have been expanding in phases gradually as it doesn't make sense if we launch across the huge city at once and it becomes a challenge on the day one itself to operate. We, in fact, have good partners in Delhi who has been helping us in the expansion and as of now, we are doing decent there and have plans to expand soon.
FoneArena: How much data does the ACT Fibernet network handle and can you share some details about the backbone of the network?
Prasanna: We have over qualified our backend infrastructure and at no point in time, we face any crunch in terms of bandwidth availability. Having said that, we are connected to both landing stations located in Mumbai and Chennai and from Mumbai station, it goes through the Atlantic and from Chennai station, it goes through the Pacific route.
Also, in terms of data-carrying capacity, we handle a huge volume of data and average data consumed per user is the range of 150 to 160GB per month, out of the 1.4 million customers. This is definitely higher than mobile data consumption in the country.
FoneArena: Why do broadband plans have a usage limit and what will happen if there is no limit?
Prasanna: The concept of data limit or Fair Usage Policy (FUP) exists in Asian countries and not predominantly in the US and Europe. The data capping will eventually go away, but it is to be seen when it is implemented. Having said that, the data limit provided by us suffices our customer's needs and only 10 to 15 per-cent of our customers cross the threshold limit.
Somebody pinch me! Is this even real in India :O #gigabit internet in India. Got a call from @ACTFibernet backend asking me to check as my plan was same cost as Gigabit they have upgrade. This is over 802.11ac WiFi , Need to check over LAN. #DevOps is going to be fun #fonearena pic.twitter.com/nwGQUWbLu4

— Varun Krishnan (@varunkrish) August 10, 2018
FoneArena: Can you share more details on the ACT Gigabit plan and does ACT have any plans on launching a 10Gbps plan?
Prasanna: We spend almost a year and a half for launching the Gigabit plan and worked on our core network, distribution box to ensure everything is set in place. Regarding the 10 Gigabit plan, we are already providing it to our enterprise customers and for retail customers, it is several years away.
FoneArena: What's your take on gaming and how do you plan to tap that market?
Prasanna: A lot of people are into gaming now and there are users who play on mobile and there are console users too. We have got positive feedback from the gamers and people who use our network for gaming have been extremely up beaten and appreciative about the quality of the connection that we provide. Since latency is an important factor in gaming, we have worked on our core infrastructure and over-provisioned the bandwidth. Also, we are working with some of the stakeholders in the gaming ecosystem, and we will shortly come up with something for the gamers.
FoneArena: Streaming services are in great demand in India today and how is ACT Fibernet seeing the potential for this? Also, what are the most popular streaming services in ACT Fibernet?
Prasanna: Streaming has taken off in India in the past 2 to 3 years with some of the popular services being Amazon Prime, NetFlix, Sony Liv, etc. Streaming services consume a huge amount of data, and we are observing the usage pattern of our users who stream. We have announced a partnership with streaming services like NetFlix, Sony Liv, Zee5, etc and it is aimed at providing convenience to our users.
FoneArena: Can you share more details on ACT Fibernet's long term plans/bundled plans?
Prasanna: Paying monthly bills becomes a nuisance for customers and long term plans also helps us to maintain the infrastructure so that there is no crunch at any point in time.
FoneArena: Can you share more details on the ACT Stream TV 4K box and the idea behind the same?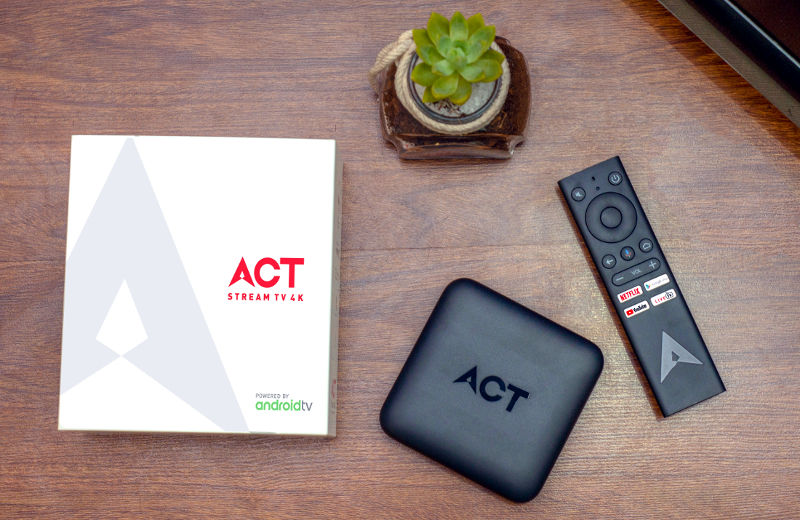 Prasanna: ACT Stream TV 4K is an OTT(over-the-top) box that we announced earlier this year and is one of the first 4K streaming devices in India. It is powered by Android and supports 300+ Live TV channels alongside streaming from services like NetFlix, Sony Liv, Zee5, etc. The device is priced at Rs. 4499 and is exclusive to ACT Fibernet customers.
FoneArena: Does ACT currently offer or have plans to offer public Wi-Fi hotspots?
Prasanna: We are working on it and currently, we have declared 3000 Wi-Fi hotspots in Hyderabad which covers the entire city. With this service, users can get access to FREE Wi-Fi for a certain period of time and post that it will be chargeable. However, ACT Fibernet users can continue to use it with their existing quota. We are also working on providing this service soon in Chennai and Bangalore.
Well, that's pretty much it. Thank You, Prasanna for answering our questions.
Manoj Nagendra contributed to this post.