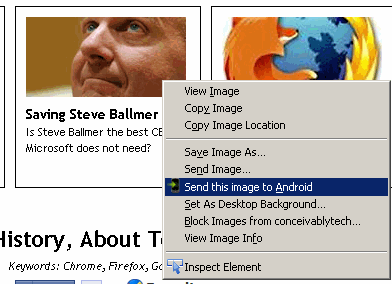 You may have seen apps like Chrome to Android and Chrome to WP7, and these apps are very useful especially for people who are regular users of Google Chrome browser. Now the same type of app is available for Mozilla Firefox users. FoxToPhone is an application for Android powered phones, but unfortunately this app is only for Android 2.2 users. It's based on the same Chrome to Phone extension, which allows users to send link from Firefox to their Android phone. If you want to try it, then first you need to download this add-on, and this application in your Android 2.2 phone. So folks check out this app, and don't forget to tell us about it. These are the features you will get:
Features (same as ChromeToPhone)
– Send current page with address bar button
– Send currently selected text (max 1024 chars) to the phone's clipboard with address bar button
– Detection of Google Maps, YouTube, telephone numbers (performed at the Android App)
Specific features for Firefox
– Right click on any link/image/selected text to send to your Android phone
– Click on market:, smsto: and tel: links to open them in your phone
– Drag and Drop link on the toolbar icon.
– Detect links in QR codes generated with Google Charts
– Send desktop clipboard to the phone's clipboard via toolbar button (text only)
Anyone excited about it?