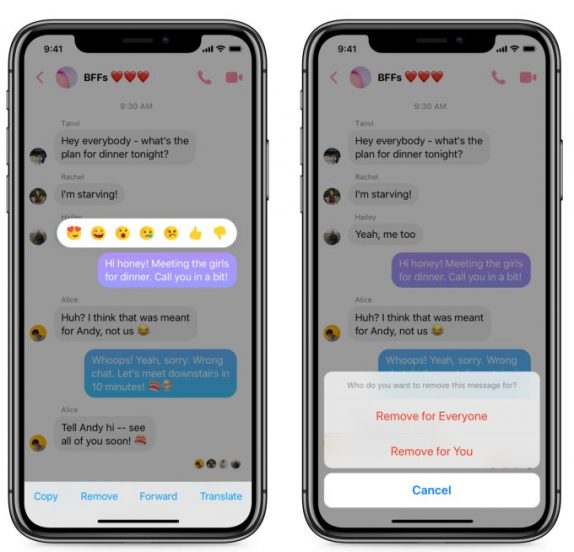 Facebook confirmed that it is working on bringing 'Unsend' feature to everyone after CEO Mark Zuckerberg unsent messages and now it looks the feature is finally here. Facebook  Messenger now gives the ability to unsend messages so they can remove their sent messages from the recipient's inbox.
Messages can be unsent for the first 10 minutes after they're delivered so that you can correct a mistake or remove something you accidentally pushed. The button also leaves a "tombstone" indicating a message was retracted. Facebook will also retain unsent messages for a short period of time so if they're reported, it can review them for policy violations.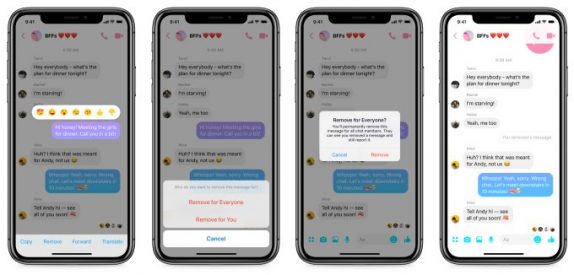 The Remove feature is now available for Android and iOS in Poland, Bolivia, Colombia, and Lithuania. However, the global rollout will happen in the days to come. Facebook brings the ability to let you remove any kind of message including text, group chats, photos, videos, links and more within 10 minutes of sending. You can still delete any message on just your side of the conversation, but only messages you sent can be removed from their recipients. You can't delete from someone else inbox what they sent you. Facebook will keep a private copy of the message for a short while after it's deleted to make sure it can review if it's reported for harassment.
To use the unsend feature, tap and hold on a message you sent, then select "Remove." You'll get options to "Remove for Everyone" which will retract the message. You'll get a warning that explains "You'll permanently remove this message for all chat members. They can see that you removed a message and still report it." Facebook also confirmed to be working on bringing more unsend features, but for now, the feature is available in limited regions.