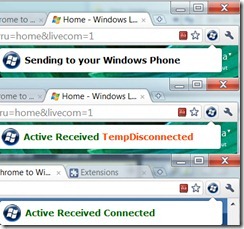 If you are an Android phone owner, and you are also using Chrome as your default browser, then you may know about the Android app known as Chrome to Android. Now the app is also available in Windows Marketplace, and you can install the app in your WP7 phone, credit goes to David Dave Amenta who created this awesome application that every WP7 user is waiting for. The app allows you to send web link from your Chrome browser directly to your phone, so you are never going to miss anything again. The app will be available for free in Windows Marketplace. Have a look on what David said about the app:
A push notification is sent to the phone, which will show up as a toast, and upon opening the app, a list of your most recent links and text are available, regardless of whether or not the push notification succeeded.  From within the app, you may email the Title/URL/Text, or open the link.
If you are going to download this app, then you also need the plug-in for your Chrome Browser, and you can download it by hitting this link. The app is still waiting for Windows Marketplace certification, so you will see the app in the Marketplace soon.