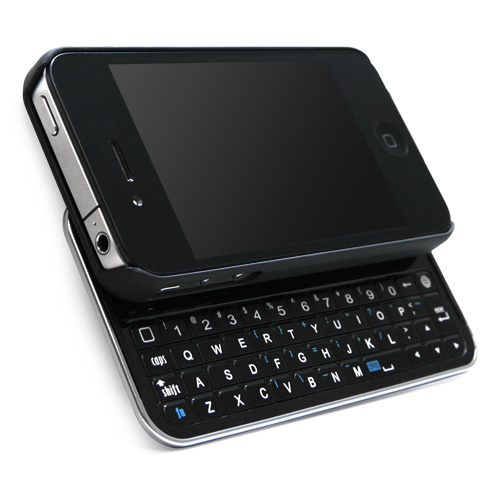 If you are a huge fan of Apple iPhone 4, and you are moving to it from a phone like the Touch Pro 2 or a phone with a sliding QWERTY keyboard, then it would be hard for you to use touchscreen keyboard on the iPhone 4, but don't worry because your problem has been solved . Presenting the Keyboard Buddy Case for iPhone 4, which is a case with built in Slide-out QWERTY keyboard, interesting isn't it? Well, that will make your iPhone 4 a little bulky, but the case will help you a lot. Check out the features of the case:
Form-fitting shell designed to snap on securely to perfectly fit your Apple iPhone 4
Cut-out design for the touch screen so that you can keep the same tactile feel as using the Apple iPhone 4 without a case
Conveniently designed to provide quick access to all of Apple iPhone 4's controls, features, camera, and ports
Integrated slide-out Bluetooth keyboard allows you to switch from the touch screen to a physical keyboard as desired
Includes a USB cable to charge the integrated keyboard
Bluetooth keyboard on/off switch allows you to turn the keyboard off when not in use to conserve battery power
Finished with a high-quality smooth coating making the case smooth to the touch
Charge Duration: 45 days
Bluetooth version 2.0
Jet Black color
That's a pretty nice case with a lot of features, and it's going for $69.95, which is not a bad price at all. Head over to this link if you want to order the case for your iPhone 4.