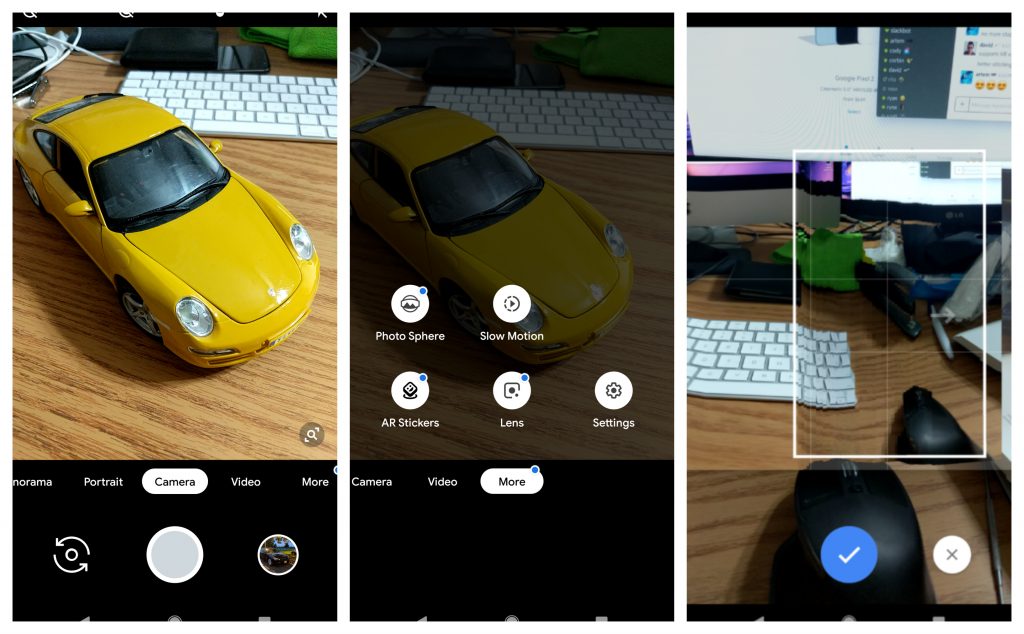 Google has announced the Pixel 3 flagships with a new improved camera and camera APK which sports multiple difference from the current app on Pixels and Pixel 2 XL. These changes include an updated interface, RAW support, and a new panorama mode.
Apple has added Apple-esque carousel above for switching to different modes and the outdated hamburger menu is gone, and the carousel includes Panorama and Portrait. Other modes and settings are present in a new tab called 'More.' It also has a new zoom UI, a white ring around your photos, and the color temperature icon has been tweaked.
While the settings look almost the same, but once you dig in a little, you will start noticing differences. It finally adds RAW support under the 'Advanced' section and there's also a direct link to RAW images. Once the RAW toggle is turned on, a quick setting option on the top of the viewfinder allows you to switch between JPEG only and RAW+JPEG. The burst settings are now gone and it makes sense.
The new version Panorama mode isn't dotted anymore, as Google is using a better stitching quality, and panoramas are now optimized for VR viewing as well. Panoramas can now record sound; just hit the little mic icon on the top left to turn that on/off. The portrait mode has two different levels; Natural and soft and also has a new option for face retouching. There is a focus slider for portrait photos replacing the pop slider, which has been relocated to a tile.
The viewfinder can also be long-pressed to enter Lens mode. If you're running on the Android 9.0 Pie, you can download the Google Camera V6.1 APK and try out the new Google Camera.  Since Live Lens, H265, live focus tracking, and Top Shot is Pixel 3 exclusive features, they won't' be included.