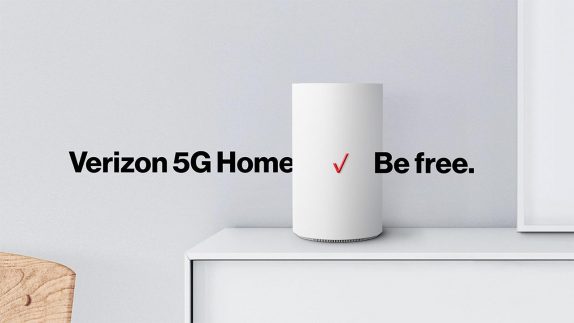 Verizon has launched 'Verizon 5G Home', the world's first commercial 5G broadband internet service. Users in the USA can sign up to be a "First On 5G" Member. Verizon 5G Home will initially be available in parts of Houston, Indianapolis, Los Angeles, and Sacramento. It is built on Verizon's Ultra-Wideband 5G network.
Verizon says that 5G Home customers can expect typical network speeds around 300 Mbps and, depending on location, peak speeds of nearly 1Gbps, with no data caps. Verizon 5G Home customers will also get YouTube for TV free the first three months and a free Apple TV 4K or Google Chromecast Ultra device at installation.
Verizon 5G Home is built on Verizon's 5G Ultra Wideband network Verizon's 5G Ultra Wideband network is the only 5G network that combines End-to-end deep fiber resources throughout the network, a large deployment of small cells, critical, and best-in-class spectrum holdings, particularly in the millimeter wave bands.
Users who sign up for Verizon 5G Home will get free three months complimentary as part of a special introductory offer. After the introductory period, current Verizon Wireless customers will have to pay $50 per month for the service, while non-Verizon Wireless customers will pay $70 per month.
Verizon's  5G broadband internet service will roll out starting from October 1 in the U.S.
Hans Vestberg, CEO of Verizon Communications said:
To be first, we encouraged others in the ecosystem to move more quickly at every step. We appreciate the partnership of network equipment makers, device manufacturers, software developers and chip makers in reaching this critical milestone. The entire wireless industry gets to celebrate.
Ronan Dunne, head of Verizon's wireless business said:
We spent the last three years driving the industry to bring 5G to consumers as soon as possible. We developed early standards that allowed the industry and hardware and software manufacturers to build solutions more quickly. As a result of this initiative and ongoing collaboration, we will rapidly deliver the promise of 5G to our customers.