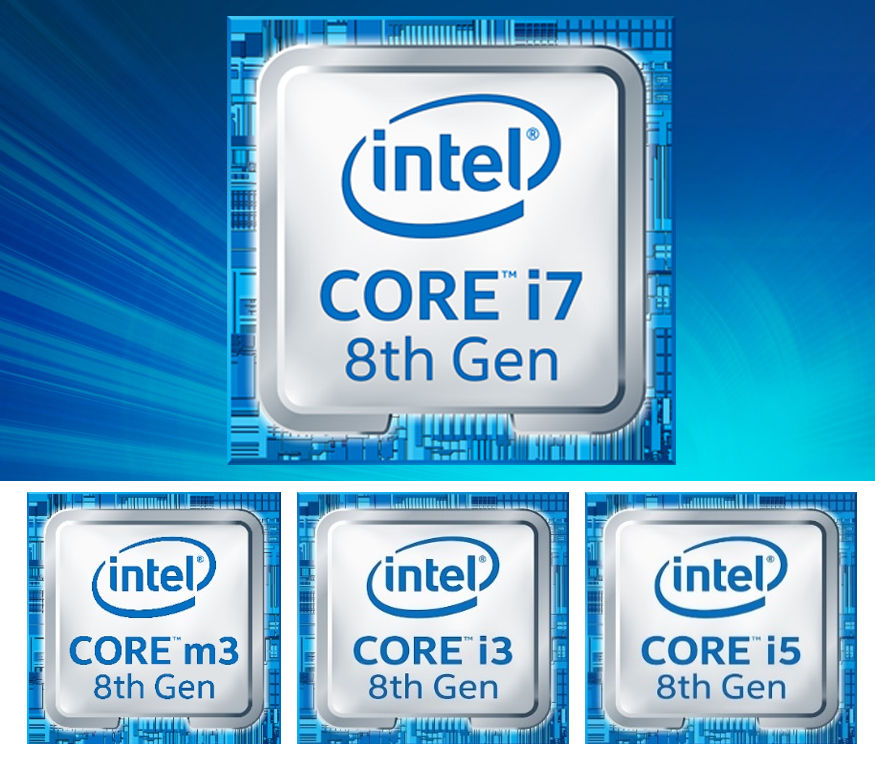 Intel has announced new U-series (formerly code-named Whiskey Lake) and Y-series (formerly code-named Amber Lake) in the 8th Gen Intel Core processor family. The U-Series Processors include i7-8565U, i5-8265U and i3-8145U and include Gigabit Wi-Fi to thin and light mainstream laptops for the first time, offers better performance as well. The Intel Core Y-Series Processors – i7-8500, i5-8200Y and m3-8100Y) are targeted at super thin and light devices such as 2 in 1s with fast Wi-Fi and LTE connectivity.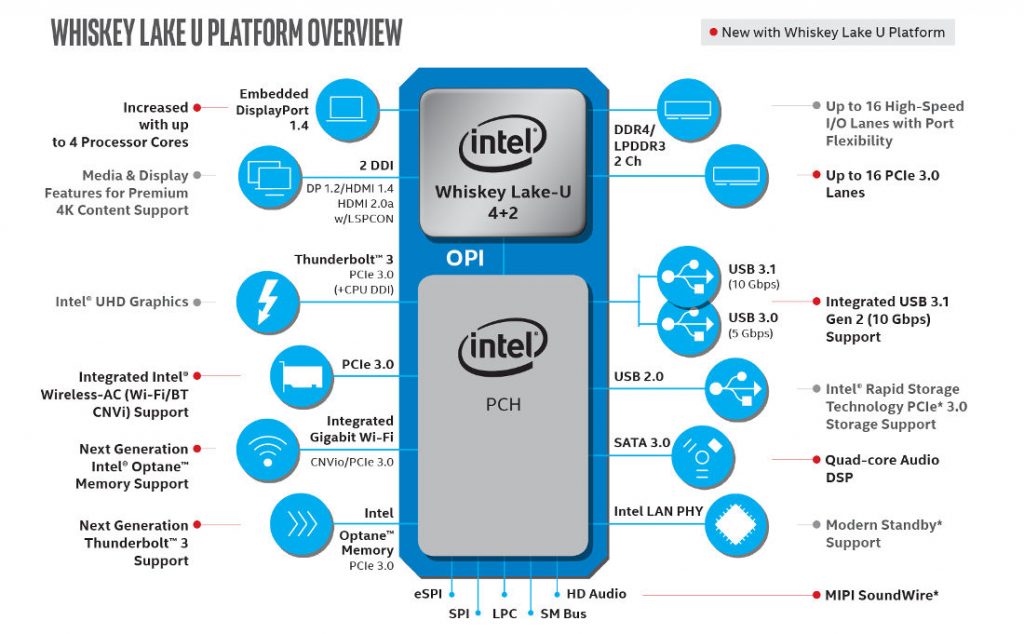 Both these have new and improved platform capabilities for more intelligent interactions with PCs, such as support for multiple voice services on the U-series and refinements to improve natural input options like touch and stylus for the Y-series.
The Whiskey Lake processors have support for
DDR4 memory up to 2400, LPDDR3 up to 2133
HDMI 1.4/HDCP2.2, DP 1.2, Quad-Core Audio DSP for high fidelity, low power audio and multi-voice services supported Wake on Voice
CNVi (integrated 802.11ac and BT5.0), Integrated USB 3.1 Gen 2 (10 Gbps), Titan Ridge Thunderbolt w/ USB 3.1 & DP1.4 or Alpine, Ridge Thunderbolt
XMM 7360 M.2 WWAN
Intel OptaneTM SSDs/Memory, PCIe 3.0, SATA, SD 3.0, eMMC 5.14 for storage
SGX 1.0 • Secure biometrics • Intel Runtime BIOS Resilience with attestation via Nifty Rock + Intel TXT for security
Intel Endpoint Management Assistant
The 8th Gen Intel Core Y processors allow the ability to view 1080p/4K
360 videos while enabling multiple video streams simultaneously.
Processor number
Base clock speed (Ghz)
Turbo clock speed (Ghz)
Core / Threads
Thermal Design Power
Intel Smart Cache
Memory support
Price
U-series  – Whiskey Lake
Intel Core i7-8565U
1.8
4.6
4/8
15W
8MB
DDR4-2400, LPDDR3-2133 up to 32GB
$409
Intel Core i5-8265U
1.6
3.9
4/8
15W
6MB
$297
Intel Core i3-8145U
2.1
3.9
2/4
15W
4MB
$281
Y-series – Amber Lake
Intel Core i7-8500Y
1.5
4.2
2/4
5W
4MB
LPDDR3-1866, DDR3L-1600 up to 16GB
$393
Intel Core i5-8200Y
1.3
3.9
2/4
5W
4MB
$291
Intel Core m3-8100Y
1.1
3.4
2/4
5W
4MB
$281
Intel said that these processor will arrive in Q3 2018, which is the current quarter. Acer and Lenovo could introduce new devices with these processors. Apple might also introduce new Macbooks with these later this year.