Samsung Electronics today announced that it has received the official HDR10+ logo certification for its 2018 Premium UHD and QLED TVs being HDR10+ compatible. The HDR10+ is a next-gen technology that provides users with a premium HDR viewing experience and delivers pristine images as originally intended by creators. 
Thanks to the HDR10+ technology which helps HDR TVs to optimize brightness levels on a scene-by-scene by incorporating dynamic metadata, Samsung TVs can produce brighter highlights and darker darks for additional depth and sense of realism on-screen. TP Vision, which oversees Philips TV development, manufacturing, and marketing, will introduce HDR10+ to its entire lineup of 4K TVs next year.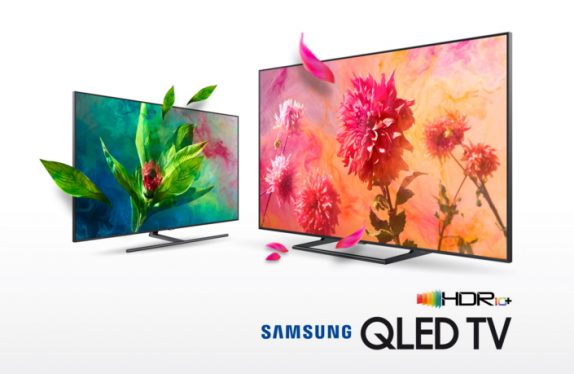 Furthermore, V-Silicon will show a demo of HDR10+ in its private booth at IFA 2018. It also mentioned that Hollywood film production company Warner Bros. will also start creating HDR10+-compatible contents, which will be available for home distribution later this year. Samsung is also partnering with Twentieth Century Fox Film Corporation to standardize the HDR10+ licensing process, in order to make it easier for content creators to realize its technology.  Twentieth Century Fox is currently exploring several titles for release and will announce the availability in the coming weeks.
Doochan Eum, Vice President of Visual Display Business at Samsung Electronics said:
The introduction of the HDR10+ certification logo represents the groundwork that we are setting for the ultra-high picture quality TV market. By making use of our leading technology and expertise, we will continue to extend our valuable partnerships while maintaining our commitment to providing consumers with best HDR content possible.
Sidharth Jayant, Global Product Director at Rakuten TV said:
At Rakuten TV, we have the mission to deliver the best cinema experience at home. Samsung is our premium partner in this regard, and our upcoming collaboration on HDR10+ reinforces our commitment to be the VoD reference platform for Smart TVs. With dynamic metadata added to the HDR signal, combined with the widest 4K HDR catalog of new releases that we currently provide to European Smart TV owners, we are confident Rakuten TV will deliver an unforgettable cinema experience at home.