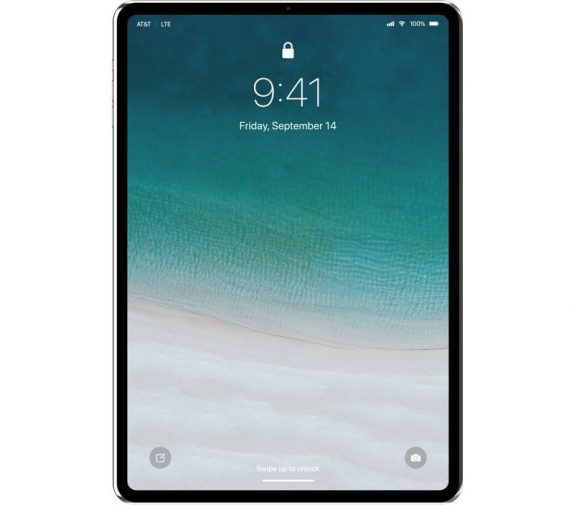 Apple is rumored to launch the new iPad Pro along with the three new iPhones, new Apple Watch, low-cost MacBook Air later this year. Now according to reports, the upcoming iPad Pro models will feature slightly smaller bodies, a relocated Smart Connector, and no headphone jack. 
Furthermore, according to supply sources, the new iPad Pro model will feature a 10.5-inches display, measures 247.5mm tall, 178.7mm wide, and 6mm, compared to the current size of 250.6mm x 174.1mm x 6.1mm. As per the 12.9-inch iPad Pro, it will measure 280mm tall, 215mm wide, and 6.4mm thick. These dimensions fall in-line with Apple's plan to introduce new-redesigned iPad Pro models.
This redesign will trim down the bezels and feature a larger display real-estate and will not feature a Home button, and according to previous rumors, will include a TrueDepth camera system for Face ID. Interestingly, the upcoming models will not feature a 3.5mm audio jack as well. Apple is not expected to ship the new iPad Pro models with a Lightning to 3.5mm adapter, which is the same with the upcoming iPhones as well.
Though the removal of the 3.5mm audio jack on the iPhones is justified with a bigger battery, Taptic Engine, it is not clear if Apple is facing same space constraints in the iPad Pro model with the introduction of the TrueDepth camera system. Reports further state that the iPad Pro model will pack "diamond cut" for both the front and the back of the new iPad Pro models.
The Smart Connector on the upcoming iPad models reportedly has been relocated from the side to the bottom near the Lightning port and this may require a new vertically oriented Smart Keyboard. This change might be because of Face ID which will work only when the iPad Pro is in a vertical orientation, but reports do suggest that Apple could be working on horizontal Face ID for the iPad Pro, hinting at a feature in the iOS 12.
Additionally, the new 6.1-inch iPhone will feature Full Active" LCD display sourced from Japan Display. Either way, we should know more details in the days to come.