Update: Mute Shortcuts that appeared in WhatsApp beta for Android 2.18.214 is now available for everyone from beta version 2.18.216. This feature allows you quickly mute a chat, directly from the Notification Center when you receive over 51 messages from the same chat. The update doesn't enable Mark as Read shortcut feature in the Notification Center yet.
There is another update to version 2.18.218 that adds sticker preview in the store and update button, but stickers are still under development and are not available yet.
WhatsApp beta for Android 2.18.218:
1) Sticker preview!
2) When the WhatsApp Sticker Store has a new updated sticker pack, there will be a green dot on the "+" button.
3) Added the update button.

[STICKERS WILL BE AVAILABLE IN FUTURE – NO RELEASE DATE AVAILABLE!!!] pic.twitter.com/m86vLp28zB

— WABetaInfo (@WABetaInfo) July 16, 2018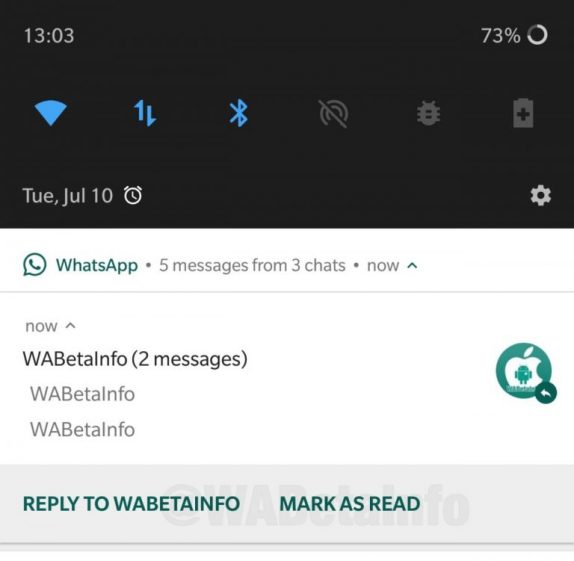 Earlier: WhatsApp is rolling out a new beta update for Android which hints at a feature that the company is working on. The app might soon get a new 'mark as read' shortcut in notification center, however, it is not available yet since it still under development.
Whenever you get a new WhatsApp message, you just see 'reply' shortcut currently, but WhatsApp is working on a new shortcut to include in your Notification Center. When you receive some messages from your contacts, you will see the 'Mark as Read' shortcut and, as the name suggests, it allows to quickly mark the message as read directly from your notification center.
This new button will join the 'reply' button and be clear, this feature is currently not available. The company will also bring a new mute button in the Notification Center. This way you can easily mute a chat from the notification center directly. However, we don't know how it looks at the moment.