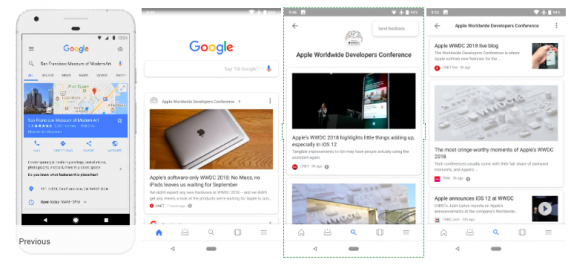 Google seems to be rolling out new dedicated topic pages with related articles in the Feed. It is now filling with more articles on a given news category, accessible via the labeled tags above each. Google has picked up the pace of pushing out new features to the Feed section in the recent months.
Topically categorized pages look actually be a useful improvement. Feed usually features a small related image, and again since the Feed launched last July, users have been able to tap the top of the card to perform a regular Google Search. But suddenly a right chevron icon started appearing for some users next to the topic name. When tapped, it opens a list of approximately 20 articles in the style of regular Feed cards. At the top of this whole other feed is a related image, as well as the name of the subject.
As you keep scrolling, an app bar with the topic name remains. You can also see an overflow menu on the top-right corner where usually users leave feedback. We feel that instead of using Google search to find related articles, users. The update might be a server-side roll out, and the feature has been spotted on older versions of the Google app going back to 8.1, 8.5, and 8.6.