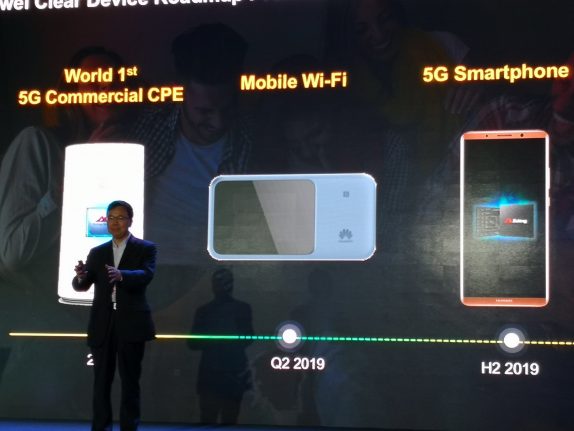 Huawei has kickstarted its global analyst summit 2018 edition in Shenzhen, and during the event, the company detailed its plans for the next year. With 5G set to take over the market in 2019, Huawei has announced that it will debut its first 5G phone in Q3 2019. 
This is @Huawei end to end 5G portfolio for network. Don't forget, HiSilicon completes the picture with 5G chipsets and Huawei CBG with future 5G devices.#HAS2018 pic.twitter.com/zOGXScAhZQ

— Neil Shah (@neiltwitz) April 17, 2018
Big news:

First @Huawei 5G smartphone with its own 5G chipset coming in 2H 2019. Which mostly points to the Mate series.#HAS2018 pic.twitter.com/8k5qThGEmp

— Neil Shah (@neiltwitz) April 17, 2018
It is possible that Huawei Mate 30 (if this year's model is dubbed Mate 20) will be the first 5G phone from the company given the timing which perfectly lines-up with previous Mate launches. Whats interesting is that it will use the company's own 5G modem; Balong 5G01 chip which it unveiled at Mobile World Congress.  It is said to deliver a bandwidth of 2.3Gbps. Considering the size of the Balong chipset, it is most likely to be used in mobile hotspots and self-driving cars rather than phones, but Huawei is also working on a 5G modem especially designed for phones.
Huawei is also said to be looking to be an end-to-end services provider for 5G which will deliver network equipment to service providers when the 5G-ready hardware is available to consumers.
The company is also predicting that there will be 1.1 billion 5G connections by 2025, along with 200 million 5G-connected cars. That's an interesting target; it needs to be seen what Huawei brings to the table.