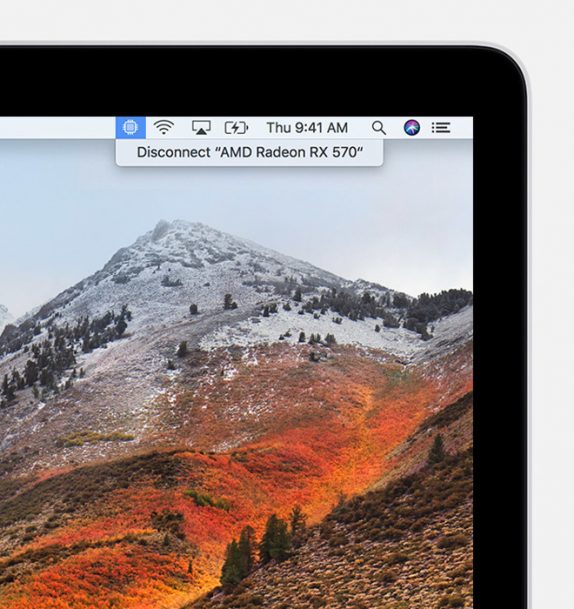 Apple this week rolled out the macOS 10.13.4 that introduced official support for eGPUs (external graphics processors) on Thunderbolt 3 Macs. In the release notes, Apple has published a detailed support document that outlines how eGPU support works and provides graphics card and chassis recommendations that can be used with your Mac. 
The company has listed several AMD video cards recommendations including Radeon RX 570 and RX 580, the Radeon Pro WX 7100 and 9100, and finally the Radeon RX Vega 56, 64, and Vega Frontier Edition Air. Apple has said that the support is not limited to any specific card vendor, as long as the card complies with the reference specification.
However, the list does not include any cards from NVIDIA which does have the "web driver" for its PCI-E that it updates after every macOS revision. Also, the cards that were supported during the initial testing of eGPU support are no longer supported, such as the AMD RX 560. Mac users will have to use the Thunderbolt 3 since the support for earlier versions is discontinued in the beta period.
Apple also lets users connect more than one eGPU, but should use direct connections instead of daisy-chaining. The company also mentioned that all have 87W of charging power available to the host machine, and 13-inch MacBook Pros from 2016 or later should always have eGPUs plugged in on the left-hand side to guarantee maximum bandwidth and any VR headsets should be plugged into the eGPU.
Apple will show a new chip icon in Mac's menu bar for users to disconnect it once the session is ended. Users can check if the cards are working properly from the macOS Activity Monitor, then select Window and GPU History. Apart from the support for eGPUs, the macOS 10.13.4 update brings the support for Business Chat in Messages, bugfixes, and more.