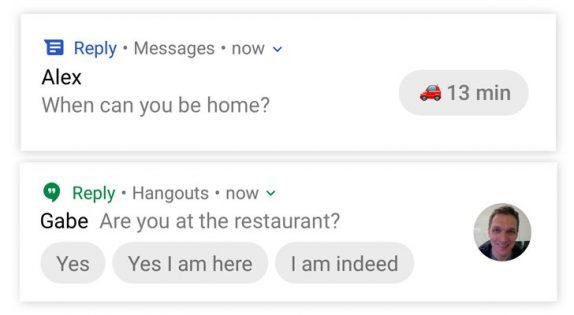 Google introduced automated-replies to Inbox two year ago and later was also rolled to Gmail. These automated replies will guess what you might reply to the message and adds a button to send that response. While this feature is limited to messaging apps like Allo and Android Messages, Google is now said to be working on bringing this feature to other chat applications.
The new testing app is codenamed 'Reply' which is said to add smart replies to other messaging apps. The company is also started sending out test invites by Area 120, a division of Google that works on experimental products. The description of the Email sent reads:
You probably get a lot of chat messages. And you want to be there for people, but also for people in the real world. What if replying were literally one tap away? Reply puts the Smart Reply you may know from Google right into notifications from the chat apps you use most often.
The screenshot attached shows the app at work in Hangouts and Android Messages apps where it is seen offering suggested responses to questions like "Are you at the restaurant?" or "When can you be home? etc. According to the Area 120 announcement about the project, it is planning on offering support for Reply in mainstream chat apps including Hangouts, Allo, WhatsApp, Facebook Messenger, Android Messages, Skype, Twitter DMs, and Slack.
The reply will also have support for other functions like Do Not Disturb, Don't miss the important stuff, Vacation responder, and more. Even if your phone is in silent mode, Reply will break through in times of emergency and ask you to respond. Since this is in early development, don't expect it to launch anytime soon.
Commenting on the same, a Google spokesperson said:
One of the many projects that we're working on within Area 120 is Reply, which suggests smart replies right in notifications from various chat apps. Like all other projects within Area 120, it's a very early experiment so there aren't many details to share right now.