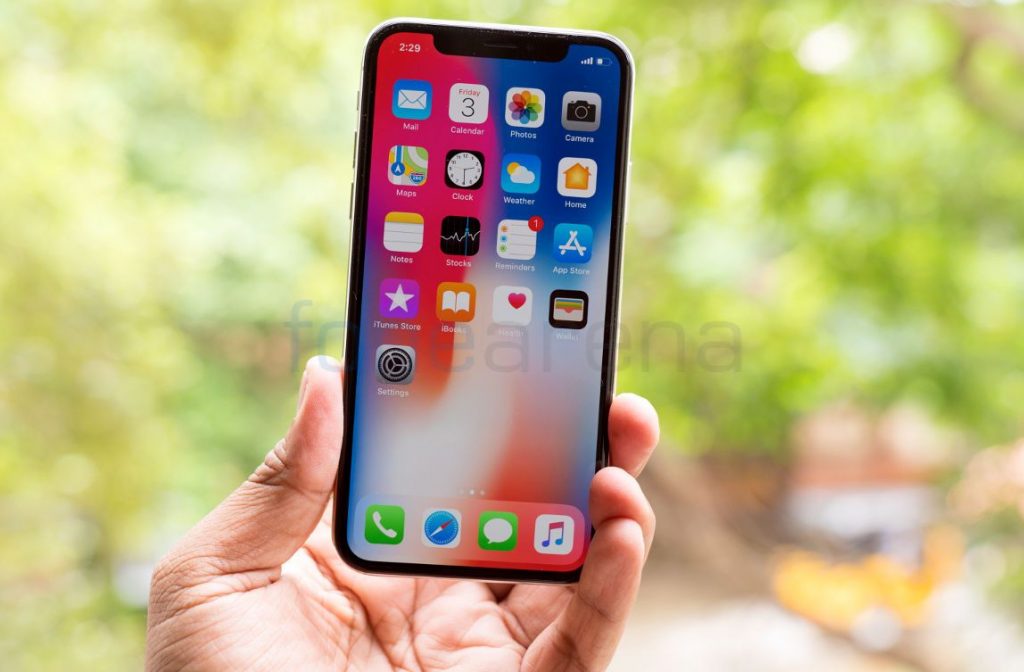 Smartphone vendors shipped a total of 403.5 million smartphones worldwide, down 6.3% year over year, and up 8.1% from the third quarter, in the fourth quarter of 2017 (4Q17), as per the latest  International Data Corporation (IDC). For the full year, 1.472 billion units were shipped, down less than 1% from 1.473 billion in 2016.
"Developed markets such as China and the United States both witnessed a decline during the quarter as consumers appeared to be in no rush to upgrade to the newest generation of higher-priced flagship devices.," said IDC.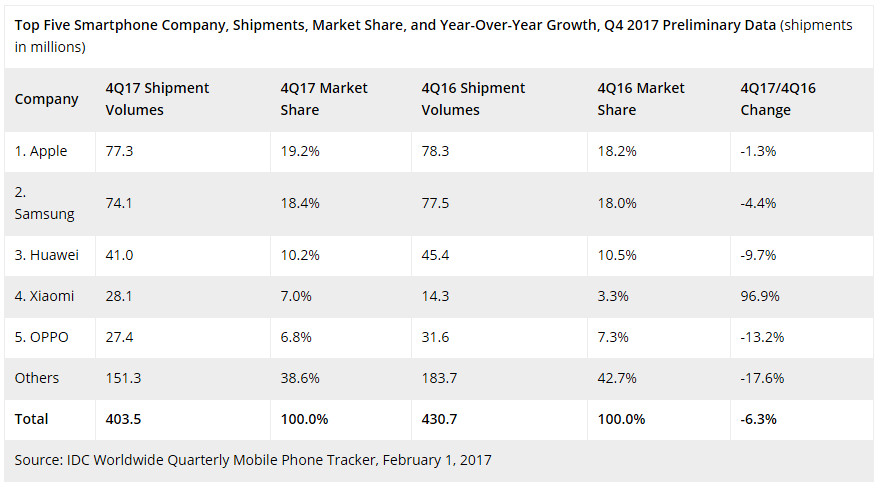 Top 5 ranking did see a couple of changes from the third quarter,  but except Xiaomi other vendors saw slight decline in growth YoY. Apple has finally passed Samsung to grab the top spot with 19.2% market share and 77.3 million smartphone sales, slightly better than Samsung's 74.1 million smartphone shipments, down 4.4%, compared to 77.5 million units from last year. This is largely due to iPhone 8, 8 Plus, and iPhone X sales during the holiday quarter.
Huawei continues to hold the number three position with 41 million unit shipments, down 9.7% compared to 45.4 million a year earlier. Xiaomi overtook OPPO to grab the fourth spot, doubling its share to 7% from 3.3% with 28.1 million shipments, up 96.9% from 14.3 million units a year earlier. This is due to continued growth outside China, with India and Russia being two of its largest markets. It launched Redmi Y-series during the quarter and sold 1 million Redmi 5A units in India within a month.
OPPO  dropped one place to the 5th position with 27.4 million smartphone shipments grabbing 6.8% share. It has managed to maintain 12% growth for the full year, amounting to 111.8 million smartphones. "Like Xiaomi, OPPO has also managed to move beyond the domestic Chinese market and gain a foothold in other Asian countries like India, Indonesia, and Vietnam," said IDC.
IDC report also said that brands outside the top 5 struggled to maintain momentum as value brands such as Honor, Vivo, Xiaomi, and OPPO offered incredible competition at the low end, and brands like Apple, Samsung, and Huawei maintained their stronghold on the high end.