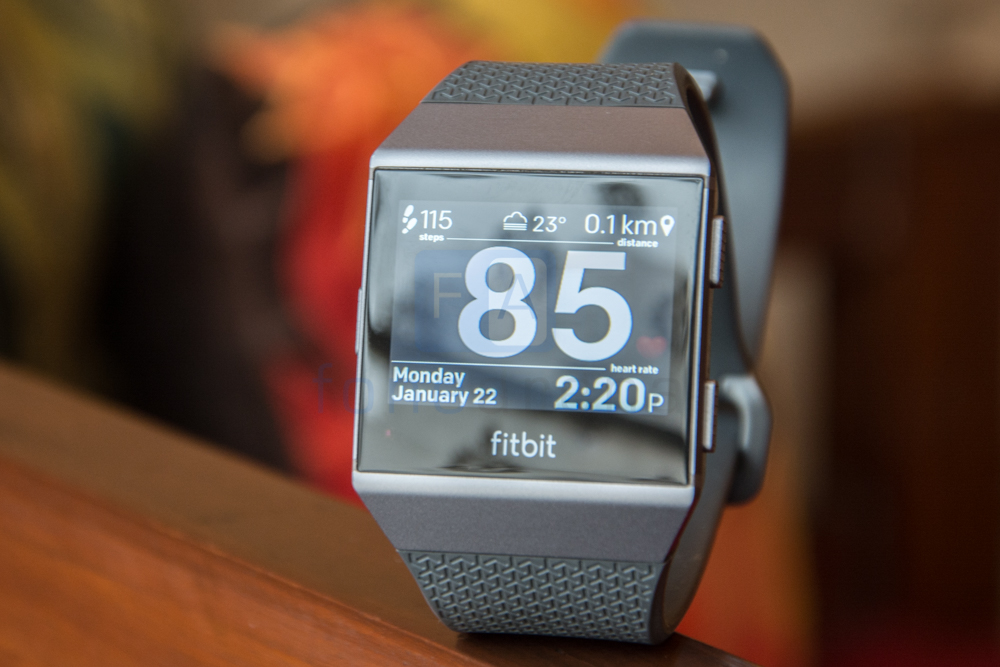 It's surprising how long it has taken for Fitbit to launch a smartwatch. Focussing on budget or mid range fitness trackers, we finally got the Blaze in 2016 which had a smartwatch like interface but none of the capabilities. Announced back in August, the Ionic has all the ingredients that you expect in a smart peripheral. Apps, payment capabilities, watch faces and more, it ticks all the boxes. With the abundant options available though, the Ionic will need to be greater than the sum of its parts. Does it deliver? We spent a week with the Fitbit Ionic to find that out.
Fitbit Ionic features and specifications
1.42 inch (348 x 250 pixels) Touchscreen Color LCD display
Supports iPhone (4S and later) and Android (4.4 and later)
Water resistant to 50 meters
Sensors:3-axis accelerometer, 3-axis gyroscope,Optical heart rate monitor
Altimeter, Ambient light sensor
WiFi 802.11 b/g/n, Bluetooth 4.0, GPS, NFC for payments
Automatically tracks your run with the new Run Detect feature that kicks in GPS tracking
Swim tracking offers real-time laps, exercise duration and calories burned for pool swims.
Integrated antenna provides a stronger connection to GPS and GLONASS satellites to record elevation climbed, split times, and a map of your walk, run or ride in the Fitbit app.
Enhanced PurePulse heart rate tracking with greater accuracy during exercises like cycling, intervals and running
Relative SpO2 sensor for estimating blood oxygen levels
Inbuilt storage lets you store 300 songs on device (2.5 GB of storage), or downloading and listening Pandora stations
Fitbit Pay offers contactless payments
Battery life of 4+ days with normal use, GPS battery life up to 10 hours
Design
Let's be honest, this is not the most beautiful smartwatch by far. According to Fitbit, they were going for a space-age aesthetic and that's exactly how I would describe it. The Ionic looks like a prop out of an 80s sci-fi movie. That doesn't have to be all bad though. Design is subjective and I personally quite liked it, especially with an LCARS inspired watch face. Placed next to something like an Apple Watch or even the Samsung Gear though it looks positively ancient.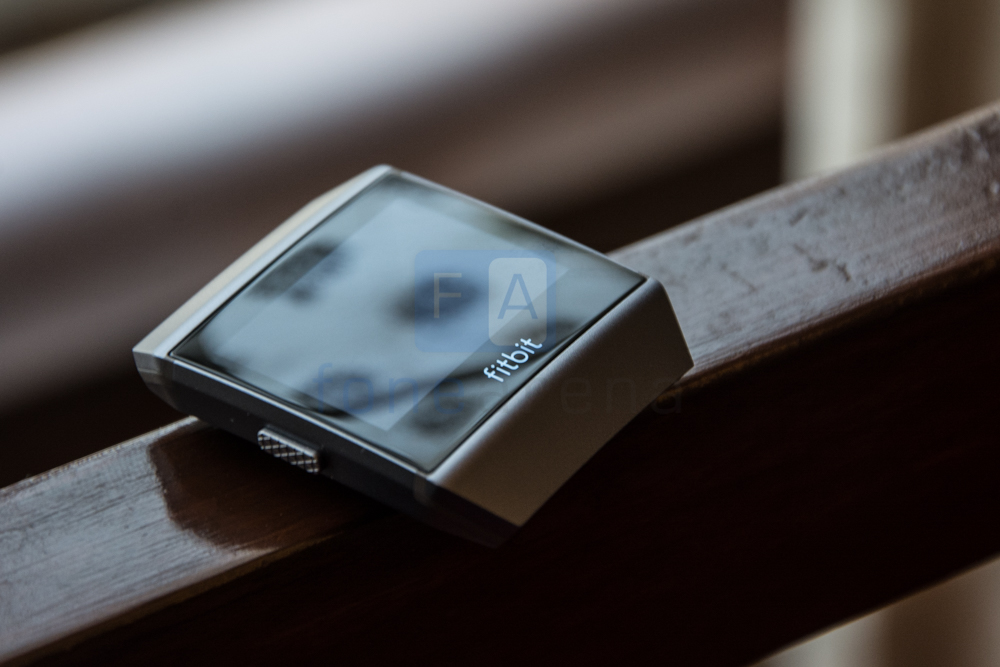 Circular, square, rectangular. We've seen a lot of permutations and combinations of screen orientations when it comes to smartwatches. The Fitbit Ionic opts for a 1.42″ rectangular screen surrounded by a significant bezel. There's Fitbit branding below the screen and a whole lot of edges all around. The screen itself is bright enough to be visible outdoors in sunlight and an ambient light sensor can adjust that automatically for you. Beyond that though, it is utilitarian at best. Colors aren't particularly vibrant nor do the blacks melt into the frame like you see on some of the AMOLED toting smartwatches around.The black bezel and screen sit inside an aluminum frame. We have the charcoal/smoke grey colorway but you can get the watch in a blue-grey/silver and even a slate blue/burnt orange variant in which the surrounding frame is, well, orange in color. The charcoal variant works best if you want a subdued looking watch that can pass off in all sorts of settings.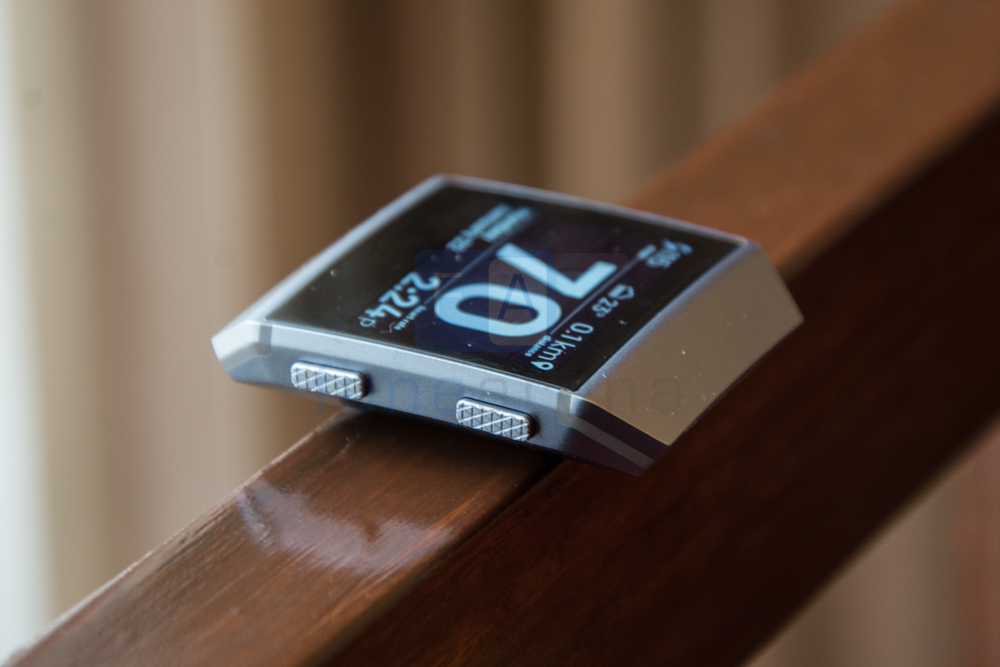 On the left, you'll find a centrally placed button that powers on the display and serves as a back button. The right side, on the other hand, has two buttons which perform a range of functions depending on where you are in the interface.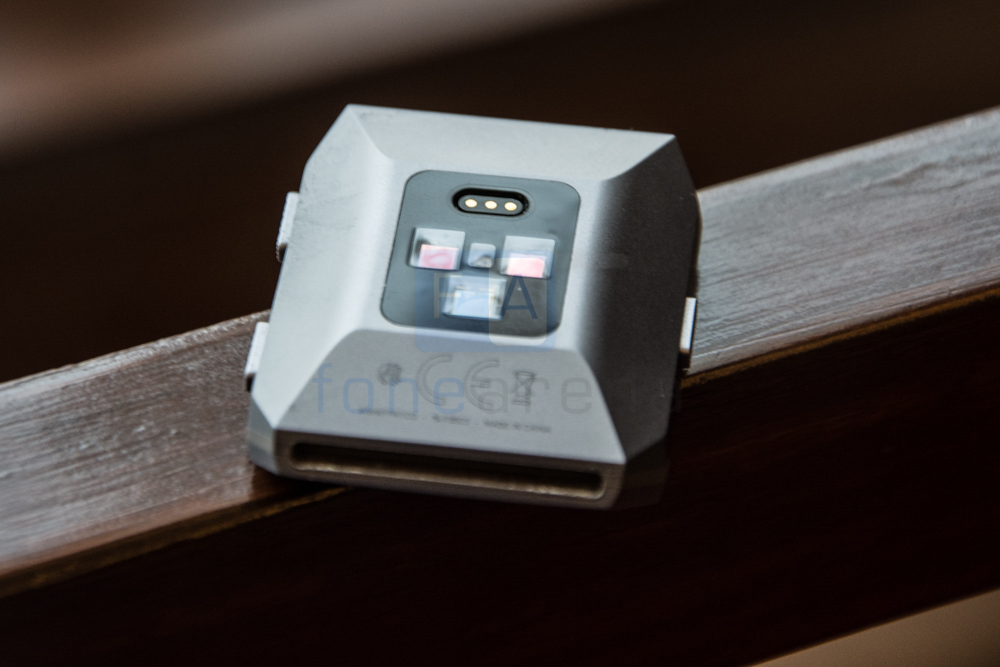 Like many other smartwatches, the inner half or the underbelly is convex in design. This ensures that all the sensors get a perfect fit with your wrist for better readings. Also worth noting is that while the Fitbit Ionic has replaceable watch straps, it doesn't use standardized lugs. You'll need to invest in the limited selection that Fitbit offers or wait for an ecosystem to develop around these watch bands. The default strap is comfortable enough to wear on a daily basis but like the watch, it is not going to win any design awards. Unfortunately, we did not have a chance to take a look at the rest of the options though the leather band appears to look quite good in press shots.
Software
What makes good hardware an excellent product is the layer of software that enables you to effectively utilise it. Despite Fitbit's acquisition of Pebble, the core experience is still more fitness wearable than smartwatch.
The watch allows you to install apps but the selection is still fairly small. We liked the world clock, water intake tracker and altimeter apps but didn't find much else of use. Watch-faces on the other hand are a different story. There's new being added everyday and Fitbit has provided an easy to use SDK so that anyone can make one that suits their preference. All said and done, there's a very healthy selection of watch faces available with all sorts of complications.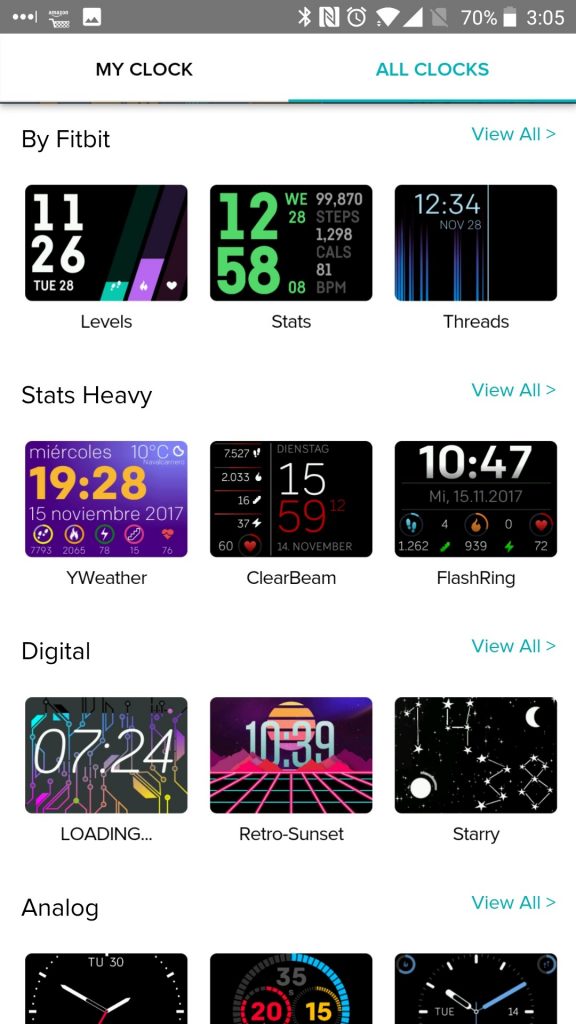 Heavier watch faces will often slow down the entire interface and make it non-responsive to swipes.  Give it a couple of seconds and things get back up to speed but it further reaffirms our opinion that as a smartwatch, the Ionic is decidedly a first generation product. Add to it the fact that features like the wallet integration doesn't work yet in India further reduces smart functionality. Swiping down on the watch face pulls up the music player while swiping up displays all the notifications.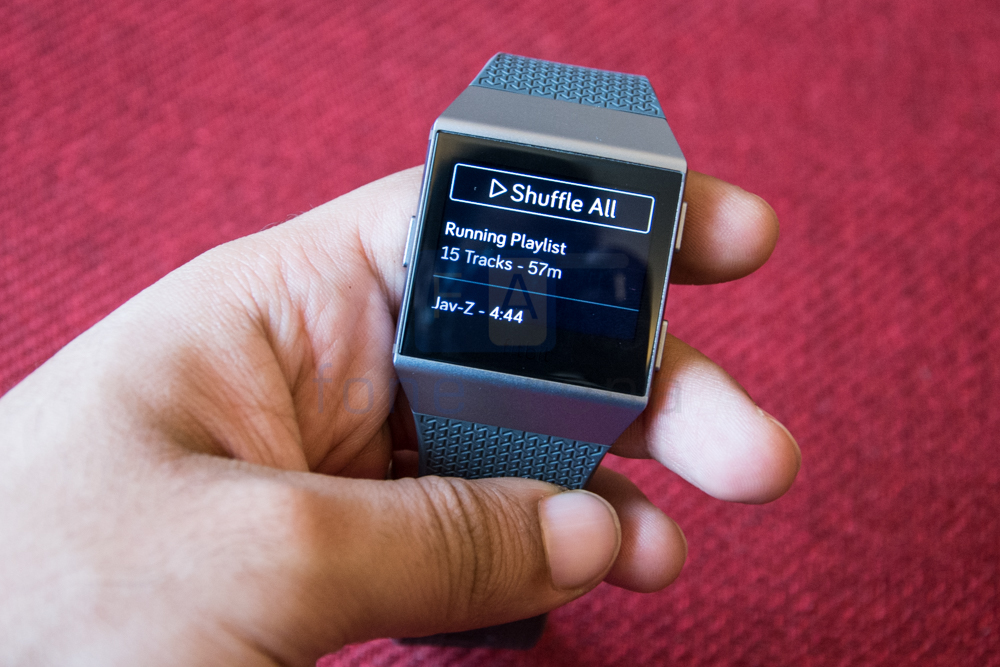 A first for Fitbit is the ability to play music. In fact the company has also announced a pair of bluetooth headphones called the Fitbit Flyer that tie in with the Ionic. Digging into the settings menu pops lets you pair the smartwatch with any bluetooth headset. Getting music on to the watch is a cumbersome experience and is something that can't be done from a phone. You'll need to install the Fitbit Connect app on your PC or Mac. There too, the app will only let you transfer playlists and not albums. Both the watch and computer are required to be on the same wireless network after which, the transfer should hopefully start up.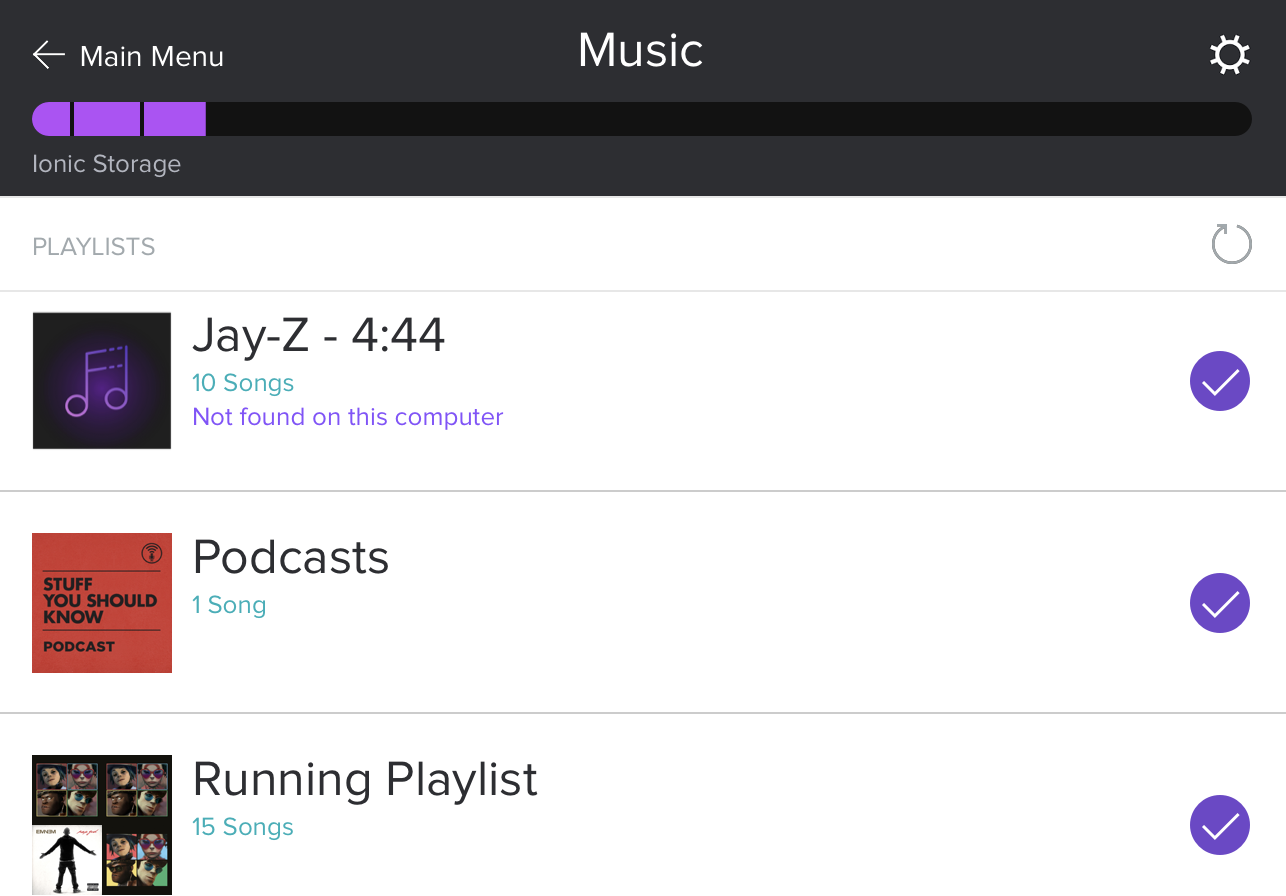 If you were planning to load up a new album just before heading out for a run, forget about it. The slow as molasses process means that you should consider synchronizing and updating music whenever you set the watch on charge since you'll have to take it off anyway. Back to music playback, the functionality is basic but since this is only something that you'll be using while partaking in fitness activities, it should suffice. You can jump to the music interface by long pressing the top – right button without interrupting your activity and jump back to the tracking by pressing the button on the left.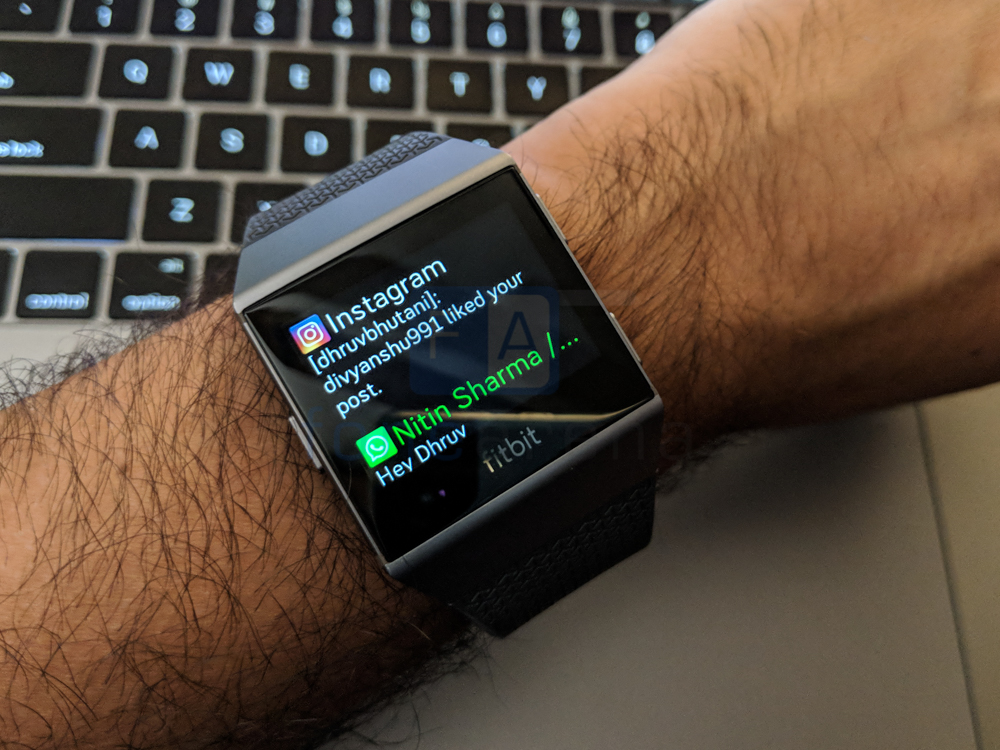 Like all smartwatches, the Fitbit Ionic can display your notifications and alert you for incoming calls. The functionality is basic and there is no way to interact with these notifications which is honestly quite surprising. As we mentioned earlier, the Fitbit Ionic is a pretty basic smartwatch but as you'll find out in the next section, fitness tracking is where it shines.
Fitness Tracking
Despite the newfangled smartwatch avatar, fitness tracking is still the core function of the Fitbit Ionic. We're happy to say that after testing out the watch over a range of activities and aerobic exercises, the Fitbit absolutely nails it.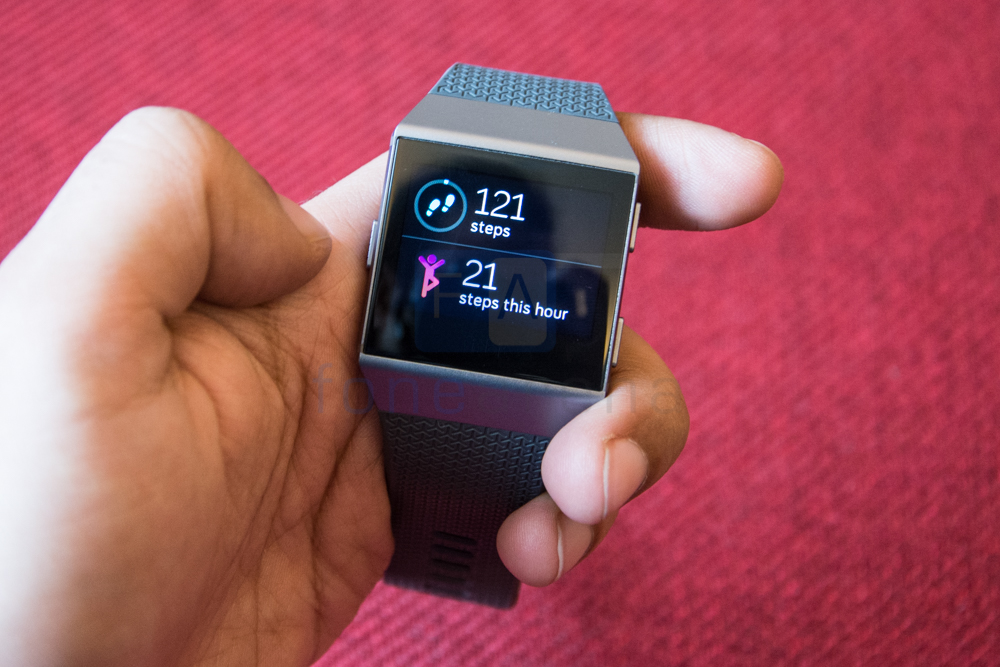 Like any other wearable out there, the watch constantly tracks your steps and adds it to the daily total. This can be seen via your watch face or a single pane interface that gives you an overview of your daily activity levels. Similarly, the watch continuously tracks heart rate and this allows you to keep in-depth track of your resting heart rate as well as effective calorific burn during workouts.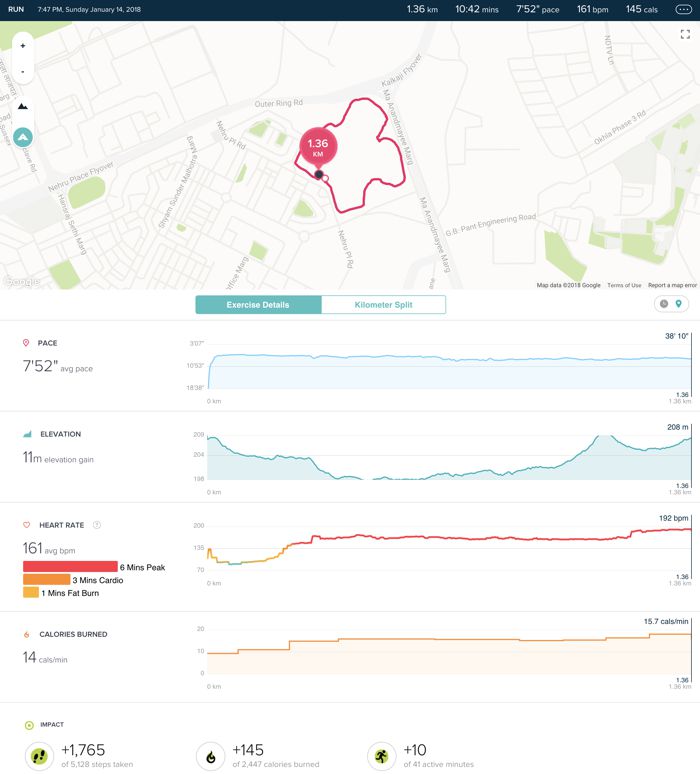 Pressing down on the bottom right button on the watch brings up the full-fledged fitness interface. The various exercise modes include running, biking, swimming, treadmills, weight training, interval timers and full body workouts. The various modes are optimised for specific activities and give you relevant statistics.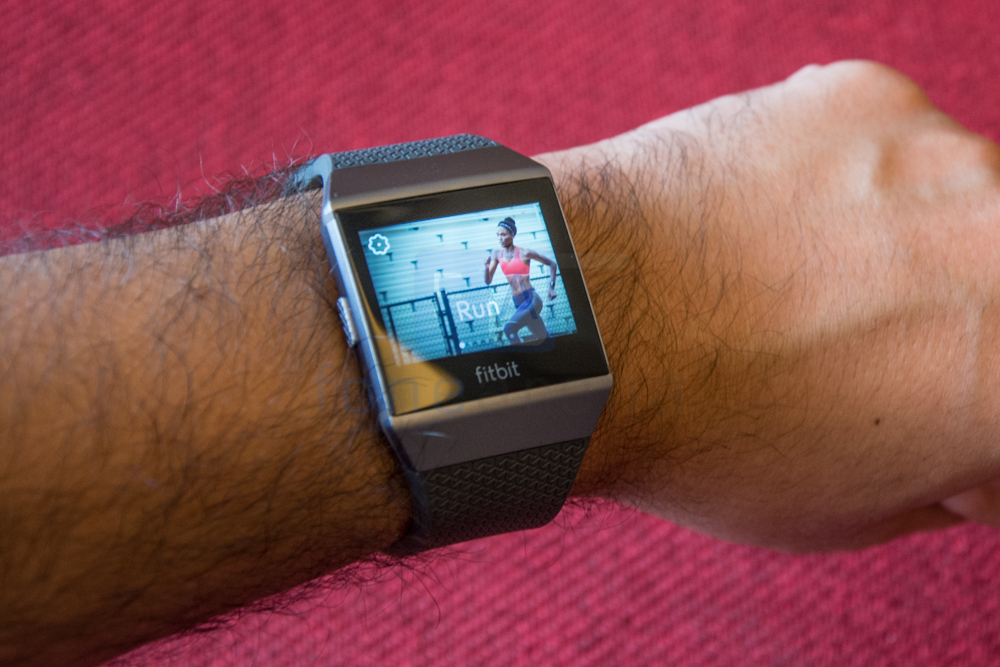 The run mode, for example, switches on GPS to better track your outdoor runs. Over a number of days of extended testing, we observed that the tracker invariably manages a GPS lock within 30 seconds to a minute. On one occasion, the watch did lose GPS lock during a run but that was a rogue incident that we could not repeat again. You can have the watch keep the screen on for the duration of your activity or keep it in automatic mode where pulling up the wrist in front of you activates the screen. Ending the exercise requires you to pause it via the bottom right button and then tap to switch it off.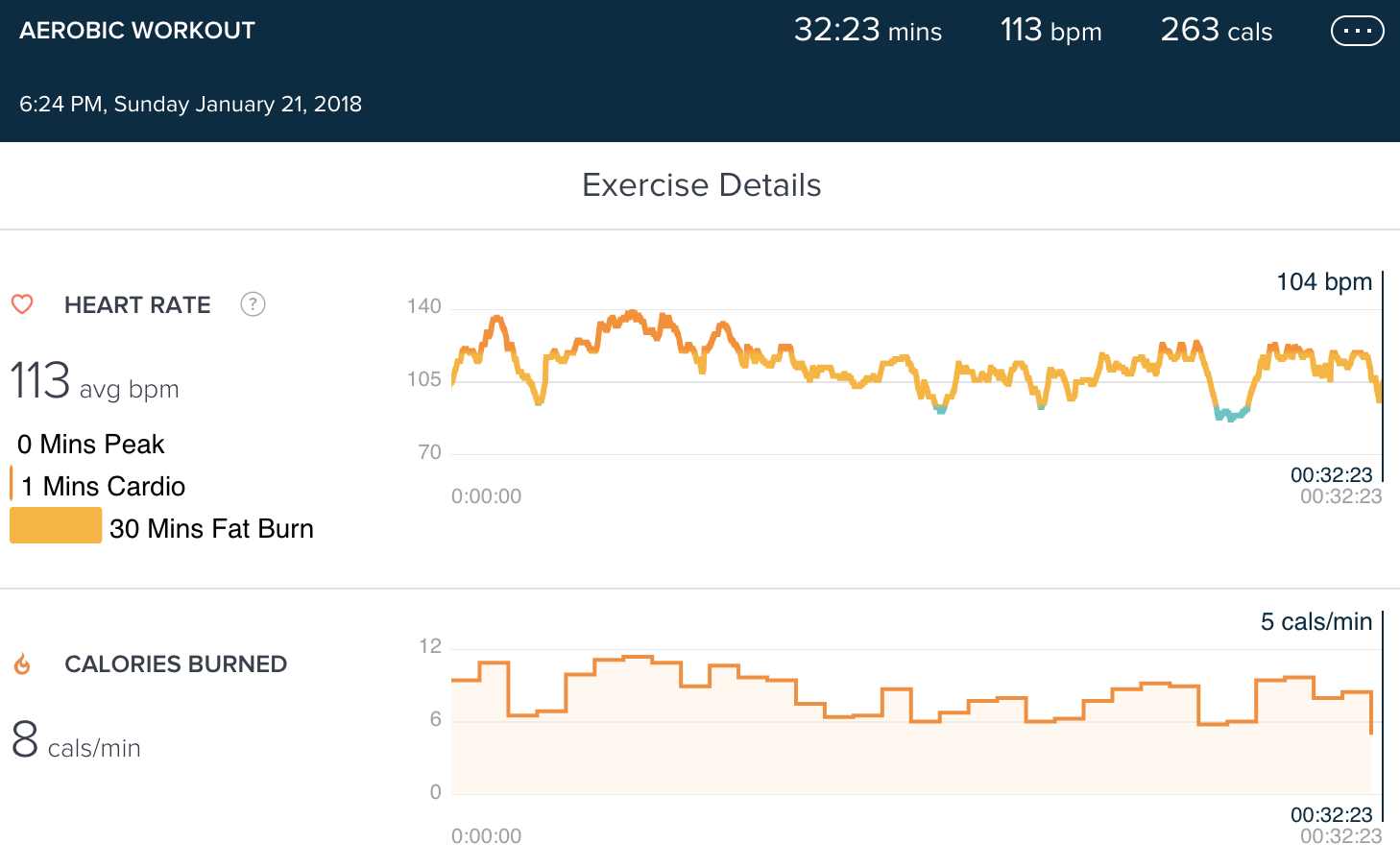 The watch can also automatically track exercise if you are active for over 10 minutes. If you start a jog and forget to switch on the fitness mode, the watch will still clock it as a run if it crosses 10 minutes. The only difference will be that you won't get a GPS log of your run route. Even unconventional activity that doesn't really slot into any specific category gets picked up quite accurately as aerobic exercise.
Battery Life
Fitbit claims battery life of up to 5 days on the Ionic. With mixed use including GPS tracking, music playback and mobile notifications, we could easily get at least 4 days of use out of the Ionic. Battery life is exceptional on the wearable and far outpaces many of the alternatives. This once again points to Fitbit's priorities while designing the Ionic. For a pricey wearable like the Ionic, you'd expect a high-quality charger or a dock to be bundled in. What you get instead is a flimsy looking cable that connects to the pogo pins on the underside of the watch using a magnetic connector.
Conclusion
The Fitbit Ionic is a mediocre smartwatch and an excellent fitness tracker. That's not too surprising given the company's pedigree. The Ionic represents an excellent improvement over the Charge 2 and the Surge but falls short of expectations. Its a great fitness tracker and the added music playback functionality is functional but as a smartwatch, it falls flat.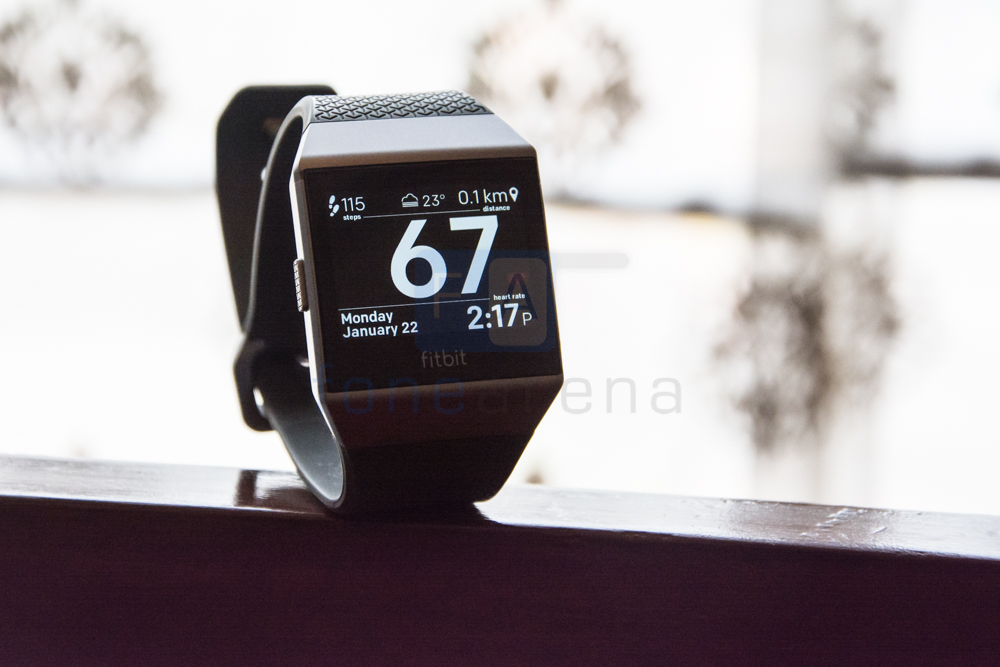 Functionality is woefully limited and the interface can get sluggish pretty quickly. For a wearable priced at Rs. 22,990, the Fitbit Ionic only makes sense for fitness aficionados who wouldn't mind some extra smarts in their wearable. If you are looking for a more general purpose smartwatch, the Samsung Gear Sport or the Apple Watch should be higher up on your list.