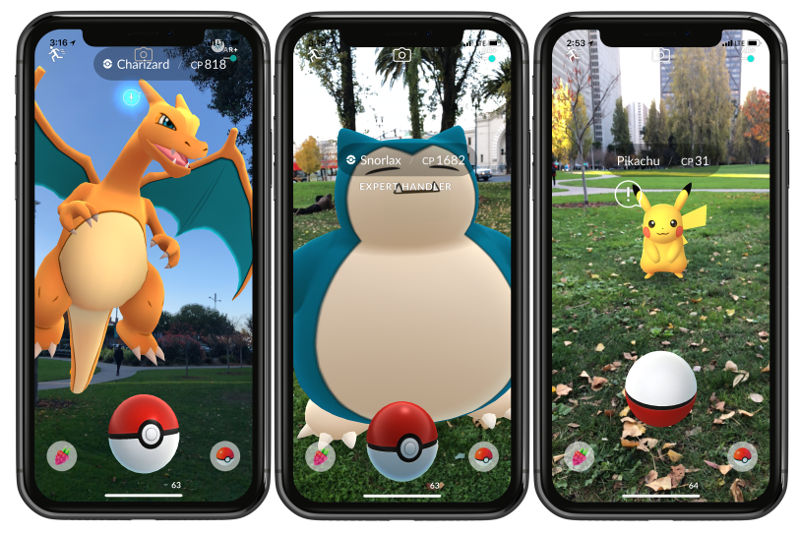 Niantic, the makers of Pokémon GO today announced an update for iOS devices that brings advanced AR+ support which leverages on Apple's ARKit framework. This update will only be available for iPhones running on iOS 11 on the iPhone 6s and later devices. 
Apple's ARKit takes apps beyond the screen, freeing them to interact with the real world in entirely new ways. With AR+ feature, Pokemon are now fixed to a point in space allowing you to walk up close to a Pokémon bringing a better feel of having Pokemon and the way they are supposed to be represented in the real world.
Another feature is the Pokemon awareness, as the player gets close to the Pokemon to capture it or get the feel of it, Pokémon will start running away if they become aware of the trainers getting close.
Trainers will get Expert Handler bonus if trainers can sneak up on the Pokémon and successfully capture them. This awareness feature will be represented by the awareness meter which will appear next to the Pokémon, and if the meter fills up, the Pokémon will flee. However, if the Pokemon does flee, you can try tapping on the tall grass nearby which will give you another chance to capture it.
Expert Handler in AR+ mode will fetch Great and Excellent Throw bonuses if you can catch a Pokémon while in close proximity and you can also earn even more XP and Stardust through Expert Handler bonus.
Commenting on the update, Pokemon Go team in a blog post said:
This is our first step toward making AR capabilities in Pokémon GO even more awesome, opening up the framework for greater AR experiences in the future. As you explore your local neighborhoods, remember to share your AR+ photos of your encounters on social media with the hashtag #PokemonGOarplus. And be sure to always stay aware of your surroundings and make sure you're safe while in AR+ mode. We'd love to see all of your new adventures as they unfold.