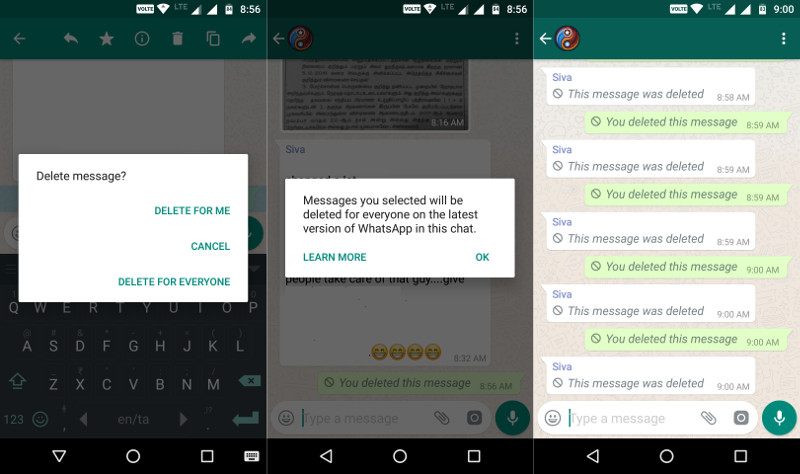 WhatsApp started testing message recall or 'Delete for Everyone' feature last month and it started rolling out for some Android beta users last week. Today WhatsApp has announced that it has announced that the feature is available to all the users globally. WhatsApp said that both you and the message recipient must be using the latest version of WhatsApp for the message to be successfully deleted.
This feature will allow you to delete a message that you sent not just from your phone, but on the recipient(s)'s phone as well. To recall a message, select the message you wish to remove and tap the trash icon which then will show you a pop-up asking if you want to delete the message for me or for everyone.
Messages you successfully delete for everyone will be replaced with "This message was deleted" in your recipients' chats. Similarly, if you see "This message was deleted" in a chat, it means that the sender deleted their message for everyone.
However, you will have a 7 minutes windows to delete the message, post which you won't be able to recall the message. If the recipient has already read your message, you recalling won't help except for the ability for them to take a screenshot or search messages. There is a catch here; you won't be notified if the message that you recalled was successfully removed or not on the recipient's end.
WhatsApp's Delete for Everyone feature is rolling out for all the users on the latest versions of iPhone, Android, Windows Phone as well as desktop.