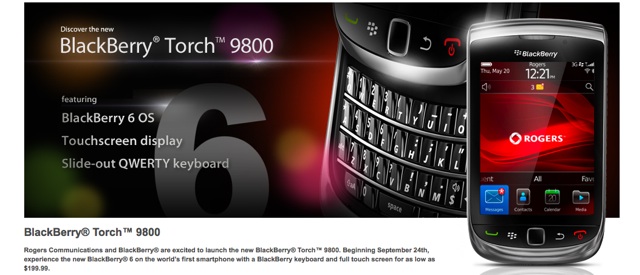 Canadian carrier Rogers has announced the pricing and availability for the Blackberry Torch aka BB Slider 9800. Rogers has announced that they will bring the Torch in stores on 27th September, and it will be available online on 24th September for online ordering. Lets talk about the price of the Torch. If you are interested in getting the Torch, then have a look on the details after the break:
Outright $609.99
MTM SRP $559.99

1 Year SRP $559.99

2 Year

SRP

$559.99 (voice only)

2 Year SRP $529.99 (voice+data)

3 Year SRP $499.99 (voice only)

3 Year SRP $449.99 (voice + data)

3 Year SRP $199.99 (promo v+d

)
If you have any confusion with SRP, then let me tell you that SRP stands for Suggested Retail Price. So who is looking forward to Torch 9800 in Canada?
via MobileSyrup