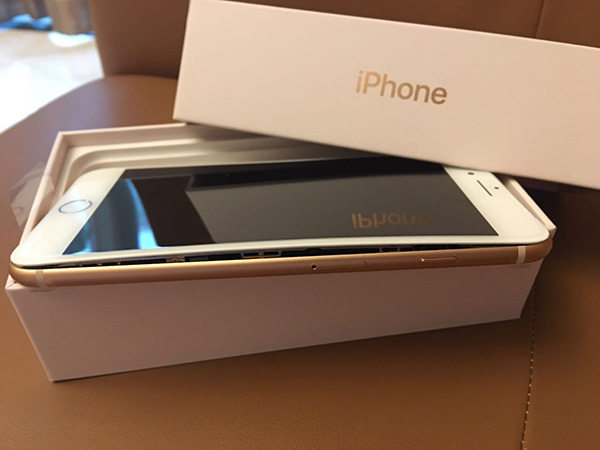 The latest and greatest from Apple; the iPhone 8 and 8 Plus are out. While they are the most powerful Apple phones ever, for all the wrong reasons, both these phones are in the news for the past couple of days. There seems to be problems with the batteries on the iPhone 8 and 8 Plus as reports started to come in saying that iPhone 8 splitting due to the battery swelling.
[HTML1]
The main reason behind the split is the battery swelling, thus bending the front panel and separating it from the body of the phone. Though there have been no signs or reports of fire, it is still an issue that Apple needs to deal with. Acknowledging the same, Apple has issued a statement saying "We are aware and we are working on it."
The first report of the issue came out from Taiwan when a woman found her new iPhone getting swollen on charging it, and later a fresh picture of the iPhone 8 Plus split apart in Japan was posted on Twitter. In just matter of days, there have been many reports surfacing the internet from China, Canada, and Greece. That said, there are have been only six reports that have been publicly identified so far, so the issue is found to be on a smaller batch from the millions of units that Apple might have sold so far.
After the Note 7 Fiasco, there is a very good reason for Apple to be alarmed and carefully look into the issue especially because it is related to the batteries. Though being in a small count, the batteries shouldn't be expanding in the first place, and it seems like Apple isn't clear on what appears to be the problem with these iPhone 8s at the moment.
To find out what seems to be the issue here, The Verge had contacted Sam Jaffe, managing director of Cairn Energy Research Advisors for which he said "Swelling is very unusual for a brand-new battery and leads toward the direction of there's something fundamentally wrong with this battery."
Jaffe, a battery analyst, says that brands have reached the saturation point with Lithium ION batteries and the designs of the phones might evoke short circuits in an attempt to include more power in a slim profile.
Sai Krishna contributed to this post