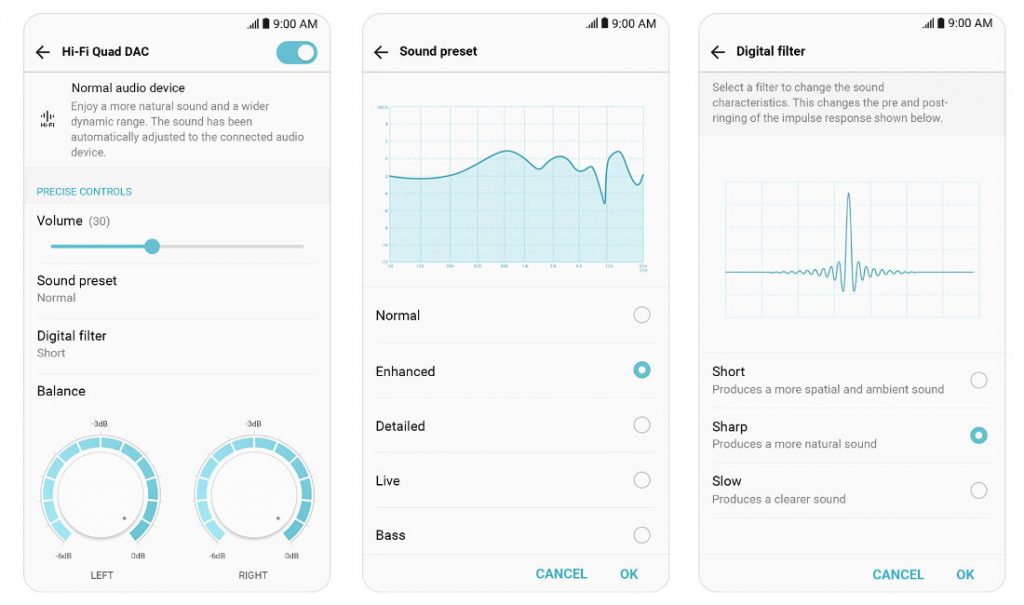 Last year's LG V20 was the first phone to feature 32 bit Quad DAC for audio and the G6 has a similar DAC. Today LG has announced that the V30 will feature 32-bit Advanced Hi-Fi Quad DAC powered by ESS Technology's SABRE ES9218P. The Hi-Fi Quad DAC now gets two new features: digital filters and sound presets. The original Hi-Fi Quad DAC emphasized delivering Hi-Fi sound as close as possible to the original source by minimizing distortion and white noise, Advanced Hi-Fi Quad DAC offers more customizable options.
Highlights of LG V30's audio
Digital filters improves the pre- and post-ringing of the impulse response with filters that can be customized to personal tastes.
There are four optimal pre-programmed settings: enhanced, detailed, live and bass.
The Hi-Fi Quad DAC controls left and right audio signals separately, adjusting balance and LG has managed to cut the distortion rate down to 0.0002 percent.
The audio paths are wider than ever in the V30 so it can process large, high-quality audio files without any lag and with greater accuracy.
Includes technology from partner company MQA Ltd. that facilitates high resolution audio streaming
HD Audio Recorder in the V30 features the capability to use the audio receiver of the phone simultaneously as a microphone (Receiver-as-a-Mic or RAM). The RAM can record loud sounds clearly, so the LG V30 can record a wider dynamic range of sounds, from a whisper to a thunderstorm, without distortion.
LG also said that the V30 will come with a set of high quality B&O PLAY earphones.  The LG V30 will be announced in Berlin on August 31st, 2017 at 9:00 am CEST (12:30 PM IST).