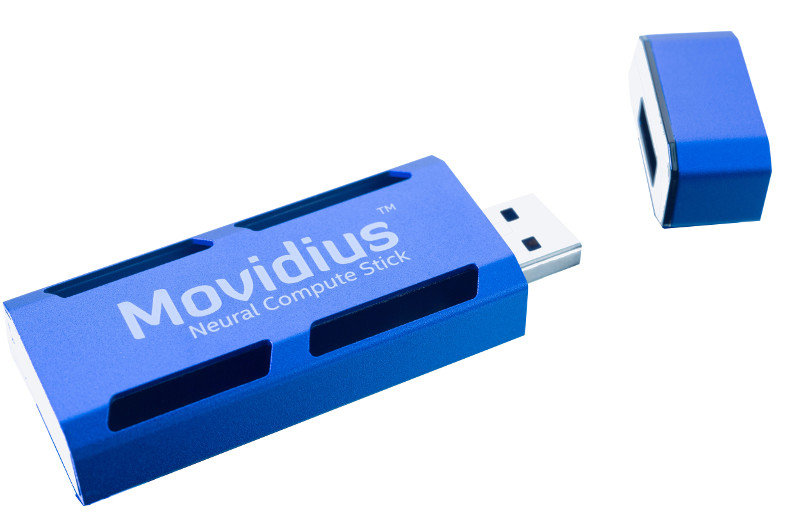 Intel has announced Movidius Neural Compute Stick, which is the world's first USB-based deep learning inference kit and self-contained artificial intelligence (AI) accelerator delivering dedicated deep neural network processing capabilities to a wide range of host devices.
It is designed for product developers, researchers and makers and aims to reduce barriers to developing, tuning and deploying AI applications by delivering dedicated high-performance deep-neural network processing in a small form factor.
The USB form factor easily attaches to existing hosts and
prototyping platforms, while the Vision Processing Unit (VPU)
provides machine learning on a low-power inference engine.
Highlights of Movidius Neural Compute Stick
Supports CNN profiling, prototyping, and tuning workflow
All data and power provided over a single USB Type A port
Real-time, on device inference – cloud connectivity not required
Run multiple devices on the same platform to scale performance
Quickly deploy existing CNN models or uniquely trained networks
Features the Movidius VPU with energy-efficient CNN processing
Compile: Automatically convert a trained Caffe-based convolutional neural network (CNN) into an embedded neural network optimized to run on the onboard Movidius Myriad 2 VPU.
Tune: Layer-by-layer performance metrics for both industry-standard and custom-designed neural networks enable effective tuning for optimal real-world performance at ultra-low power. Validation scripts allow developers to compare the accuracy of the optimized model on the device to the original PC-based model.
Accelerate: Unique to Movidius Neural Compute Stick, the device can behave as a discrete neural network accelerator by adding dedicated deep learning inference capabilities to existing computing platforms for improved performance and power efficiency.
The Movidius Neural Compute Stick is priced at an MSRP of $79 (Rs. 5080 approx.) and is available for purchase through select distributors. It will also be available at Computer Vision and Pattern Recognition (CVPR) conference in Honolulu, Hawaii, from July 22-25.