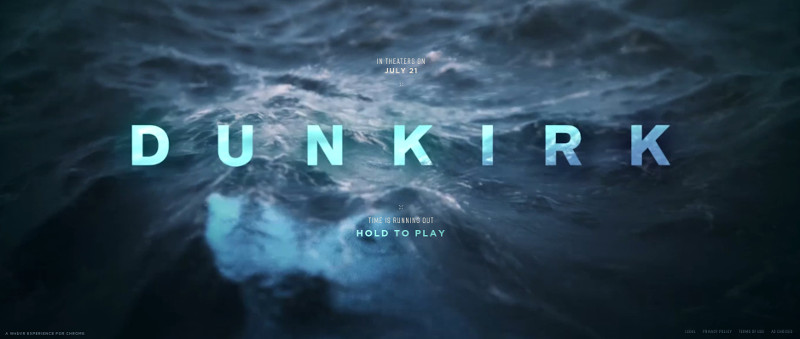 Warner Bros. Pictures, in partnership with Microsoft, Intel and Dell, last week released Save Every Breath: The Dunkirk VR Experience 360-degree short film across multiple virtual reality platform ahead of the release of the movie on on July 21, 2017. Today Google in collaboration with Warner Bros, the Google Chrome VR team, Jam3, and Google Zoo released Dunkirk WebVR game for Chrome. You can play with a friend or with players around the world to experience the battle as either of two soldiers, both trying to survive.
Regarding the game, Google said:
You're plunged into this moment in history through alternating perspectives—and every choice could mean the difference between life and death. In the end, just like the movie, the game shows the power of people working together in extreme circumstances and how the human spirit can persevere when all looks lost.
Regarding the VR experience,  Warner Bros, said:
This immerses the viewer in the world of Christopher Nolan's epic action thriller Dunkirk. It offers a tantalizing taste of the much-anticipated film, in which 400,000 Allied soldiers are trapped on the beach of Dunkirk, France, with their backs to the sea as the enemy closes in.
Last month Sony Pictures released a similar Homecoming VR experience on major VR platforms.
[HTML1]
The VR short film is created by Practical Magic, features specially created original content that offers experience in three key perspectives—land, sea and air. The Dunkirk VRE uses Intel-powered hardware and software, including Dell M1000E blade servers built with Intel Xeon processors to create real-time, low-latency stitching of the high-resolution media.
The Dunkirk WebVR game is available for Chrome, on a phone, or with any VR headset that supports WebVR, like Cardboard and Daydream at webvrgame.dunkirkmovie.com.
You can check out the Save Every Breath: The Dunkirk VR Experience for free via most VR platforms at the movie's VR site.