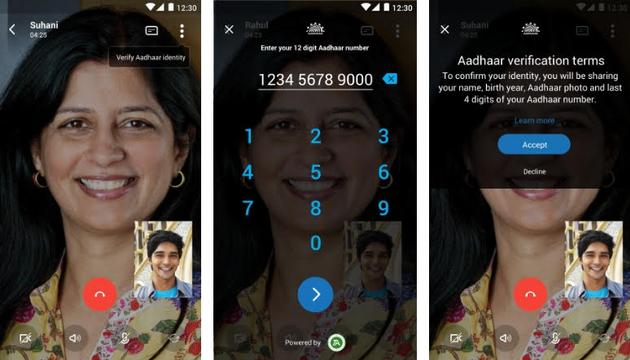 Earlier this year in February, Microsoft had launched Skype Lite app which is aimed at low end Android devices. The company had also announced that it will come with Aadhaar integration that will be rolled out in second half of 2017. Now, the Aadhaar integration is available on the Skype Lite app.
This will enable Skype users to verify the identity of unknown callers in a variety of situations where identification verification is required, including job interviews, goods and property sale. Both parties can request Aadhaar verification over a video call using Skype Lite. In order to confirm your identity, you'll need to click on "Verify Aadhaar identity", enter your 12-digit Aadhaar number and then authenticate with a one-time password sent via SMS. Once validated, you can choose to share pre-selected Aadhaar information with the other person to confirm your identity.
After completing the call using Skype Lite, both parties will see the Aadhaar verification captured as an event within the conversation. Microsoft claims, Skype will not store any Aadhaar information and your personal information—including your video and audio conversations —is encrypted.
Skype Lite is available to download on Android here.