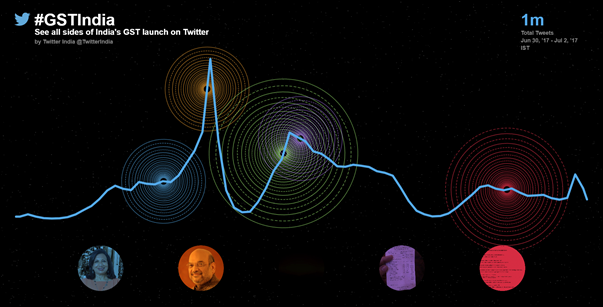 Twitter saw over one million GST-related Tweets (between 30 Jun – 2 Jul 2017) in India. The micro blogging site revealed that conversations around GST peaked on the platform at 12:30 AM on July 1st and 1100 tweets were posted per minute. 
Top hashtags around the conversation included – #GSTCouncil, #GSTIndia, #GST@GoI, #GSTRate, GST, #GST, #GSTsimplified, #IndiaforGST, askGST, #GSTForCommonMan, #HalfCookedGST, #HalfBakedGST.
Mahima Kaul, Head of Public Policy and Government, Twitter India said,
Conversations around the launch of the GST exemplify Twitter as the best place for people to connect with what's happening in India and around the world and express their opinions. The platform witnessed a myriad of perspectives from Indian audience supporting as well as raising their concerns about the same. With more than a million Tweets on GST, we hope the public feedback will help to facilitate greater citizen engagement on the topic.
Hare are some top tweets around GST conversation-
[HTML1]
[HTML2]
[HTML3]