Twitter has announced new safety tools to curb abuse and harassment on its platform. The micro-blogging site has introduced features that adds the ability to filter abusive content, fight trolls, mute keywords and improve communication around reporting harassment.
First up, Twitter has debuted three new opt-in filters that will allow users to choose what they see from certain types of accounts, like those without a profile photo (Twitter egg), unverified email addresses or phone numbers. The company said this was one of the most requested feature. In November, Twitter added the ability to mute words and conversations from notification. Now, you can mute keywords, phrases, or entire conversations from your home timeline for one day, one week, one month, or indefinitely.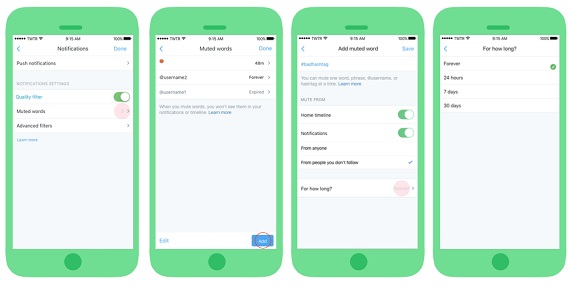 Twitter has been working really hard on shutting trolls and giving its users ways to reduce abuse. Now, when you will report harassment directed at you or another account, Twitter will notify you about receiving the report and inform you if it takes any further action. This will all be visible in your notifications tab on our app.
All these changes are rolling out to the Twitter app in the coming days and weeks.