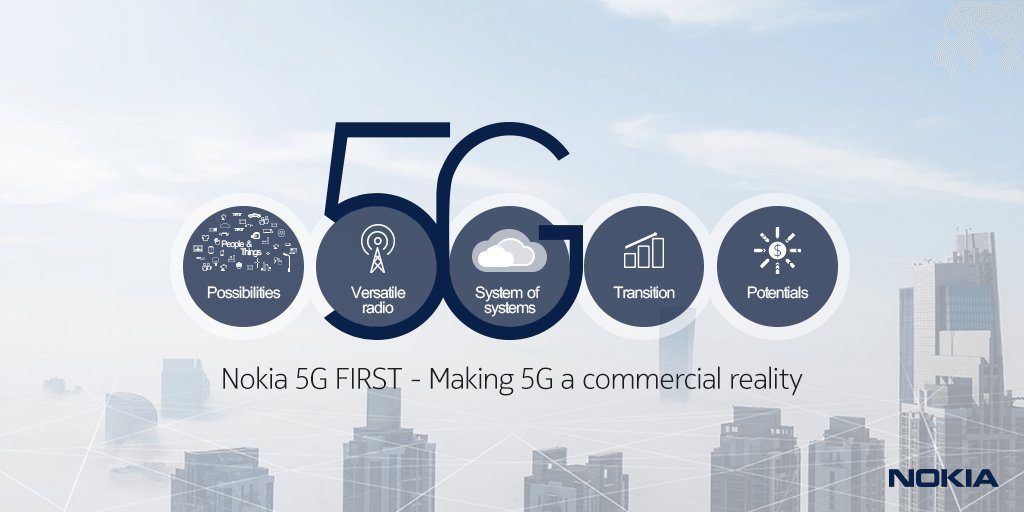 Nokia has announced 5G FIRST end-to-end 5G solution that incorporates AirScale and AirFrame technology, including AirScale massive MIMO Adaptive Antenna, Cloud Packet Core and mobile transport to bring new capabilities to operators. Nokia will make its commercial 5G FIRST end-to-end solution available in the second half of 2017.
The radio access network components of 5G FIRST comprise new Nokia massive MIMO Adaptive Antennas for 3.5 GHz, 4.5 GHz, 28 GHz and 39 GHz frequency bands, the AirScale System Module, AirScale cloud RAN technology and software. Nokia has upgraded its AirScale and AirFrame platforms to 5G based on specifications developed by the KT Special Interests Group (KT SIG) and Verizon 5G Technology Forum and the platforms will be adapted to 3GPP as standards develop. 
5G FIRST also incorporates the multi-access Nokia Cloud Packet Core and the Nokia Shared Data Layer as part of a cloud-native core architecture to deliver the flexibility, massive scalability and performance operators need to rapidly and cost-effectively deliver 5G services. Nokia will work with operators to meet their customers' needs. The company has extended its 5G Acceleration Services to include 5G transformation consulting, 5G phase one network design and 5G cross-domain architecture services.
5G FIRST is underpinned by technical specifications outlined by the Verizon 5G Technology Forum ecosystem. Nokia is working with Verizon and Intel to deliver advanced 5G services to homes in select Verizon markets such as Dallas, enabling next-generation video and entertainment services or other applications in the future, such as remote, in-home healthcare. Nokia will leverage the Intel 5G modem for initial deployments of 5G FIRST to deliver ultra-broadband to the home using fixed wireless access as an alternative to existing fiber deployment.
Samih Elhage, President of Mobile Networks at Nokia, said,
We are able to leverage our breadth of expertise to deliver a true end-to-end 5G FIRST network and services solution. Working with operators such as Verizon we can help them tailor deployments to meet their own customers' unique demands and capitalize first on the opportunities this will bring. And we can leverage the technology to work with industries to identify new uses for 5G now under the 5G community program which will in turn open up even more opportunities for our operator customers.
Ed Chan, Senior Vice President- Technology Strategy and Planning at Verizon, said,
Leveraging the Verizon 5GTF partnership specification, Nokia's 5G FIRST will accelerate the commercialization of 5G services to our customers. We are excited to partner with Nokia to bring 5G to the pre-commercial pilot cities in 2017.