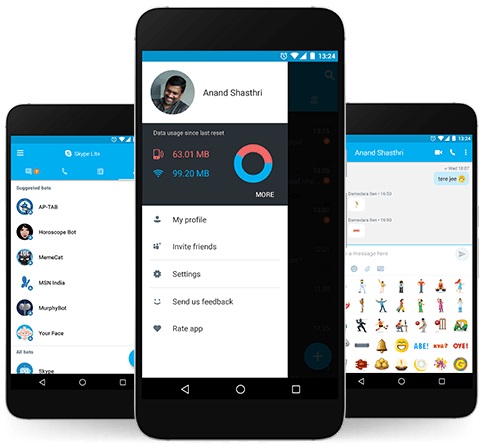 Microsoft has announced the launch of Skype Lite mobile app which is aimed at low end Android devices. The company CEO Satya Nadella introduced the app at Future Decoded event in Mumbai. The app which weighs just 13MB and works on phones with slower data connections. Furthermore, Skype Lite comes with Aadhaar integration.
The Skype Lite app will allow users to make Skype to Skype audio and video calls, messaging. It was tested with consumers in India, and built by the Hyderabad development centre of Microsoft. The app is available in Gujarati, Bengali, Hindi, Marathi, Tamil, Telugu and Urdu. It comes with features like SMS filtering, mobile data and Wi-Fi usage monitoring and India focused Skype Bots. Skype Lite uses machine learning to de-clutter spam messages. Microsoft claims, the app uses less data to send messages, voice or video calls and it is will work on phones with even 2G data.

Another highlight of the the app is the Aadhaar integration that will be rolled out by June 2017. This will enable Skype users to verify the identity of unknown callers in a variety of situations where identification verification is required, including job interviews, goods and property sale.
Facebook had launched Facebook Lite for Android in 2015 aimed at users from emerging markets like India The app uses less data and works across low to poor connections. Skype Lite competes with WhatsApp which has over 160 million active users in India.