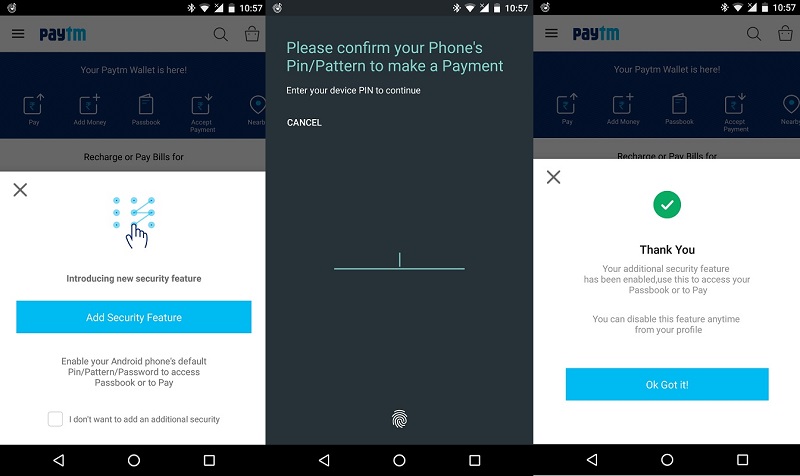 Paytm has updated its Android app that adds a new security feature to its Wallet. The App password feature allows you to set up a password on wallet transactions.
In order to get the new feature you will have to update the Paytm app and  click on "Pay" or "Passbook". You will be prompted to enable this optional feature. If you are not logged in then you will be asked to login first to enable this App password. It must be noted that, you have to set a password for your Android phone in order to use this feature. After clicking on add Security Feature you will be asked to reconfirm your Phone's Pin/Password/Pattern/Fingerprint depending on what you have selected as your default protection. The new app password is set once you confirm it. Now after setting the password when you will click on "Pay" or "Passbook", you will be prompted to input your App password.
This is an opt-in security feature and can be disabled by heading to Paytm App, Go to Profile > Security & Settings > Android Security Feature > Slide it off. . You will be prompted to reconfirm your Pin/Password/Pattern/Fingerprint to disable it. The additional security layer protects your Paytm Wallet even if you lose or misplace your phone as no one can use it if they don't know your personal PIN/Pattern.
Just yesterday, Paytm introduced a toll-free number that lets anyone access their account and pay without internet.