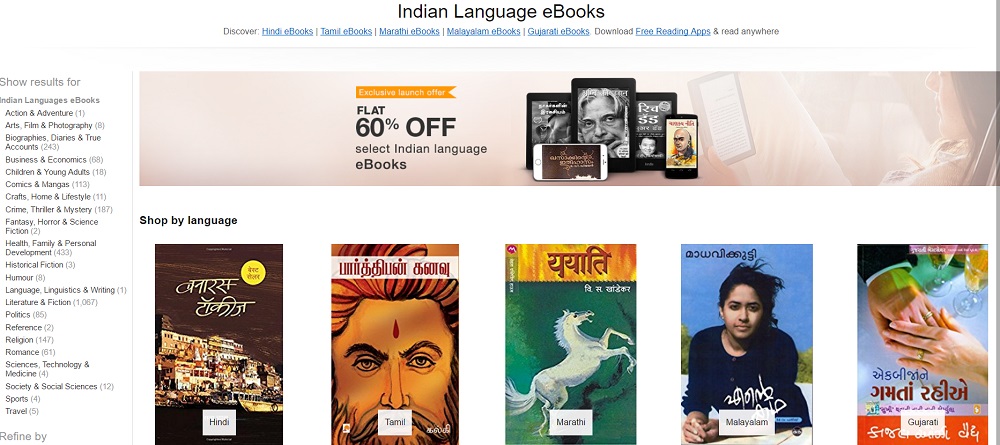 Amazon's Kindle e-reader will finally support e-books in regional languages. Users will now be able to read e-books in a total of five India languages including Hindi, Tamil, Marathi, Gujarati and Malayalam.
Amazon claims Kindle Book Store in India will feature digital books, including the largest selection of best sellers and hundreds of exclusive titles in aforementioned Indian languages. The catalouge includes bestseller titles such as "Ishq Mein Shahar Hona" by Ravish Kumar (Hindi), "Rajaraja Chozhan" by Sa. Na. Kannan (Tamil), "Mrutyunjay" by Shivaji Sawant (Marathi), "Ek Bija Ne Gamta Rahiye" by Kaajal Oza Vaidya (Gujarati) and "Aarachar" by K R Meera (Malayalam). The selection will also include translations of globally popular titles like Rhonda Byrne's "The Secret", and Robin Sharma's "The Monk who sold his Ferrari" and exclusive titles like Satya Vyas's "Banaras Talkies", Madhanand's "Ki.Mu.Ki.Pi", Kaajal Oza Vaidya's "Draupadi".
Readers can access these books on Kindle eReaders as well as the free Kindle apps for Android and iOS. Kindle already supports languages like Chinese, German, French, and Japanese among others, apart from English. Another important addition which comes with this announcement is that Kindle e-book readers will now automatically see Indic keyboards based on the language of the book purchased.
Amazon has signed an agreement to acquire the publishing business of Westland Ltd., a Trent Limited subsidiary and one of the leading publishing houses in India.
Amit Agarwal, Vice President and Country Manager at Amazon India said,
In just three years we have built India's largest online store that customers can trust to find, discover and buy anything online. Our acquisition of Westland continues our commitment to India — enabling Amazon to bring Westland's highly talented authors and their books to even more customers in India and around the world," "Since investing in Westland earlier this year, we have built a great relationship with the company and its authors. With this acquisition, we are very excited to take our relationship with Westland to the next level.