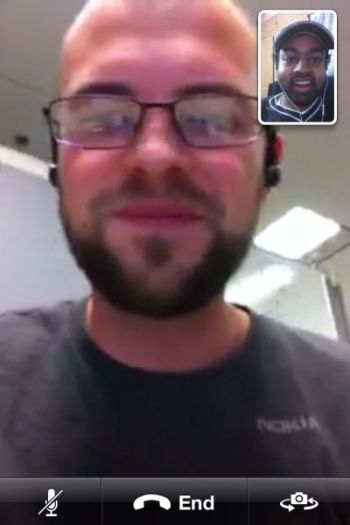 The Facetime feature on the new iPhone 4 is not restricted to any market like USA or UK like we anticipated. We heard previous reports that Facetime works only on AT&T USA and an Apple Rep confirmed this on our call to the Apple Facetime hotline. Now I had the chance to have a Facetime call between India and USA thanks to our good friend Sloan Bowman
The good part first. I just dialed Sloan's mobile number and as soon as we got connected , the Facetime option showed up on the screen. We had a live video chat for about a minute with no major hiccups thanks to WiFi. The Audio and Video quality was pretty good and the entire experience was actually pretty cool. I could even see that Sloan was wearing a Nokia T-shirt and he could see me wearing a Porsche cap.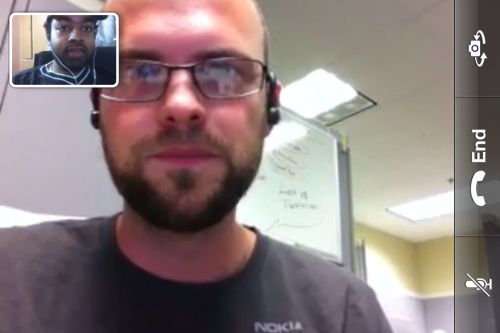 Now the bad part is that I had to pay for the ISD call originating from India to USA which is a bomb. So I decided to see how it would work within India.
Facetime works inside India. Folks from NDTV called me from another iPhone 4 in Delhi and guess what you can see the Facetime call in action on this week's CellGuru on Saturday 10.30 pm on NDTV 24×7 and 2:30 pm on NDTV Profit
So imagine if the new iPod touch and iPads got Facetime, You can actually have live video chats without the need for a PC  and Webcam.
Apple was not the first to invent Video calling. You must have tried Video calls ages ago on 3G networks or using apps such as Skype , Fring. But Facetime adds a whole new dimension to Video calling. Nokia phones have had front facing cameras for ages but how many of those users have actually used the front facing camera for video calls ?  Nokia phones could not perform video calls over WiFi like Facetime does. (N900 is an exception) Will the Facetime feature from Apple force Nokia and the competition to offer a similar service to Nokia users ? That would be interesting to watch !
How many of you like the Facetime feature of the iPhone 4 and are looking forward to seeing it on iPods and other Apple devices ?