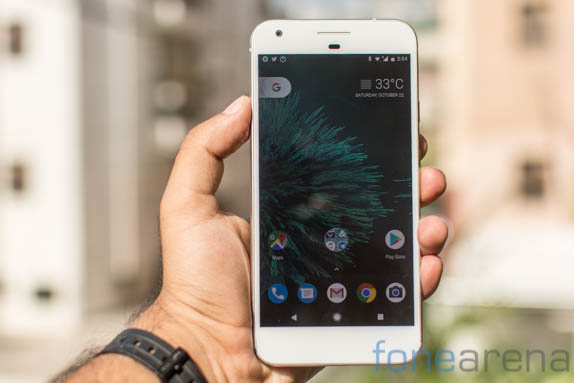 A pixel is defined as the smallest addressable element in an all points addressable display device. Essentially speaking, it is the smallest component of a much bigger picture. There's a case to be made that Google really couldn't have named their new phones better. Where the Nexus phones were accessible devices for developers and enthusiasts to get a taste of Google's take on Android, the Pixel and Pixel XL are expected to be the torch bearers of Google's vision for the future of smartphone computing. They are positioned to be hidden away in the background and behave simply like the smallest yet most important element in getting things done for you. Does it succeed at getting anywhere close to this grand dream? Much closer than you'd think. 
Google Pixel XL specifications
5.5-inch  (2560×1440 pixels) AMOLED display with Gorilla Glass 4 protection
2.15 GHz Quad-Core Snapdragon 821 processor with Adreno 530 GPU
4GB RAM, 32GB / 128GB internal storage
Android 7.1 (Nougat)
Fingerprint sensor
12.3MP rear camera with LED flash, Sony IMX378 sensor, 1.55umpixel, f/2.0 aperture, PDAF, LDAF
8MP front camera
3 microphones, 3.5mm audio jack
Dimensions: 154.7 x 75.7 x 8.6 mm; Weight: 168g
4G VoLTE, WiFi 802.11ac 2x2MIMO (2.4/5 GHz), Bluetooth 4.2, GPS, USB Type-C, NFC
3450mAh battery
Video Review
Design
With the Pixel and Pixel XL, Google seemingly wants to take the focus away from how the phone looks and instead focus on how it feels both physically and in terms of experience. This is well emphasised in how the front fascia is quite literally a blank featureless slate. Looked at from the front, the Pixel could be any Android phone, well any HTC made Android phone. As we pointed out earlier though, that seems to be part and parcel of Google's approach towards the phone wherein the focus is on what lies inside.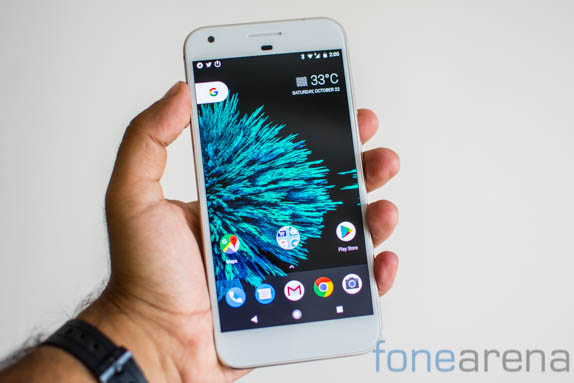 The 5.5 inch Quad HD display on the Pixel XL that we have here lies within an island of white plastic. Gorilla Glass 4 protection is present to protect the phone from scratches during everyday use. An island of white plastic is a rather apt description too given the massive bezels above and to the sides of the phone. The pronounced lip below the screen in particular is somewhat off-putting as it hardly adds anything to the functionality or aesthetics of the hardware. Up above the screen is an array of sensors while the 8MP front facing camera is located at the far left corner.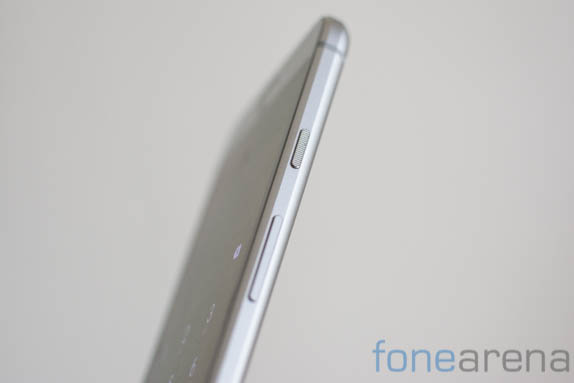 Being manufactured by HTC, there are more than subtle design throwbacks hidden in plain sight on the Pixel. Case in point being the thick chamfered edges that seem to take cues from the HTC 10. The edges of the phone curves over softly with delicate balance. The Pixel is not aiming to be the daintiest phone around, that crown has already been claimed by the Moto Z. No, the Pixel / Pixel XL feel chunky to the touch in a positively endearing way. The phone feels good to hold, there are no sharp corners yet there's enough grip to make sure you won't slip it. There's a grippy volume power switch on the upper left side while below it is the single volume rocker. Both are metal keys with excellent feedback. The left is where the nano SIM card tray is located. No, you don't get Dual SIM or microSD functionality.
At the top of the phone, aligned to the left is the 3.5mm audio jack while the right side has an antenna band running through. The bottom of the Pixel has a centred USB Type C port with speaker port holes on either side. The stereo speaker ports are mostly for aesthetic purposes as the phone packs in only a mono speaker.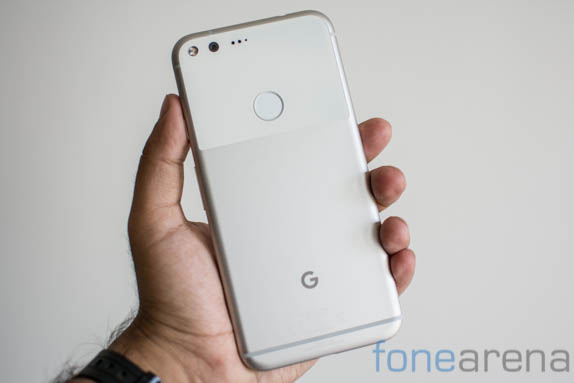 iPhones stand out in a way that you can recognise them from afar. Same goes for Samsung's phones that despite offering a degree of homogeneity in design within their own portfolio, are certainly easy to identify in a crowd. Where the front of the Pixel was borderline drab and generic, the rear kicks things up a notch. A white plastic panel seamlessly melds into the metallic rear of the phone. It's a simple flourish but one that instantly makes the phone stand out. Beyond looks, the plastic window also acts as a way to allow RF signals to reach the internals. The Nexus Imprint fingerprint scanner lines up along the bottom edge of the plastic panel, within easy reach of your index finger. The rear camera module, dual LED flash as well as microphones line up along the top left edge of the white pane. A simple G near the bottom of the phone indicates through and through that this is a Google phone. In fact nowhere does the phone indicate that it has been manufactured by and in collaboration with HTC. This is a sharp departure from Nexus phones where the OEM of the hardware shared equal limelight.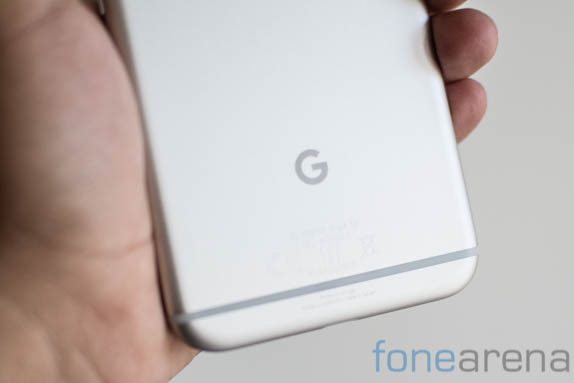 Google has clearly leveraged HTC's know how in making ergonomic designs and that shows up brilliantly in the Pixel.The phone feels sturdy , very comfortable to hold and weighs just 168g despite its full metal build. Let's be honest, the Google Pixel isn't the most striking handset out there. Then again, the Pixel's purpose is way more than just being a hardware showcase. It is supposed to become part and parcel of your lifestyle instead of becoming the focus of it. The design is utilitarian to a point and is meant to simply become a part of your daily routine.
Software
Stock Android. Pure & Simple. The Pixel XL & Pixel run an absolutely un-adulterated, virgin build of Android 7.1 with a few niceties thrown in for good measure. Unlike the Nexus phones which were just carriers of bleeding edge software for developers and savvy customers, the Pixel is a consumer device that Google hopes will make a dent within the Android ecosystem that it helped spawn. On that note, it is the first time where a phone blessed by Google carries features that shall remain exclusive to it. While a full run down of Android 7.1 deserves its own review (coming soon), for now we'll focus on some key aspects of the software onboard the Pixel.
Built from scratch, the Pixel phones herald the launch of the aptly named Pixel launcher. Exclusive to the phones for now, it is a different enough approach to the interface that long time Android users might be put off for a bit. Replacing the traditional app drawer is a swipe up gesture that reveals all the applications installed on the device. Thankfully it doesn't take too long to get used to the gesture.
What DOES take getting used to is the Google Now on Tap shortcut. We've become really accustomed to calling up Google Now by long pressing the home button. The same shortcut on the Pixel brings up the Google Assistant. The default interaction mechanic here is to use your voice to interact with Google's all-powerful assistant and we couldn't see any obvious way to switch this to a more inconspicuous text-based interaction. Getting to the regular card based Google Now screen requires a simple swipe to the right from the home screen. Google Assistant can also be activated by using the familiar 'Ok Google' command from anywhere in the UI and also when the display is switched off.
The Assistant feature uses the same AI engine for conversations as Google Now or the chatbot built into Allo, so you can easily get a taste of the functionality without being on the Pixel. How well does it work? We've come a long way from the days of simple weather report queries. Google Assistant is capable of much more complex tasks ranging from creating and presenting calendar entries to performing essential conversions and even doing a bit of fact-finding. Google Assistant is also capable of building up conversations based on your previous query so you can ask contextual information as well. Using Google Assistant while driving to play tracks on Spotify using voice commands fast turned into a favorite function of ours. Your own mileage will vary a bit depending on how thick your accent is but for the most part, Google has does extensive work to make sure Google Now / Google Assistant works well with Indian accents.
There's support for a range of sensor based gestures built into Android and the phone but there's one that is entirely unique to the Google Pixel. You can now swipe down / up on the fingerprint scanner to bring down or push up the notification shade.
Other tweaks and additions include new round icons that are unique to the Pixel launcher. There's a new night mode built into the phone that can automatically activate on a schedule. This operates similar to flux and cuts down blue light from the display to ease the strain on your eyes. Additionally, we've the addition of a feature that has been a mainstay of OEM skins for ages now. With Android 7.1, stock Android finally gets a reboot button. There are several more tweaks and additions that we're discovering as we use the phone and we'll be sure to update this space as and when there's more to report on that front.
Performance
The Pixel XL is the fastest Android phone you can get your hands on right now. Period. Whatever you throw at it, no matter what you are doing with the device, it simply flies. That's not all that hard to imagine either with a top of the line Snapdragon 821 processor clocked at 2.15Ghz under the hood. This is paired with 4GB of RAM, a number that might feel slightly skimpy with the recent spate of phones launching with 6GB of RAM onboard. That said, the RAM should be more than sufficient for the foreseeable future. In every day use, it is really hard to tax the device and even demanding games work smoother than we've experienced on any other Android phone. The bloat free software build can certainly lay claim to boosting the performance as it frees up additional computing resources.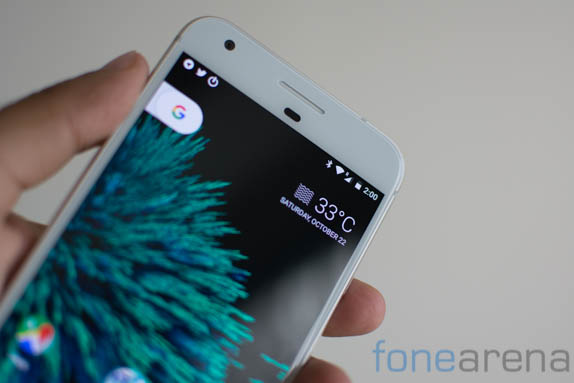 All is not hunky dory though as we observed that taxing applications can cause the phone to heat up quite a bit. Now this is part and parcel of all modern hardware and the phone cools down very quickly but we feel it is certainly worth keeping in mind. Additionally, we came across a range of applications, most notable being Apple Music, that are not entirely compatible with Android 7.1 yet. This causes wake lock errors and can also shoot up CPU usage which drains out the battery and heats up the phone too. We expect these issues to be solved over the coming weeks. Really though, the Pixel / Pixel XL is a butter smooth device. Between the highly optimised touch response, flagship grade hardware and a clean software build, the Pixel XL elegantly punches through whatever you need it to do and then some. Synthetic benchmarks don't really do justice here since the experience is markedly improved over practically every other Android phone but we've included some key benchmarks nonetheless for your perusal.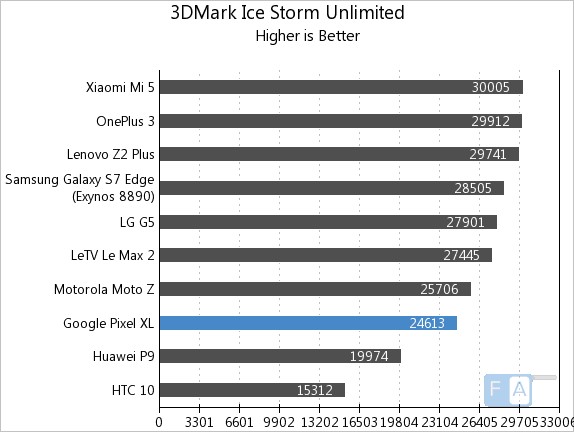 In the 3DMark Ice Storm benchmark, the Pixel XL scored 24613 points.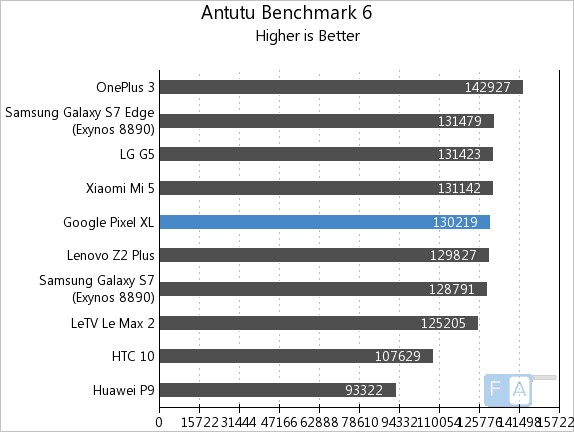 In the AnTuTu 6 benchmark, the phone is very competitive with a score of 130219 points.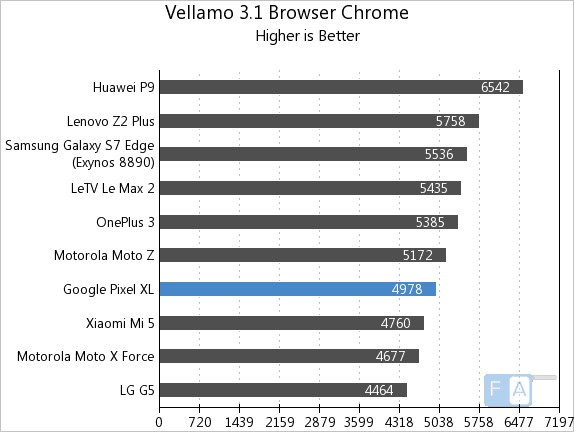 In the Vellamo Chrome benchmark, the phone scores 4978 points.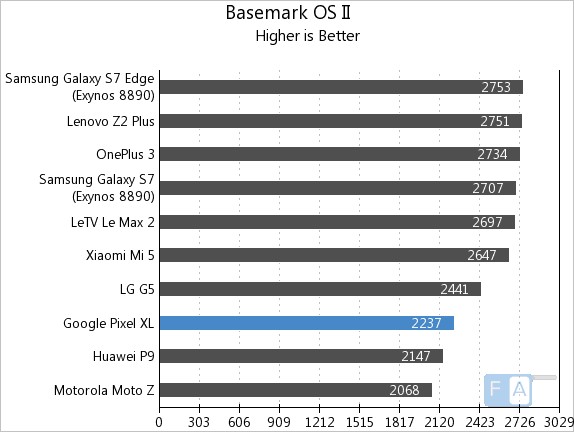 Finally in Basemark OS II, the phone scores 2237 points. It is worth mentioning again that benchmark performance is usually not very indicative of how well a phone performs in every day use.
Display
A 5.5inch Quad HD AMOLED display adorns the front of the Pixel XL. Characteristic of AMOLED panels, the blacks are deep, the colors are punchy and saturated and viewing angles are excellent. Compared to the likes of the iPhone, the Pixel goes for visual appeal over visual accuracy. Where the expanded gamut and IPS panel on the iPhone is all about tack sharp accuracy with the trade-off being a duller image, the AMOLED display on the Pixel looks full of life and brings to life whatever media or game you are consuming. For media consumption, we feel the contrasty colors on the display of the Pixel XL will likely be more appealing to users.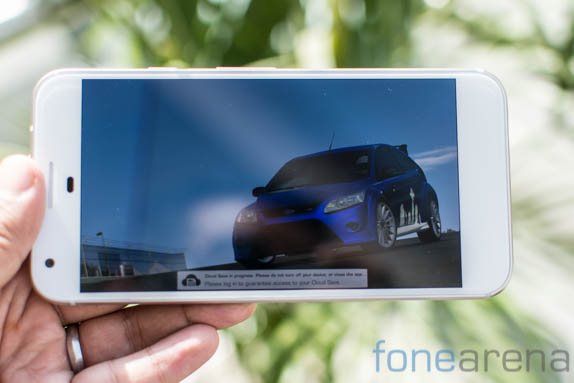 There's almost no color shift even when viewing from extreme angles. The display very bright and is easily visible even outdoors despite a bright sun right above. On the opposite end of the spectrum, we were suitably impressed by how dim the phone can go. A pet peeve of mine is that phones these days don't go dim enough to comfortably read in dimly lit conditions. The Pixel solves that concern and the added Night Mode is like icing on the cake.
Camera
Every year, we take leaps and bounds forward in terms of image quality. Every smartphone manufacturer claims that their phone takes the best images possible from a phone. Google too proclaimed that they have the camera on the Pixel / Pixel HD is the best you can get on a smartphone. For once we are inclined to believe them albeit with a few caveats.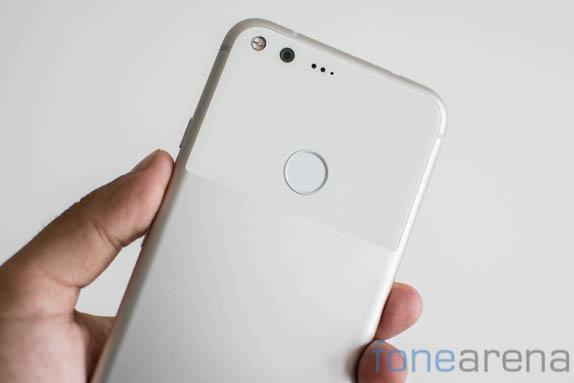 Both the Pixel phones pack a 12.3MP rear camera with LED flash, Sony IMX378 sensor, 1.55umpixel and f/2.0 aperture. You also get Phase Detection as well as Laser based auto focus. Unfortunately there's no OIS onboard. The specs are however only part of the story. A large part of why the phone takes great photos is due to the software processing behind the scenes.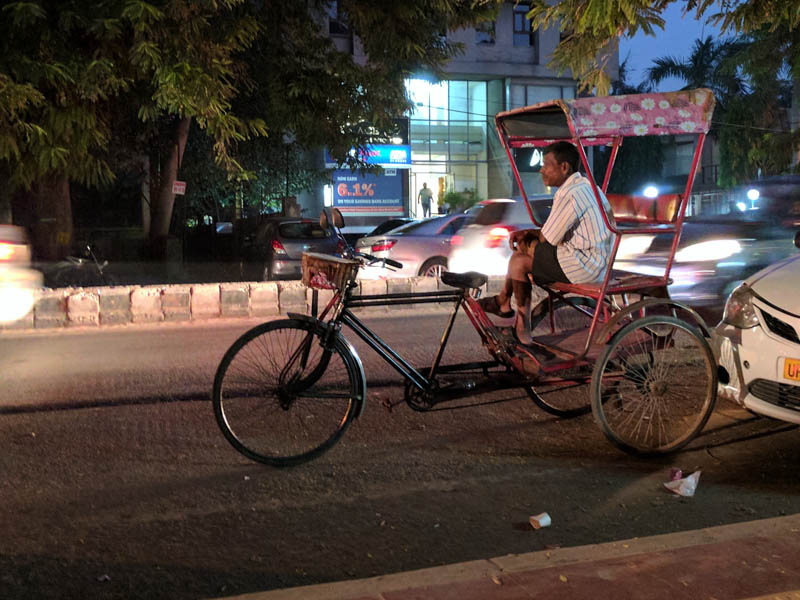 While any camera can take good photos in bright lighting, the Pixel phones excel at low light and to a large extent this is due to the new and improved HDR+ mode. Unlike regular HDR, Google's take on it takes several exposures with short exposure times and then stitches it all together in post to create a bright, noise free image that is also free of motion blur. In practise, the results are almost there. In the shot above you can see that both the subject and background are captured nice and bright despite the dim ambient lighting. Zoom in closely though and there's a hint of blur. This was consistently spotted by us across HDR+ shots. The lack of optical image stabilisation really hurts in these shots though we're really just nitpicking here.
For the most part, the Pixel XL takes fantastic shots. The ability to lock exposure and focus independently akin to iOS is well appreciated though the lack of ISO controls was perplexing. In video mode, the phones can shoot up to 4K video. There's electronic image stabilisation on offer here and it works remarkably well. Worth keeping in mind, Google is bundling in free full resolution backup for all photos and video shots with the Pixel devices.
Connectivity & Battery Life
The Pixel phones tick all the boxes when it comes to connectivity options. There's 4G VoLTE onboard as well as WiFi 802.11ac 2x2MIMO (2.4/5 GHz). The plastic window at the back has certainly helped with radio performance and the phone held a signal in places where other phones completely dropped out. The phone is equipped with the latest Bluetooth 4.2 spec in addition to the usual suspects like GPS and NFC. The phone charges and supports data transfer over USB Type C. Expect really speedy transfers here as the phone supports USB 3.0. The phone ships in two SKUs with 32 or 128GB of storage. Our 32GB unit had about 24 GB free at first boot. While the phone doesn't support microSD expansion, you can expand it via USB OTG. In fact, the phone ships with an adaptor that allows you to connect it to an iPhone or other device over OTG to transfer all your data when you set up your device.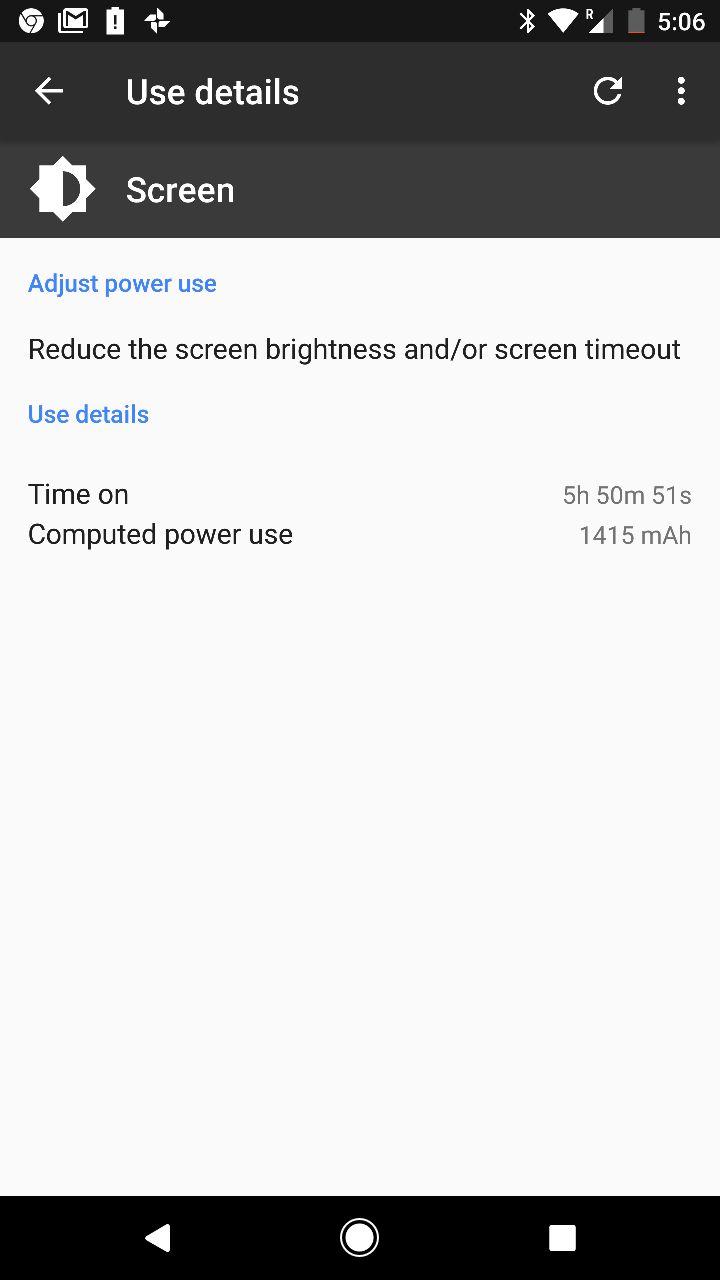 The Pixel XL is equipped with a 3,450mAh battery that works in tandem with optimisations made in Android 7.1 to deliver outstanding battery life. With extensive messaging, camera usage and a bit of calls thrown in, we could easily last over a full day. Even with gaming thrown in for good measure, you'd be hard pressed to deplete the battery in a full work day. In fact during a one hour commute, we decided to stream music on Spotify over the cellular radio. By the end of the session, we observed a battery drop of just 6 percent which isn't bad at all. Effectively, we're regularly seeing screen on times between 5 to 6 hours with no change to our workflow.
Conclusion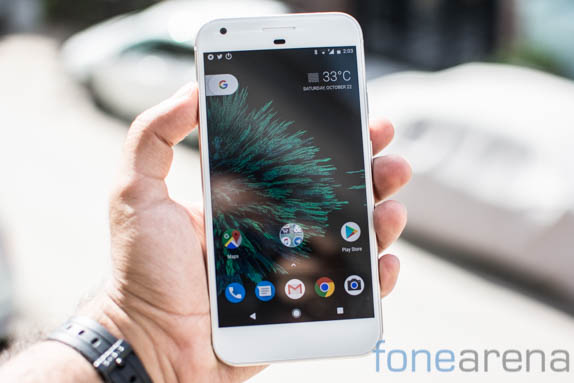 So where do the Pixel phones really stand? Having spent close to a week with the phone, it is fair to say that hardware is top-notch but you wouldn't expect any less either. Sure, they aren't water-resistant and the design is rather dull and boring but there's so much more to these phones. They serve as an excellent foundation to guide the future of Android as a platform. Indeed, Google would rather have you hooked onto it's services and use the phone as gateaway. It isn't aiming to be a Lamborghini or Ferrari with screaming fast looks, it would rather be a Tesla that has a more refined and utilitarian look yet manages to beat others in a quarter-mile drag. For once, we have a phone that simply works and it isn't an iPhone. The Google Pixel phones start at Rs. 57,000 for the base variant and goes up to Rs. 76,000 for the top of the line version. It is available for pre-order from Flipkart and offline retailers and ships starting this week.
Pros
Fantastic camera
Extremely fast & fluid hardware
Great battery life
Fast Android updates
Cons