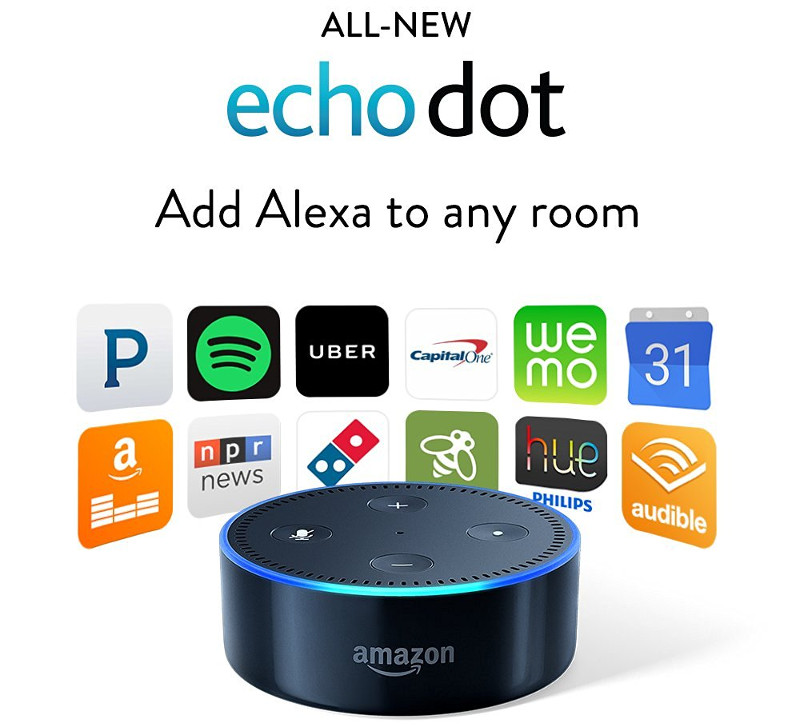 Amazon today introduced a new Echo Dot virtual assistant powered by Alexa. It has a new sleek and compact design, comes in either black or white, has built-in speaker and can also be used as a smart alarm clock that can also turn off your lights.
It has the same array of seven microphones found in Amazon Echo and uses beam-forming technology and enhanced noise cancellation to detect the wake word, Alexa, from across the room. Amazon says that the new Echo Dot features a more powerful speech processor, which delivers improved far-field speech recognition accuracy.
It can directly connect to speakers through Bluetooth or using a 3.5mm stereo cable, enabling you to add Alexa to your home entertainment system.
Features of Amazon Echo Dot (2nd generation)

Echo Dot (2nd Generation) is a hands-free, voice-controlled device that uses Alexa to play music, control smart home devices, provide information, read the news, set alarms, and more

Connects to speakers or headphones through Bluetooth or 3.5 mm stereo cable to play music from Prime Music, Spotify, Pandora, iHeartRadio, and TuneIn

Controls lights, fans, switches, thermostats, garage doors, sprinklers, and more with compatible connected devices from WeMo, Philips Hue, Samsung SmartThings, Nest, ecobee, and others

Wi-Fi 802.11a/b/g/n (Dual-band)
Dimensions: 32 mm x 84 mm x 84 mm; Weight: 163 grams

Hears you from across the room with 7 far-field microphones for hands-free control, even in noisy environments or while playing music

Includes a built-in speaker so it can work on its own as a smart alarm clock in the bedroom, an assistant in the kitchen, or anywhere you might want a voice-controlled computer

Always getting smarter and adding new features, plus thousands of skills like Uber, Domino's, and more
The all-new Echo Dot is available in either black or white and is priced at $49.99 (Rs. 3350 approx.). It is now available for pre-order in from Amazon.com and will start shipping next month.
Amazon also announced the launch of Amazon Echo and new Echo Dot in the UK and Germany. In UK, Echo is available for pre-order starting today for £149.99 and will start shipping in the coming weeks. The new Echo Dot is available for £49.99 and ships next month. In Germany the Echo is priced at 179.99 Euros and new Echo Dot will be available for 59.99 Euros and will ship from next month.