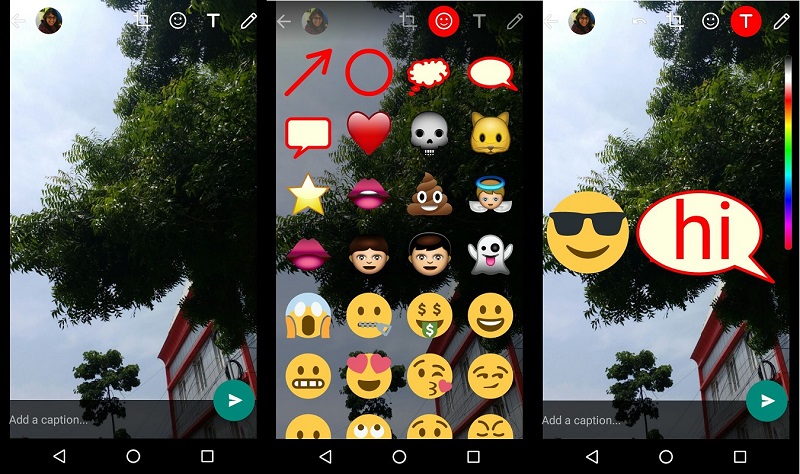 WhatsApp beta for Android has received a much needed update which focuses on improving the chatting experience. The latest beta update brings stickers, ability to doodle and bigger emojis which will make instant messaging more fun on WhatsApp.
Now when you take a photo using the camera from within WhatsApp, you will see options to draw and scribble by selecting the pencil and 'T' icon respectively. Also present is a color slider that can be used to pick your favourite color to doodle or write. In addition you will now be able to add stickers to photos.
Moving on, WhatsApp is now supporting bigger emojis that will surely help you express better and have fun conversations. You can even send combinations of small, medium and large emojis in single chat, because why not.
Besides the aforementioned additions, the update also brings other features to WhatsApp such as ability to send multiple chats at once while sharing or forwarding messages. Next up, your frequent contacts appear on top while forwarding or sharing messages. You can also slide your finger up or down to zoom in and out at the time of recording videos. Finally, there is an inclusion of a new front-facing flash for better selfies in the low light and dark conditions. It must be noted that these camera features only work if you are taking a photo using the WhatsApp in-app camera and not the once present on your device.
The latest update brings WhatsApp in line with Snapchat and Facebook Messenger which already support stickers and doodling. In order to try the new features, you can sign up for WhatsApp Beta program.
Srivatsan contributed to this post.