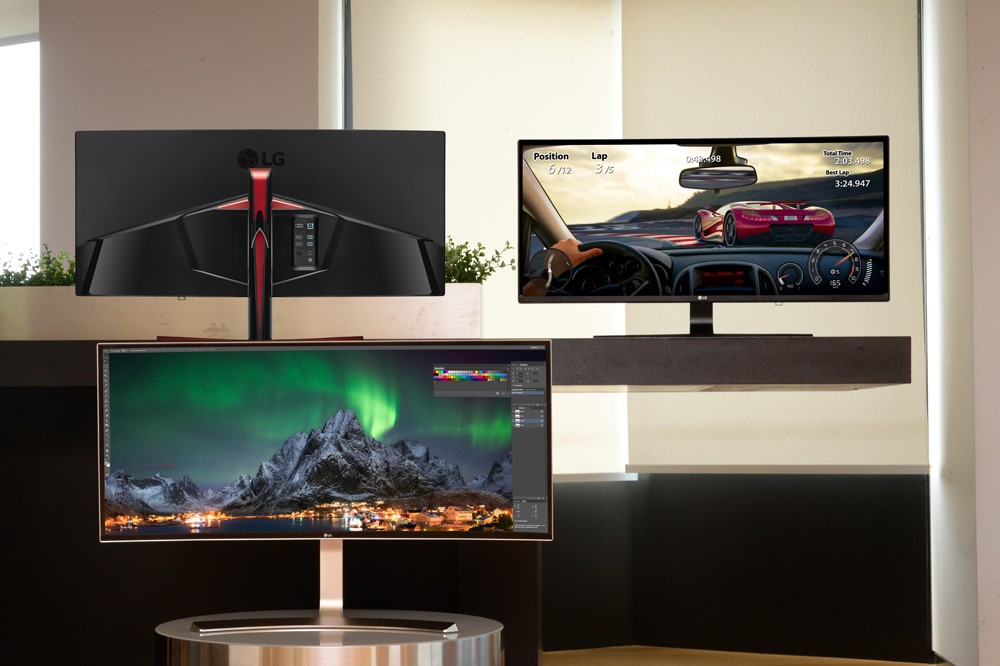 LG has announced three new 21:9 aspect ultrawide monitors prior to IFA Berlin 2016.
The company has introduced two ultra-wide 34-inch monitors of which one is a flat model with built-in Google Cast support while the other one is a curved device with a refresh rate of 144Hz.
The third monitor is a 38-inch ultrawide curved monitor that comes with an advanced IPS UltraWide QHD+ (3840 x 1600) resolution and wide color gamut covering 99 percent of the sRGB color space. It is the first ultrawide monitor from LG to feature a USB Type-C port. The monitor also includes capabilities to customize display options and store customized color settings with the easy-to-use Onscreen Control software and My Display Preset.
It comes with two 10W built-in Bluetooth compatible speakers and offers Rich Bass audio output in the 85Hz bass range. The 38 inch monitor sports a one millisecond Motion Blur Reduction feature that streamlines gameplay by minimizing afterimages that often occur in fast-paced games.
The 34 inch 144Hz IPS 21:9  curved ultrawide gaming monitor combines a fast refresh rate with advanced one millisecond Motion Blur Reduction. The monitor boasts seamless image transitions without annoying afterimages and the IPS display delivers accurate color expression from any angle without distortion. It comes with features such as Black Stabilizer and Dynamic Action Sync which provides extra clear contrast, and reduces input lag so that users can enjoy fast-paced gameplay without any delays respectively. The monitor comes with AMD FreeSync that offers smooth gameplay.
The monitor also offers a crosshair option which adds a fixed target to the center of the screen to increase accuracy during FPS games and a mouse line hook to prevent drag resistance caused by the mouse's cable. It also includes a number of practical design features fit well into gaming station setup without hindering gaming such as tilting, adjusting the height and the mouse line hook which minimizes tangled cords.
The 38-inch curved 38UC99 model that goes on sale in September for $1,500, a 34-inch curved 34UC79G due in October for $700, and the flat 34-inch 34UM79M coming in November for $600.