You either love 'em or you hate 'em, but you simply cannot ignore them. Apple is one of those brands that polarizes opinions – the products undoubtedly cost much more than they should, are arguably not as spec-rich as the competition, but who else makes computer systems and personal entertainment devices that look so damn stylish, yet compact, at the same time?


Yet it is really with the iPhone, and the meticulously planned release of the iPod Touch and the iPad that Apple really came into its own in the industry. No longer a minority statistic in terms of market share (Mac OS X accounts for approximately 11% of installed computers), Apple's second coming with its iDevices heralded a new era in the controversial company's history, it's most successful innings yet. One that was met with intense speculation the likes of which were unheard of in this industry, almost bordering on industrial espionage, some might say. And with such speculative behavior comes an unhealthy amount of information overload and pure rumor-based reportage.
Which is where A Byte of Apple, our weekly wrap on all the news you can use from the Apple mobile space,comes in.  With our team's insight and experience tracking this industry behemoth, we give you a byte-sized update of the week gone by every Monday morning at around 942 AM*.
This past week, the one after the iPhone 4 launch at WWDC, saw the iPhone 4 pre-order dominate news and potential customer mindshare. So much so that sheer volume of iPhone 4 preorders brought AT&T and Apple Store servers to a near standstill, causing potential customers endless frustration. Forget Twitter fail-whales, both Apple's and AT&T's websites crumbled under the load of eager beavers looking to preorder the black iPhone 4, and both began to report errors and time-outs. Even Apple's new Apple Store iPhone app started rejecting orders! Some estimates peg the preorder demand at 10 times the volume of the 3GS, enough to wipe out AT&T's stock for the June 24 launch day! Little chance of that happening in India when the phone launches come September, right? The good news is that if you can't wait for that long, Apple will retail unlocked phones in the UK, France, and Canada at unsubsidized prices. Granted, at nearly $900 for the 32GB iPhone 4 and about $750 for the 16GB version, it isn't cheap, but then again, not too much more than buying it off the shelf in India, plus it will carrier-unlocked to boot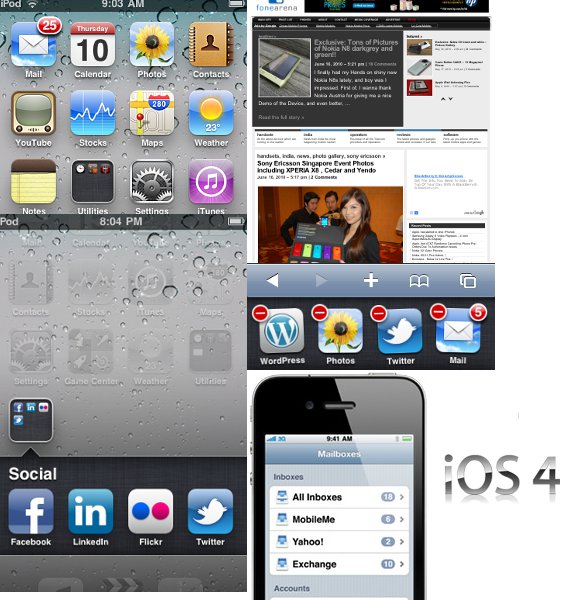 And while the first of the Apple faithful started camping outside Apple Stores a week before its US launch, many of us got a taste of iOS4 thanks to the final Gold Master version of iOS4 platform being leaked onto the Internet (it launches officially on June 21st). Initial impressions are positive, and iOS4 is a snappy overhaul to the iPhone OS. The folders feature has been done just right, and app junkies can now have upto 2,160 visible apps! Email is far more usable now, with the unified inbox, which lets you pulls messages from your various accounts into a single inbox, and better still, 'threads' conversations together much like Gmail does. And, with some of the first multitasking-aware apps making their way onto the App Store over the weekend, we expect a horde of app updates to take advantage of the Apple-style multitasking in iOS4, with some using the background services APIs while others just choose to let their apps save their running state and allow fast-app switching.
Just remember, iOS4 will only work fully for the iPad (a version for it will be released later this year), iPhone 4, iPhone 3GS, and third-generation iPod Touch. Older iPod Touch 2nd gen /iPhone 3G owners will not get multitasking, and if you have a still older device, iOS4 is not for you. Your only choice is to pay up your Apple tax and upgrade your device. The good news is that for all those eligible, including iPod Touch users, the upgrade will be free!
Finally, if you're a MobileMe user, Apple has updated the MobileMe interface to include an overhauled Webmail system. Of interest to us is the brand new Find My iPhone app that helps you locate your lost iDevice – iPhone, iPad or iPod Touch. All you have to do is sign in to your MobileMe account to find your missing device on a map, and should it be stolen, have it display a message or play a sound. And if you're sure it isn't coming back – our commiserations are with you – you can even remotely lock the device or wipe it clean of all your data.
* Serious Apple-buff trivia here, and you can pat yourself on the back if you know the significance of the 9:42 AM time. For those who care to know, head here.