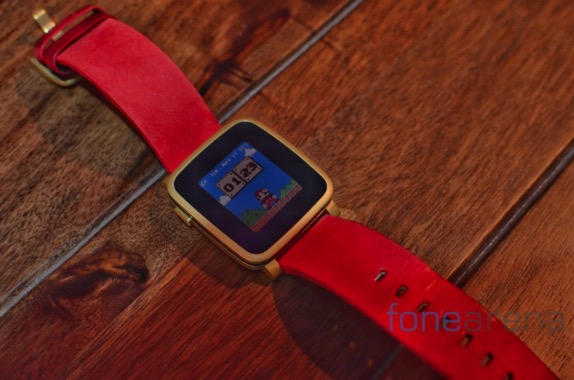 Way back in 2013, Pebble launched its first smartwatch. Ahead of the upcoming flood of wearables in all forms and shapes, Pebble was ahead of the curve. Of course, that didn't necessarily mean that it had a cutting edge product on hand. As Android Wear and the Apple Watch gained mass popularity, Pebble stood watching silently. With over 1 million units sold, Pebble revealed its next generation wearable last year. The Pebble Time takes everything good about the original and kicks it up a notch.
Highlights of Pebble Time Steel
Always-on, daylight readable color e-paper display with backlight
Scratch-resistant Gorilla Glass protection
Delicately crafted, CNC-finished 316L stainless steel case
Gunmetal Black, Silver Stainless, and Gold
Includes fine leather and stainless steel
Standard 22mm watch band with quick release mechanism
Microphone for responding to notifications or taking short voice notes
Up to 10 day battery life
Water resistant and durable
Tactile buttons for easy eyes-free clicking
Silent vibrating alarms
3 ATM or 30m salt or fresh water rating
Compatible with devices running Android 4.0.3 or higher and iOS 8 or higher
Design
Where the original Pebble was plasticky and toy-like, the Pebble Time Steel is almost good-looking. Smartwatch design will always be rather subjective but the use of high quality metals and a Gorilla Glass front has made sure that the watch looks almost premium.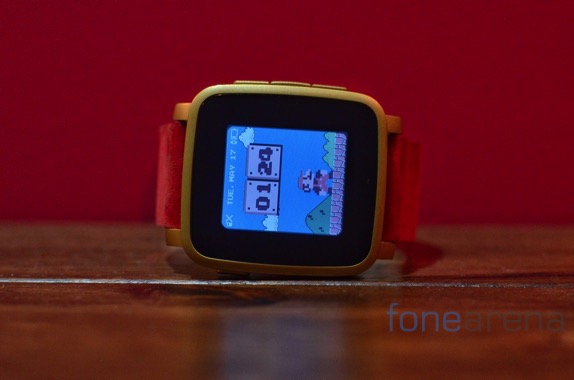 Up front is a 1.25inch Color E-Ink display that is covered by a Gorilla Glass layer up top. Gently curved, the Gorilla Glass layer adds some much-needed protection to the facia of the device. Thick black bezels run around the screen and detract from the visual appeal. Perhaps the only way to mitigate the situation would be to use a larger display. That solution however manifests itself as a double-edged sword given that Pebble uses standard off-the-shelf parts and a custom display size would drastically increase costs.
On the right hand side are three buttons that correspond vaguely to up, down and menu keys. Before we get to functionality though, a bit more on the ergonomics. The buttons have a rugged finish that makes them a bit grippy. Tactile feedback on the buttons is fairly springy which while not ideal, doesn't take away from the experience either. A microphone is hidden away as well to enable voice notes and to respond to notifications. We found voice based functionality to be a bit of a hit or miss.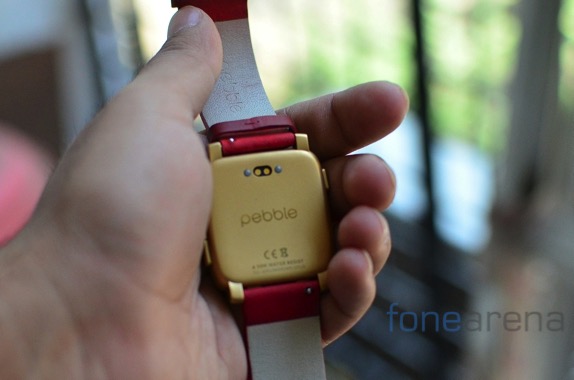 Under the watch, you'll find the newly repositioned power connector that is much easier to attach to. The adaptor also doesn't fall off as easily as in previous generation devices. The straps on the Pebble Time are of the quick release variety which means that you can remove and attach a fresh one within seconds.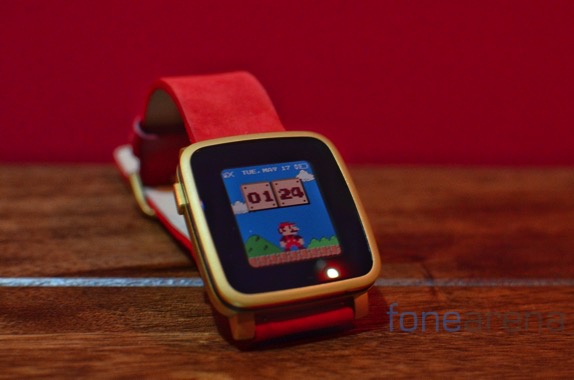 Now, While the Pebble Time Steel might have ditched the plastics of the regular Pebble Time for CNC finished 316L stainless steel, the design remains the same for better or worse. In this case, it would be safe to say that the Pebble design is quite inoffensive. The Pebble Time Steel stands as a watch that would be wearable in any situation and won't really stand out. It certainly isn't a Moto 360 that has tremendous visual appeal. From a comfort level too, the roughly 42 grams weight is feather light including the leather strap. Talking about the leather strap, we found that the bundled straps frayed rather easily and picked up stains. It is pretty easy to replace them though using the quick release connector. The Pebble is also technically capable of supporting smart straps though there's not many of those around. In fact the only one that is currently shipping is the Vu Pulse strap that includes wireless charging and a heart rate monitor. All in all, the Pebble Time Steel is a fine piece of hardware design that goes after the minimalism school of thought as it seamlessly becomes a part of your life without standing out on its own.
Software and Usability
The Pebble Time lacks a full stack Smartwatch OS akin to Android Wear or watchOS on Apple devices. That however doesn't mean that it isn't smart in its own right. The Pebble tackles notifications with aplomb and makes use of the Android Wear app to enhance usability as best as it can. The story on iOS is slightly different however due to the nature of the operating system. The interface has been massively overhauled compared to what we saw on older Pebble devices. Color, animations abound and the interface is just a lot more approachable. Unlike the spartan, smartphone inspired UI paradigms on Android Wear, iOS; the interface dubbed as Timeline, jumps around and has cute transitions that may not fit well in a strictly professional environment but are entertaining nonetheless. Something worth keeping in mind though before you invest in the smartwatch.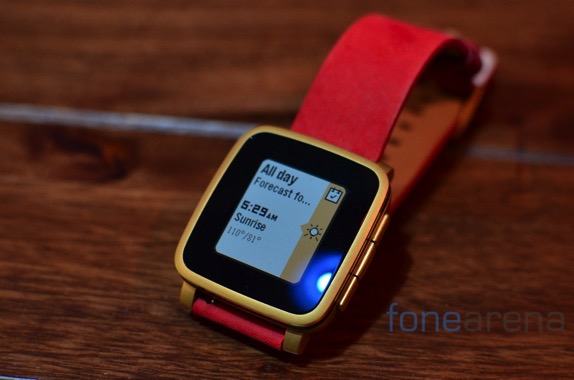 The homescreen as you'd expect is the watch face. Depending on what you chose, you can go as simplistic as a traditional dial to an animation heavy Mario face as pictured above. Tapping the up and down buttons drop you into past and future respectively. Effectively you get access to the next 24 hours and last 48 hours of your calendar, notifications and more so that you can plan things out better. There's also a couple of applications that can tie in with Timeline view but they are few and far between. Long pressing the buttons can be used as shortcuts for the music controls, Pebble Health or any other app you might have installed.
Tap the center button and you enter the submenu from where you can open the Health app, Notifications, Settings and all other applications that you might have installed. Talking about apps, Pebble now gets full-blown health tracking support via the Pebble Health app. It might not have a heart rate monitor but in our usage we found step tracking to be pretty accurate. Sleep tracking in particular was absolutely spot on. It's worth noting that the health data synchronizes with Google Fit and Apple Health on the respective platforms.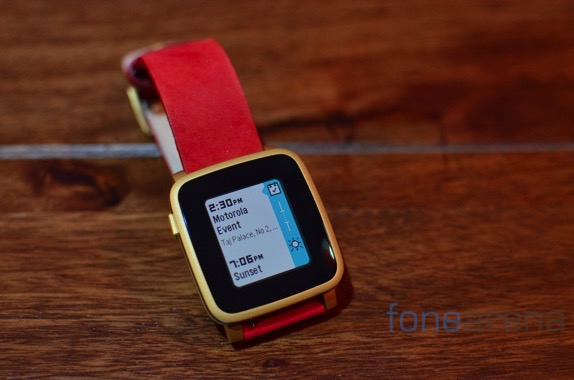 Troubling however is the app-gap on the platform and the rapidly stymieing pace of development. As Android and Apple's wearables gain traction against the Pebble and simply offer much advanced capabilities, we don't foresee too many big-name apps making their way to the platform. Yes, the 6500 or so apps that have been developed for the Pebble Classic will continue to work with the Time but just a subset has been updated for the refreshed watches and the others look positively antiquated. Now, that might be a concern for those who want extended app support for their smartwatch, we personally felt that the built-in capabilities and the good enough integration with notifications were usable enough reasons to not discount the device.
Battery Life
Face it, one of the biggest reasons you are considering the Pebble as a smartwatch platform is predominantly due to the legendary battery life that it is known for. Pebble's claim that the Time Steel can last up to ten days on a single charge isn't too far off. We've used the watch for about a week so and we've still got about 20% battery left over despite our heavy-handed usage.
Conclusion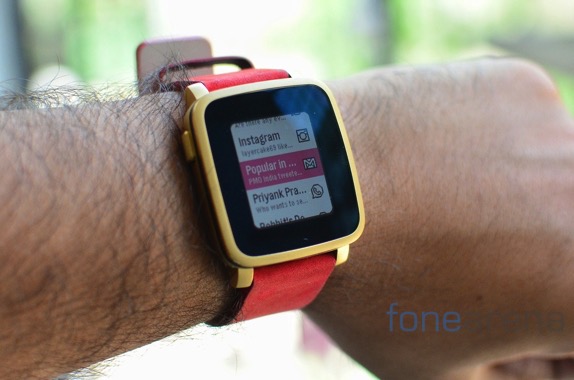 The Pebble Time Steel has been priced at Rs. 15,999, at the price point it pits itself right against some of the entry-level Android Wear running watches. In a category that hasn't entirely picked up in India, the Pebble Time Steel offers a pretty different take on wearables. A device that has phenomenal battery life, a quirky yet appealing interface and pretty solid health tracking capabilities is certainly a compelling offering. On the flip side, it isn't as tech heavy as the competition nor does it have as strong an app catalogue as its competition. Still, the Pebble Time Steel offers a pretty solid smartwatch experience if all you're concerned about are the essentials. The watch is available in Black, Silver and Gold colors exclusively on Amazon. In case you're still on the bench about smartwatches in general, there's always the much cheaper Pebble Classic to consider.
Pros
Excellent Battery Life
Core Experience Works As Expected
Lightweight
Cons
Not as robust as the competition
Uninspiring design
Leather band frays easily