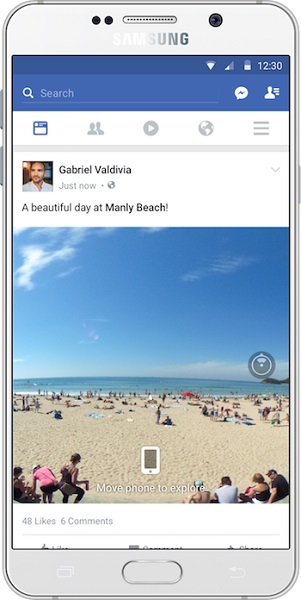 Facebook will soon add support for 360 degree photos to its News Feed. These 360 degree photos will work similar to 360 degree videos which are already present on the platform. 
You will be able to take a panoramic photo from your phone or use a 360 camera. You can view these photos by either clicking and dragging with your mouse, or move your phone to look around a scene. These photos will also be compatible with the Oculus Rift and Gear VR.
In addition, you will be able to explore Facebook 360 photos in VR from the Oculus 360 Photos app. For viewing 360 degree photo, in case of Samsung phones, you will have to tap a button in the top left corner that says "View in VR and insert your phone into your Gear VR. Google already has its veriosn of 360 degree photos which is dubbed as Photo Sphere that allows users to take full 360 panoramas and then watch them on VR headsets like Google Cardboard.
Facebook said that more than a million people used the Gear VR last month alone and there are more than 250 apps for the headset. The social network says  80% of Gear users watching videos.