Amazon has launched Subscribe and Save store in India that offers discounts on products along with free delivery. Users can order household items with the new subscription program.
In order to create a subscription, you will have to select an item, set quantity and delivery schedule and click on the subscribe button. The service offers only cash on demand option for the items purchased from Subscribe and Save store. Amazon says that after creating your first subscription, your ordered items will be shipped immediately with free standard shipping. Currently, Subscribe and Save store have categories like Baby, Household supplies, grocery, beauty, personal care, pets, automotive, sports and so on.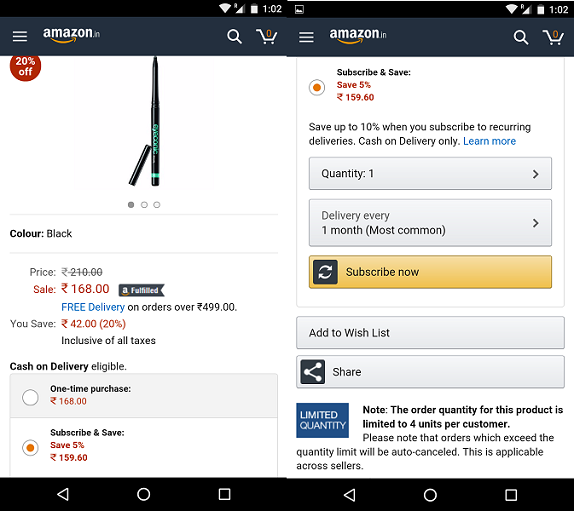 Prior to each shipment, Amazon will notify you with an e-mail to let you know your next order is being processed so you can make any necessary updates. You will get a 5% discount when 1 or 2 subscriptions arrive on the monthly delivery day and a 10% discount when 3 or more subscriptions arrive on the monthly delivery day. Users can also choose to order an item sooner than scheduled delivery day, on one-time delivery basis. The Subscribe and Save store feature is available on mobile apps as well as desktop.